Looking for somewhere to take the kids for a bite of lunch? Our Junior Restaurant Critic, Eliza Olander, a student at The Centre for Creative Learning in Hamilton, lives in St David's and continues her 'Lunch With Uncle' series.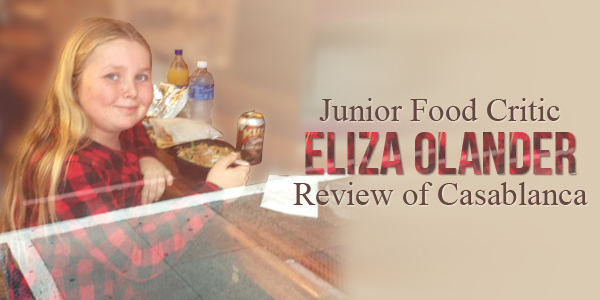 [Written by 13-year-old Eliza Olander, with a little help from Uncle Tony]
Venue:
Casablanca
Location:
Washington Lane, Hamilton
First Impressions:
Inside, the restaurant makes you feel warm.It's interesting to look at all the pieces of brick they have pieced together as pieces of art. It's very clever.
And I like the music, it makes me feel as if I'm in a foreign country. Sometimes the music here is sad but relaxing and sometimes it's upbeat.
Main course:
Beef noodle [$11.95], Root Beer [$1.75]
It's a journey of different flavours. One second it's sweet and the next you get spiciness from the ginger – then the crunchiness of the veg and the noodles.
I like the combination of the beef with the vegetables, which are nicely seasoned. A lot of flavour is coming from the juice of the beef and it's very good. I have never cooked noodles at home – it's something I would like to do. [Eliza also tried her Uncle Tony's shawarma lamb baguette [$13.75] and shared his vegetable fried rice [$10.95] The lamb is very juicy, with different spices. The baguette is just right – not too crunchy.
I enjoyed it. It's like something you'd make at home for a simple, easy dinner.
I like the softness of the rice and the crunchiness of the veg and the sweetness of the carrots.
It's all yummy.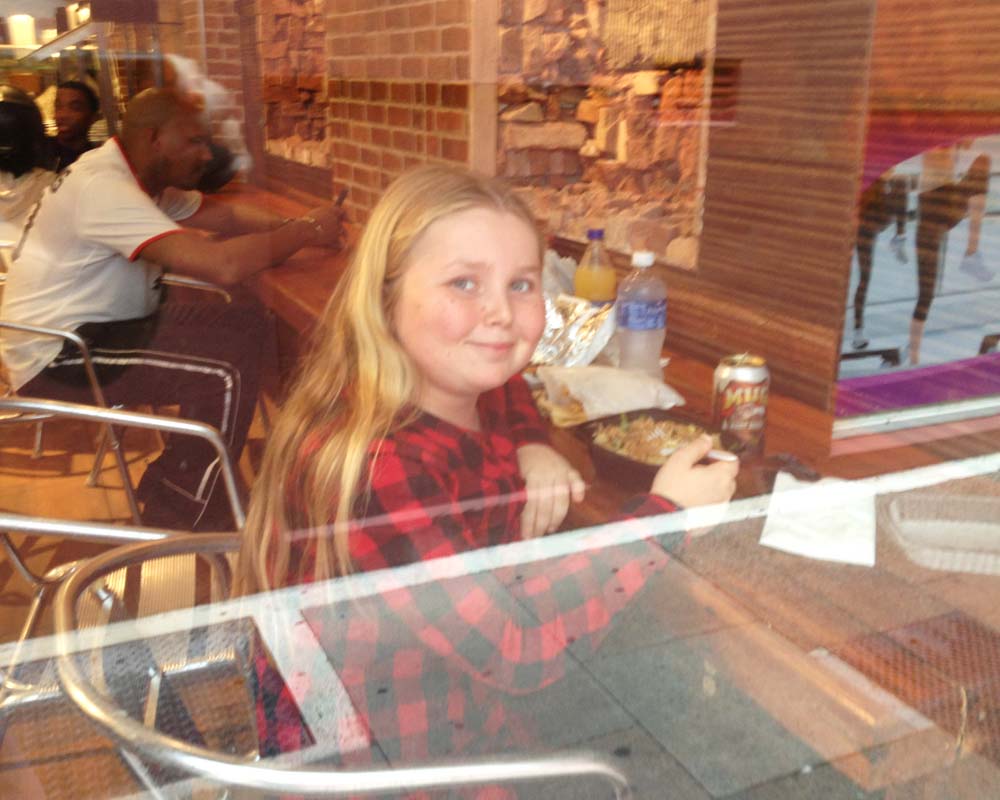 Portion size:
The portions are quite big. Maybe they should have different sized containers? It would be perfect to share with two people – maybe a picnic lunch?
Service:
The lady was very kind and helpful. She explained all the different dishes.
They give you little cards with your order and then you take them over to the chefs, but because it was our first time, she took them over for us.
Overall experience:
This is something that Bermuda didn't have before – quick but hearty food. It's different, it's modern, and it has a lot of character to it. I think it's a good place to take kids. There is a lot to look at, with all the different designs. And where the chefs are, you can see the food you are going to eat. It's a nice place to come for a good conversation with a friend and enjoy what you're eating.
It reminds of the kind of place you'd find in another country, on a small street
When I was in New York with my sister, I was in Greenwich Village where there are lots of different restaurants and they draw you in. Casablanca is like that, it draws you in.

Read More About
Category: All, Entertainment, News