Looking for somewhere to take the kids for a bite of lunch? Who's going to give you a more honest, bite-sized review than a 12-year-old?
Our Junior Restaurant Critic, Eliza Olander, is a student at The Centre for Creative Learning in Hamilton and lives in St David's and continues with her "Lunch With Uncle" series.

[Written by 12 year old Eliza Olander...with a little help from Uncle Tony]
Venue: D&C Grill, 69 Harrington Sound Road, Smith's [opposite the old Devils's Hole Aquarium]
First impressions: It's bright and the people are friendly and kind.
Main course:
Fish sandwich [on toasted white bread] with lettuce, tomato and tartar sauce [$13.50]
Side salad with Italian dressing [$5]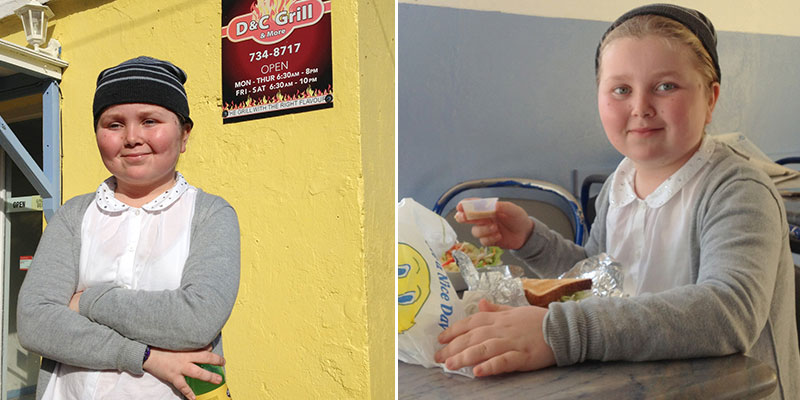 There was no grease coming off the fish, which is something I'm always picky about. The fish was soft, which is always very yummy. And it wasn't dry. The sandwich was flavourful, juicy and delicious. I like making fish sandwiches myself so I know what it takes to make a good one and these guys definitely have a great way of doing it.
I never would have thought of chopping the salad into little strips. It's like a substitute for coleslaw. There are carrots and lettuce and peppers and cucumber. The salad tastes fresh and I love red peppers in my salad — I ate them all. The carrots are sweet and the dressing gives the salad that oniony flavour. The lovely thing is that the salad and the fish go together so well.
Beverage:
Barritt's ginger beer [bottle] $2.25
Whenever I have a fish sandwich I always have ginger beer. You get the strong kick of the ginger and everything just comes together perfectly.
Portion size:
It was almost the perfect size; I had a few leftovers but that was mainly the crust.
Service:
Great service and very quick. The lady [co-owner Cassandra Taylor] was very friendly and she kept asking if we needed anything. At some places they leave you alone and sometimes you are left sitting there, waiting for things, so it's a good thing when they ask if you want anything else.
Location:
It's in a beautiful spot right by the water. It's quite convenient and if you live in St George's, you can just pop by. If you are person who gets on the bus there is a bus stop right next door so it's easy to get to. One time I was on the bus coming home from school and I saw this place was open and I have been thinking about coming here for months; now I have been here, it's great!
Overall experience:
I really enjoyed it and when the fish sandwich competition comes up again, this place could definitely have a good chance of winning.

Read More About
Category: All, Entertainment, News