Looking for somewhere to take the kids for a bite of lunch? Who's going to give you a more honest, bite-sized review than a 12-year-old? Our Junior Restaurant Critic, Eliza Olander, a student at The Centre for Creative Learning in Hamilton, lives in St David's and continues with her 'Lunch With Uncle' series.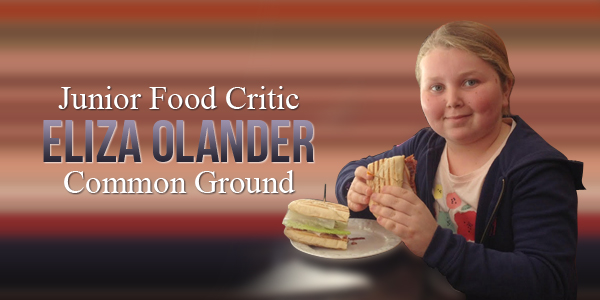 [Written by 12-year-old Eliza Olander…with a little help from Uncle Tony]
Venue:
Common Ground
Location:
Chancery Lane, Hamilton
First Impressions:
Chancery Lane is one of my favourite places to walk down. You feel as if you are in an artistic world — it's quite magical really.
I love all the dark reds and browns inside the restaurant; it's a really cosy place. And it's interesting to look at all the art on the walls.
As I was coming into the restaurant I bumped into a group of tourists and they asked me to take a picture of them with their phone. Then they asked my to take one on their camera but I'm not used to pro cameras so I asked my uncle to take the pictures.
Beverage:
Orangina [$3.25]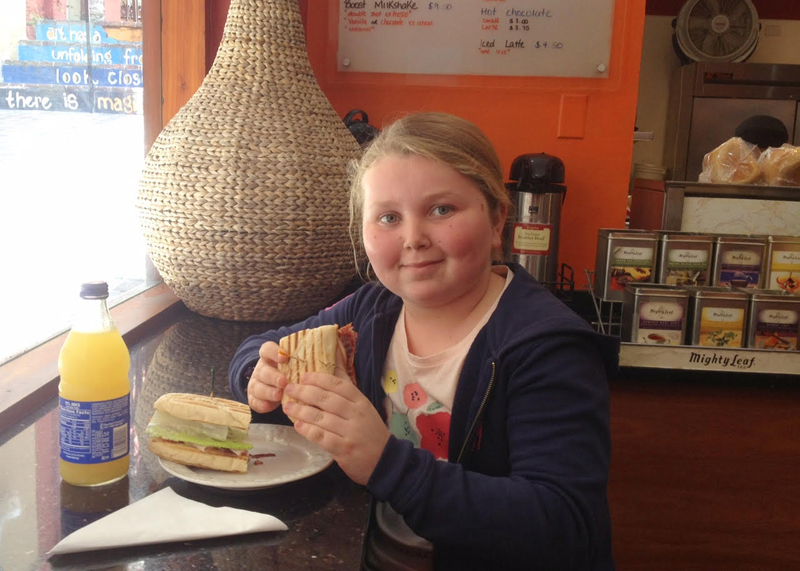 Main course:
'The Frenchie' — creamy Brie, lettuce, tomato, smoked turkey and crispy bacon on a toasted baguette with mayo [$11.50]
Everything comes together perfectly. The bacon is my favourite part. I know the sandwich has mayo but you can still taste the cheese. Brie is my favourite cheese.
This is the bit where I tell a story.
I went to Tucker's goat farm [near Botanical Gardens] with my class. We picked up goats, played with them and fed them and it was a lot of fun.
Mr. Tucker showed us the basics of how to make goat cheese and one was Brie. He had a small sample and we got to try it. It was delicious.
He is Bermudian and people should buy it for their restaurants and kitchens at home — it was such a great experience.
[Back to lunch] The bread is yummy. Sometimes restaurants burn the bread on the top or the sides but this was perfect, it had just a little bit of crust.
At first I thought maybe the turkey was a little out of place, but now I see why they use it, because it goes so well with Brie and tomato.
It was nice to have that extra crunchy bacon. Sometimes when you order bacon it's not crunchy enough, it's soggy and undercooked.
Kids sometimes, when thinking about the Brie and tomatoes, well they don't want to try new things or they're not introduced to them. But I say 'just try it!' Like before, I never used to like Brie, but now I love it.
Portion size:
When you're really hungry this is the perfect sandwich for a kid. The perfect portion size.
Service:
The service was quick and the lady who took my order [Gina Thomas] was very friendly. We didn't know that it closed at two [on Saturdays] but she didn't rush us, which was very kind of her.
When we were walking out through the door, she came out and said, "do you like donuts?" They were closing up and she gave me a donut instead of throwing it out. It was very generous and it looks delicious. It's coconut.
Overall experience:
It's a very cool location in Hamilton.
And it's always good when a restaurant plays good music because some places are just too quiet. A song came on and I started dancing in my seat and it was a lot of fun. This is another good thing about the atmosphere here.
I really enjoyed it and I would definitely come back. And you don't have to sit down — you can just pick up a sandwich if you're busy. And the good thing is, they're really quick.

Read More About
Category: All, Entertainment, News