The RBR's overseas camp in Jamaica is the last post for veteran Sergeant Major Arnold Allen. For the initially reluctant soldier, the trip marks the end of a Regiment career spanning more than three decades.
But Sgt Maj. Allen, 58, a senior NCO with the Regimental Police, will keep part of his title – because when he returns he will take up a full-time job as Sergeant-at-Arms in the House of Assembly.
He said: "It's been a good ride – it's been a great ride. If it wasn't for the training I have had in the Regiment, I wouldn't be where I am today."
He added: "I have mixed feelings, but I believe my post in the civilian world will make up for it.
"I will always miss the Regiment, but it's time to move on. They say you know when it's time to go and I believe it's that time."
Sgt Maj. Allen joined the RBR as a conscript in 1982 and resented serving until a trip to Jamaica for annual training changed his viewpoint.
He explained: "I was speaking to a Jamaican and grumbling about being conscripted and we started talking about how people in Jamaica joined the army for a better life.
RBR Regimental Police Sgt Maj. Arnold Allen at TItchfield C amp in Portland, Jamaica.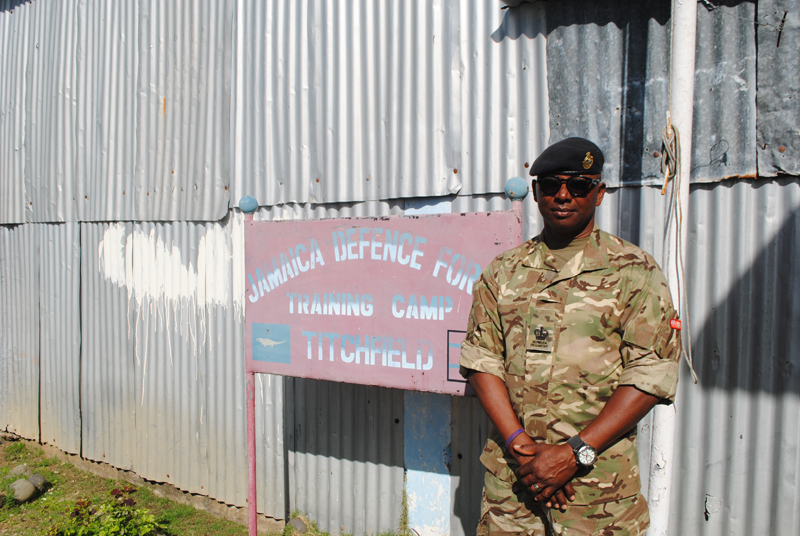 "He told me that I had been picked by my people and – better yet, by the Father – to serve my country and that I should go home and serve. He said the benefits would come – and they did."
Sgt Maj. Allen said that different training experiences and education provided by the Regiment had helped shape him.
He added: "I got a lot of free training and education through the Regiment and I began to feel a sense of belonging. I really began to feel a sense of belonging and that it really was my duty to serve.
"It's changed my life from the person I was when I first came in. I look at a lot of my friends who have passed who didn't know how to keep themselves physically fit.
"I learned how to organise myself, my day and deal with stress. I wasn't able to deal with stress for a long time, but there are always solutions available. There's always help in the Regiment. And one of the greatest parts of service is helping other people to serve."
Sgt Maj. Allen, from Warwick and a married father of two grown-up daughters, said he had seen a lot of changes in the three decades plus since he started Recruit Camp.
He added: "As society has changes, the Regiment has had to change. I've seen procedures change and also my role with the Regimental Police change. The type of person coming into the Regiment has changed too. More and more people want to be part of it."
Sgt Maj. Allen, who has spent most of his RBR career in the Regimental Police, said the days of arresting soldiers who failed to turn up were almost gone.
Regimental Police Sgt Maj. Arnold Allen lines up with his RPs for the last time at the entrance to Titchfield Camp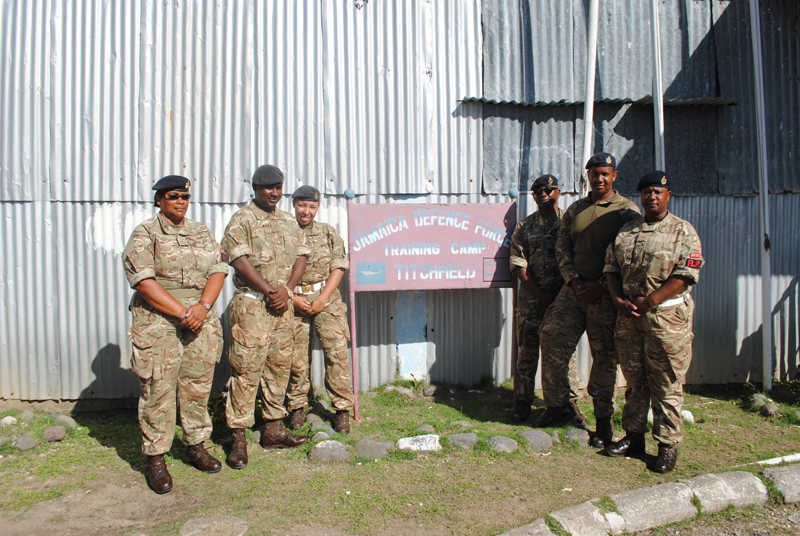 He added: "It's nice we don't have to do that very often now. But over the years, I have learned a lot of new ways to deal with soldiers.
"There are so many stories – one of the most appreciated times was when I convinced an individual to do his time in the Regiment – he ended up being a Sergeant. I've seen hundreds of guys come into the Regiment, change for the better and become friends for life."
"That's something about the Regiment – people talk about gangs and stuff. I wish they would come to the Regiment for a couple of weeks. We work together and there's only one colour here – it's green.
"Service gives people appreciation of what they have. When you get people from different backgrounds and they start sharing information, it makes for better citizens.
"The Regiment is a great leveller – when you understand someone more clearly, you have a better idea of why they do what they do. When you see people from very different backgrounds meet and become best friends, it's amazing."
"And it changes people – more employers should send their staff here for team building. It happens now, but everybody should do it."
He was speaking as the RBR began its final training exercise, where soldiers put into practice the jungle warfare skills they have learned over the past two weeks. But for now, Sgt Maj. Allen is looking forward to his new life outside the Regiment.
He said: "I'm really excited about my new job. I want to represent our cap badge by doing the job to the very best of my ability. I want to represent the Regiment.

Read More About
Category: All