Members of the Bermuda Long Riders Motor Cycle Club and Association recently presented donations to The Bermuda Cancer & Health Center, The Family Center, and Noble Automotive, with the presentation taking place at the latter's CedarBridge Academy location.
The donations included $1,000 to the Bermuda Cancer and Health Centre, with the funds to go toward their efforts to establish a radiation center on the island; $500 to the Family Center; and an additional $300 to Noble Automotive.
Ann Johnson [Treasurer], Sharon Johnson [Secretary], Gerry DeSio [President], Sarah Cook [Financial Controller] accepting for Bermuda Cancer & Health Center, Fernando Oliviera accepting for Noble Automotive, Deneca Zuill [Community Support Worker] accepting for Family Center, Charlotte Sherlock [Club Ride Co-ordinator], Edward Johnson [Club Road Marshall], Donnamae Postlethwaite [Club Pastor], and student Nicholas Fletcher: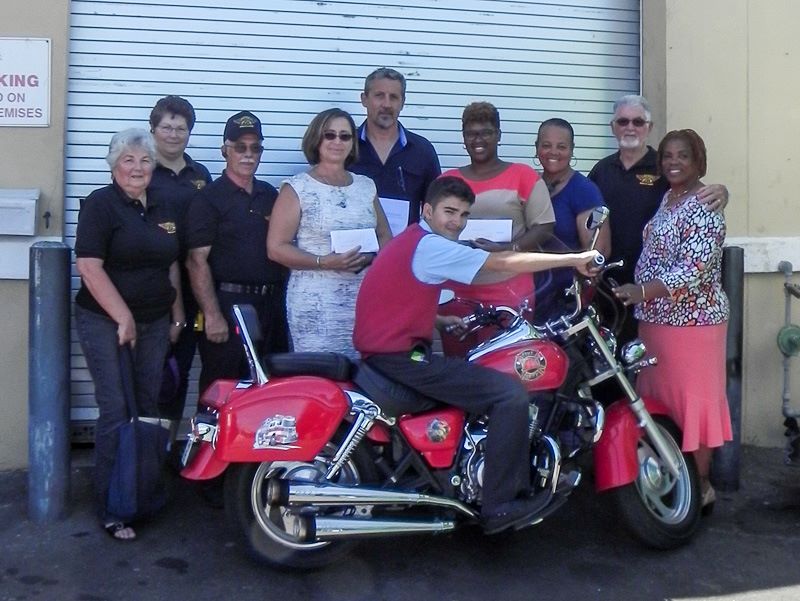 A spokesperson said, "This was a decision taken by the committee after several members of the Club had mentioned charities they felt needed a little help. Our Club members will mention causes near and dear to their hearts and we try to help where we can.
"We applaud the Bermuda Cancer & Health's endeavour to establish a radiation center here – this will make things a little easier for our locals needing the treatment and indirectly will assist the insurance companies as costs will not be as great.
"We believe the work The Family Center does is absolutely necessary since it is all too easy for families to face hardships of many sorts. As for Noble Automotive – they work with school students encouraging their interest in all things connected with the motor industry.
Read More About