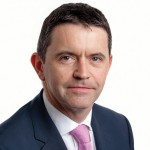 Keith Robinson, Partner in Appleby's Dispute Resolution practice group in Bermuda, was recently top ranked, in Band 1, in the inaugural Chambers and Partners' High Net Worth [HNW] Guide 2016.
Also recognised is Appleby's Vanessa Schrum, Partner and Group Head of the Bermuda Private Client and Trusts practice group and Bermuda Senior Associate Ashley Fife.
Chambers introduced the HNW Guide this year aimed at the international private wealth market. The Guide covers private wealth management work and related specialisms in key jurisdictions around the world, featuring in-depth editorial about the leading lawyers and law firms for wealthy individuals and families.
Mr. Robinson whose practice focuses on high value trust disputes and restructurings, was described by Chambers as "very highly regarded… Keith is solid, steady, quick to respond, reasonable and sensible. Keith is my go-to guy."
One fellow lawyer reported, "I get on very well with Keith and have a lot of respect for him. He's very practical in his approach as well as being very knowledgeable with a strong trust practice."
Vanessa Schrum, who has extensive experience on a wide range of trust and estate planning matters, is recognised by Chambers as "the nicest person you would ever meet."
With knowledge of both commercial and private trust structures, Ms Schrum is able to advise clients on purpose and unit trusts, probate matters and applications to the Supreme Court of Bermuda.
Ashley Fife, a senior associate in Bermuda's Private Client and Trusts team was recognised as 'an associate to watch' and is described by Chambers as "very energetic."
Fife's work primarily consists of providing advice and drafting key documents regarding the creation, management, restructuring and termination of private and commercial trusts with particular emphasis on pension trusts, unit trusts and complex family structures utilising insurance and investment structures and solutions.
Chambers and Partners have published guides to the legal profession since 1990, identifying and ranking the world's best lawyers and law firms based on in-depth, objective research.
Read More About