Before heading off to colleges overseas, Bermudian students who are focused on careers in Bermuda's insurance industry had another opportunity to hone their networking skills at the Bermuda Foundation For Insurance Studies [BFIS] 'End of Summer' networking party.
Over 60 BFIS scholars, alumni, trustees, committee members and industry leaders spent two very enjoyable hours at the 7th Annual Summer Party held in the lobby of the Aon Building. Aon sponsors the BFIS Mentor Network programme through the Aon Rhondelle Tankard Memorial Foundation.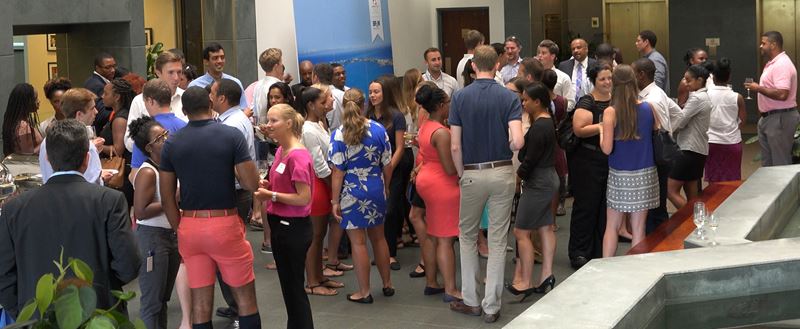 Joe Rego, President of Aon Bermuda and BFIS Trustee, launched the event with a short speech highlighting the importance of networking within the industry, and said he was delighted to see not only the 26 current BFIS scholars, several of whom only graduated from high school this summer but also so many alumni.
Mr. Rego also thanked the Minister of Education, Wayne Scott for attending so that BFIS could highlight the importance of the mentor networking programme.
BFIS has awarded over $5.8 million in scholarships and now has over 230 alumni [scholars and interns]. BFIS programmes also include insurance career information in the high schools, internships for college students, mentoring and networking events and assistance with finding summer and full time employment for graduates focused on careers in the industry.
Read More About