Family Centre is launching its annual campaign geared to raise awareness on what constitutes neglect of children and what should be done about it.
Executive Director of Family Centre Martha Dismont states, "A priority for our agency has always been to advocate for the protection of children, our community's greatest asset. We recognize that we have many partners in this advocacy, including the Coalition for the Protection of Children and many other agencies.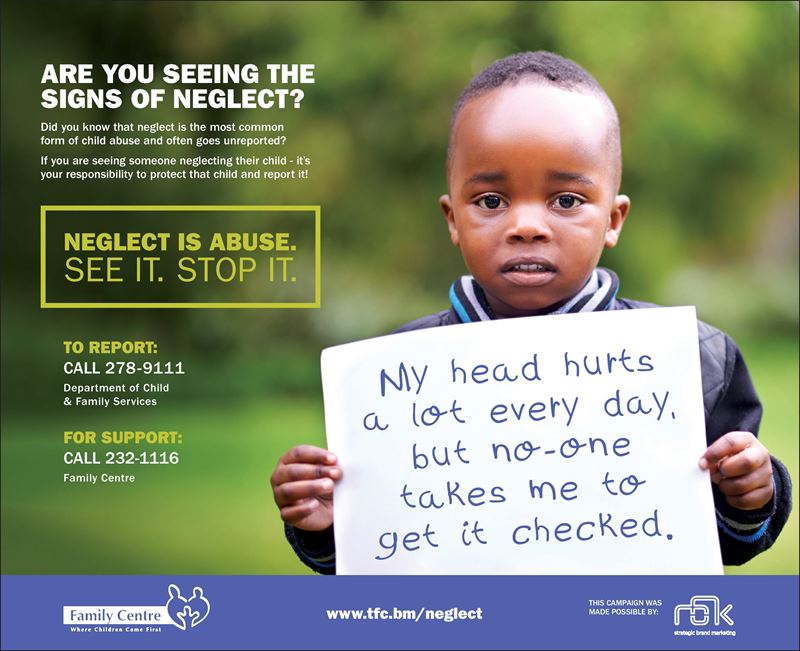 "In communication with the Department of Child and Family Services, the government department ultimately responsible for safeguarding the welfare of children, we learned that in 2015, referrals for neglect increased by 26% and they constitute the highest number of referrals they receive annually."
Dr. Sandy De Silva, Director of Services at Family Centre, commented: "This disturbing trend coincided with our increasing awareness that positive parenting is hard to maintain during times of stress and given that our community continues to live in stressful times, we see many children suffering from the effects of neglect.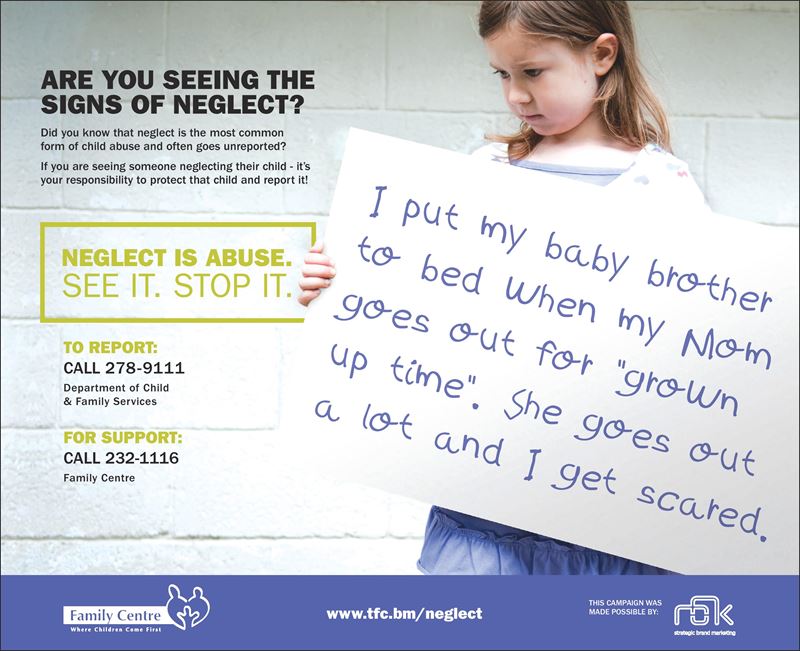 "Hence, we have partnered with the Department of Child and Family Services to raise awareness of what constitutes neglect of children and how we can begin to "stop it," "report it" and, most importantly, support our community in re-establishing norms in parenting even when times are stressful."
She further stated, "The media campaign is meant to raise awareness about what child neglect is and what forms it can take. We have taken a hard-hitting approach to make adults take stock of their behaviour and words. We want to capture the attention of the public and support people to parent in healthy ways without inflicting strong feelings of guilt or shame.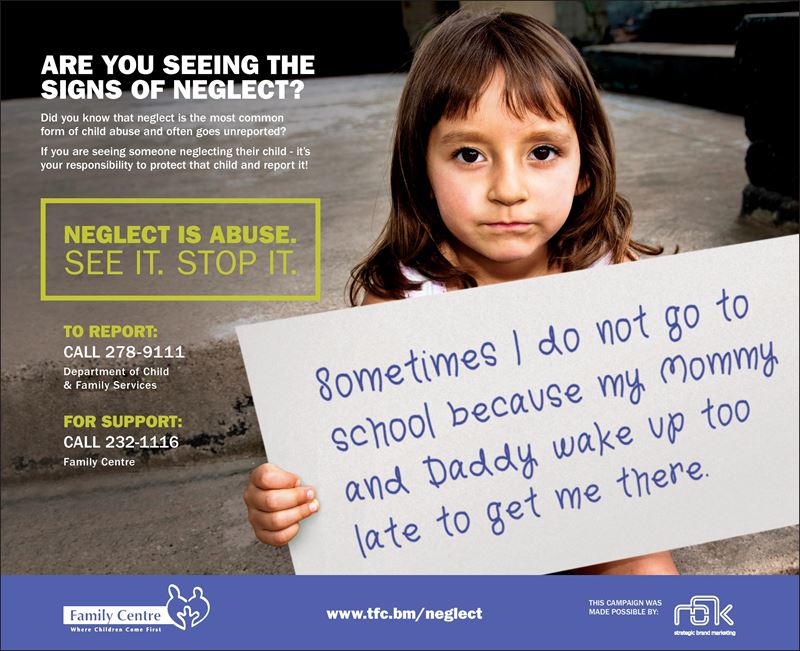 "This campaign is also meant to encourage family, friends, and/or neighbours who may witness neglectful behaviour to say something and/or report it. Saying something can mean asking for help yourself or even offering help to someone else. Children will not this do this for themselves, so we have to do it for them. "
Alfred Maybury, Director of Child & Family Services states, "The Department of Child & Family Services thanks The Family Centre for this year's media campaign. The department has received increases in reports of child neglect year over year for the past two years.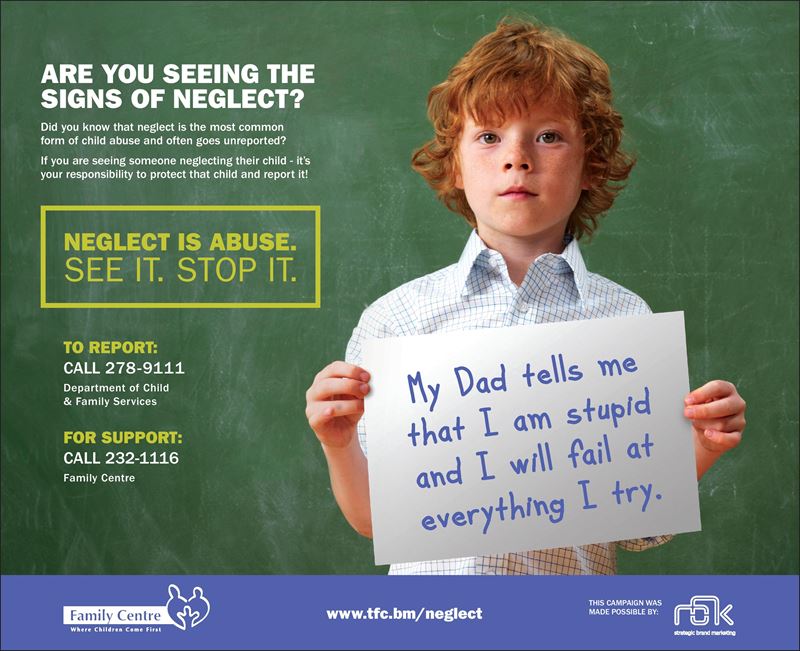 "Long term child neglect can have significant physical, psychological and behavioral consequences on children. It is important that we as a community support our families and protect our children from this form of abuse".
Mrs. Dismont stated that the campaign will run from September 12th until November 20th, which happens to be the date of the International Day of the Child.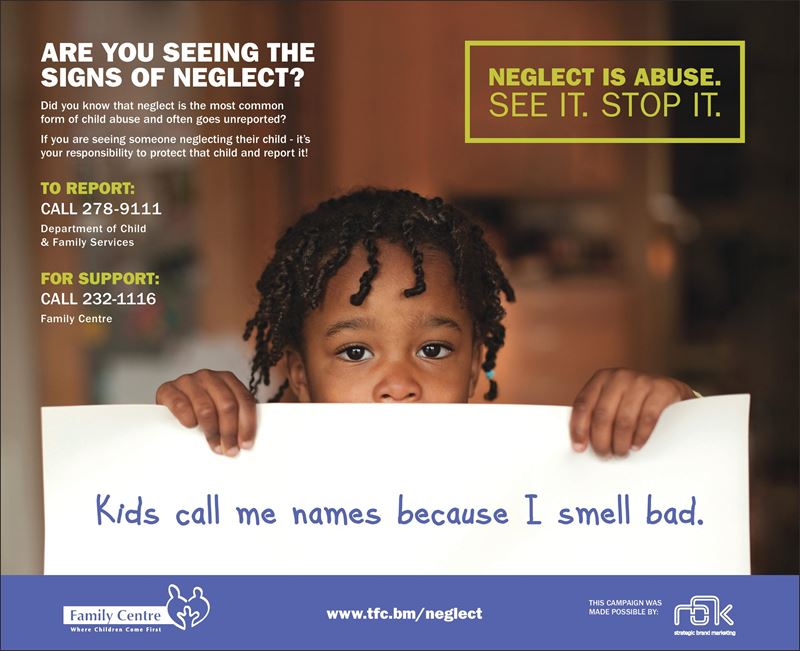 She said, "The public will see ads in the newspaper, on social media, in our supermarkets, and on the backs of buses. We will also have radio messaging that will highlight neglect scenarios and situations that should be avoided. We welcome feedback regarding the campaign on Family Centre's Facebook page."
She concluded, "Neglect will leave many children in a position where they lack the confidence to develop in healthy ways. This year's campaign was chosen to spark individual action. We want to sound a wakeup call to Bermuda that the needs of children are often unintentionally ignored.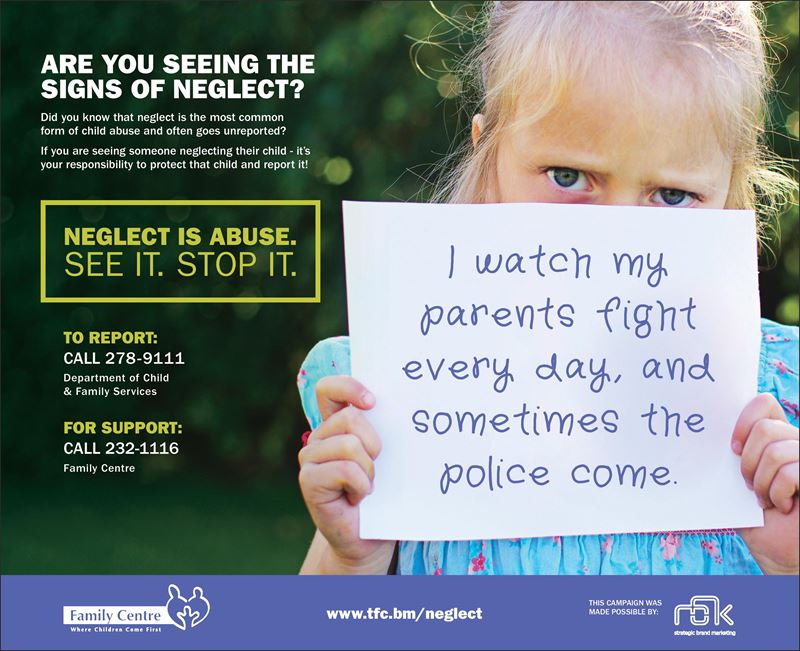 "Parents typically act in subconscious ways that reflect their own upbringing, the norms of their family culture and the happenings of the current situations that they are in.
"Therefore, let us all be more conscious about how we treat our children, what we expose them to and how we show them love, care and respect so that we can all actively participate in creating a healthier and safer community for everyone."
Read More About