The Dog Training Club and Avonlea Agility are bringing in two trainers from the United Kingdom to hold evening talks and daytime workshops from January 31 to February 5.
The trainers are described as "lots of fun, very experienced with lots of different types of dogs and are dynamic speakers and teachers, for a week of fun dog activities and talks."
Evening lectures will be held at Somersfield Academy and daytime workshops and lectures will be held at Avonlea Agility field in Smiths.
The events will include:
Monday 30th January: Manners, Life Style & Boundaries talk- at 6.30 pm. For ALL dog owners.
Tuesday 31st January: Fun Fast Fit lecture at 7.00 pm – and that has an optional workshop the next day. For any dog owner.
Thursday 2nd February: Concept of Training lecture at 6.30pm – will open the eyes of anyone interested in getting more from their dog.
Saturday 4th February: Foundation FUNdamentals workshop where dog owners can learn about core skills – perfect for puppies and young dogs and Relationship & Reinforcement Rich Life – lecture & workshop combo – for all who want a better connection with their dog.
Sunday 5th February: Grit, Optimism, Bravery & Play talk at 1.00pm. – help your dog to be confident, optimistic and happy.
A spokesperson said, "People can sign up for a workshop with their dog or they can audit and get the same information but not bring their dog along. If you sign up ahead of time, we can send you details on locations and what to bring.
"It's sure to be lots of fun. We don't get opportunities to enrich our dogs lives like this very often in Bermuda. Make the most of it.
To sign up or for more information, email lindaneal.bda@gmail.com, visit the Facebook page, or visit the website.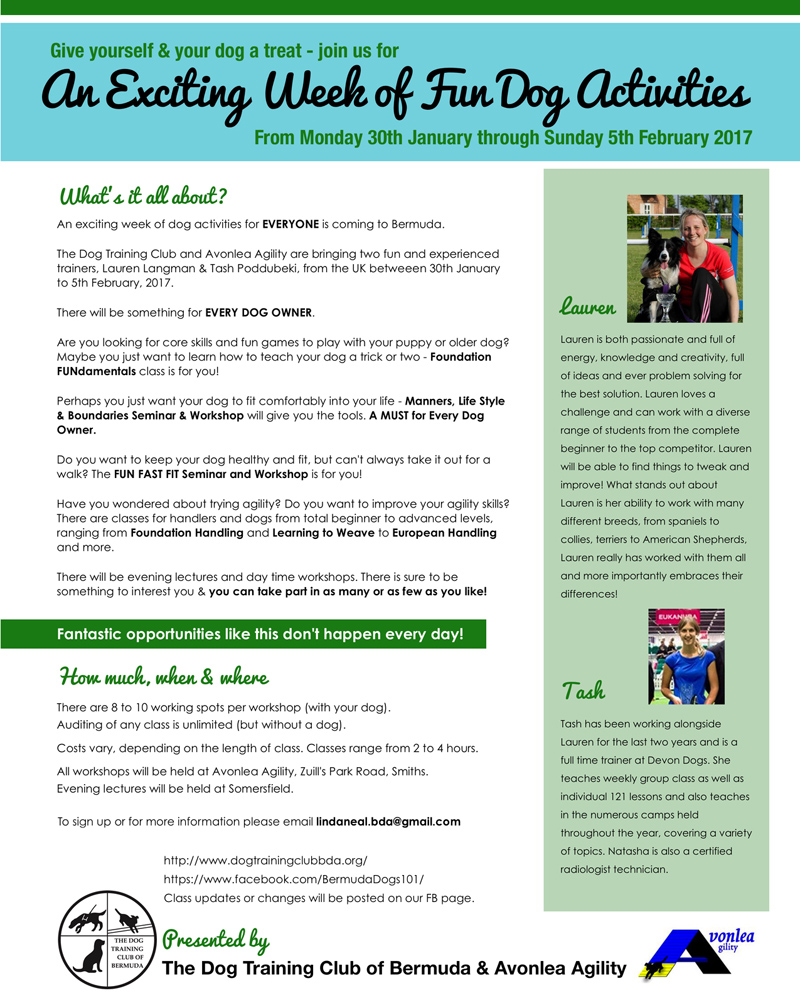 Read More About
Category: All, Entertainment