"Younger travellers fuelled strong growth in visitor spending, hotel occupancy and vacation air arrivals," the Bermuda Tourism Authority said, adding that "vacationers by air and sea spent $267 million on-island, $41 million more in 2016 than they did in 2015."
"That increased revenue went directly into local tourism businesses. It's an 18 percent spending increase year-over-year," the BTA said.
"Meantime, leisure air arrivals surged 17 percent last year – an increase of 24,234 visitors travelled to the island. The 164,321 vacation arrivals by air in 2016 is the highest volume for leisure air arrivals since 2007.
"Meantime, 76 percent of the vacationer growth last year is from travellers under the age of 45, an indicator of sustainability for visitor growth going forward.

Bermuda Tourism Authority [BTA] CEO Kevin Dallas said: "Over the past two years, the Bermuda Tourism Authority rebranded the island's image, redefined its target audience and sharpened its focus on core markets.
"Those very deliberate and strategic steps have led to the results revealed today – travellers who are more experiential and younger. And these visitors are spending more because we supported Bermudian entrepreneurs willing to deliver products and experiences that are aligned with the audience we're attracting."
The BTA added, "A return on investment study conducted by Longwoods International revealed BTA's 2016 advertising campaign boosted consumers' perception that Bermuda is "an exciting destination offering a sense of adventure".
"These perceptions, created through marketing, helped to drive younger visitors to the island and, according to the report's findings, generated incremental trips to Bermuda that would not have otherwise occurred.
"Leisure air arrivals from New York led the charge, up 46 percent in 2016 when compared to the previous year. Air capacity from John F. Kennedy International Airport to Bermuda was up 43 percent last year, while overall seat capacity from all destinations serving the island was higher by 11 percent.
"The Ministry of Tourism, Transport and Municipalities and the Department of Airport Operations lead Bermuda's efforts on airlift, last year successfully negotiating with airlines to secure additional seats for the destination.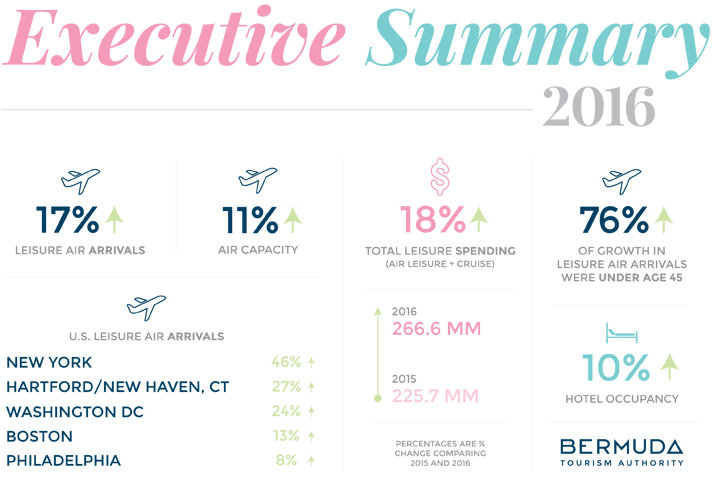 "The increased supply of seats paved the way for the BTA to raise demand. Vacationers flying from Connecticut and Washington, DC were also up sharply, 27 and 24 percent respectively.
"A 23 percent year-over-year increase in leisure air arrivals from the United States more than offset vacation performance out of Canada and United Kingdom, which were both down slightly.
"Twelve consecutive months of vacation air arrival growth in 2016 led to a strong ten percent increase in hotel occupancy. The performance was especially pronounced in the shoulder season. In November and December of 2016 for example, hotel occupancy surged 31 and 23 percent respectively.
45-minute live video replay of today's BTA 2016 Visitor Arrivals press conference
"Increased hotel occupancy, particularly between November and March, means hotel workers are getting more money in their pay checks, taxi drivers are picking up more fares and the tourism economy is one step closer to a year-round destination," said Mr Dallas.
"But even with this strong performance in 2016, we are still well short of where we need to be – whether it's hotel occupancy, visitor arrivals or job creation.
"While the 2016 year-end report is validation that we're on the right track. Our job now is to surge forward with this winning strategy and ensure Bermuda reaches its full potential as a tourism destination."
The BTA said, "Cruise and yacht arrivals in 2016 were also up for the year. When combined with vacation air arrivals, total leisure arrivals for Bermuda surged eight percent when compared to 2015. The number of visitors flying in to see friends and relatives or to conduct business were relatively flat."
The full 2016 Visitor Arrivals Report follows below [PDF here]:

Read More About