The Bermuda Football Association [BFA] announced that Robert Emmett, Allan Young, Carneal Smith, Charles Marshall and Dr. Gerard Bean were nominated and accepted as the 2017 Recipients of the Order of Merit Award.
BFA President Mark Wade said, "Football is deeply indebted to individuals such as this year's Recipients. For many years, they have put in countless hours to advance the cause of football. Each has been dedicated and has served football in an outstanding manner. Congratulations, you are Bermuda Football!"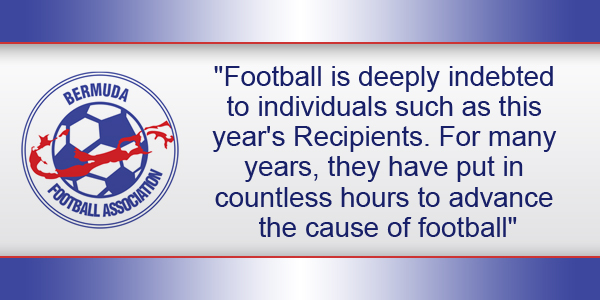 The BFA added, "Robert Emmett is the long serving Secretary of Robin Hood Football Club and was the driving force behind the Club's transition from a Commercial League Team to the current Premier League Champions.
"Mr. Allan Young is a long serving Executive Member of the North Village Community Club who has voluntarily served the Club in many areas for the past two decades.
"Carneal Smith is a Past President of the Devonshire Colts and was a member of the BFA's Disciplinary Committee, of which he ultimately became Chairman, for thirty-four consecutive years.
"Mr. Charles Marshall is a Past President and Honorary Life Vice President of the BFA. He was also a FIFA listed Referee and one of the top officials in local football.
"Dr. Gerard Bean is also a Past President and Honorary Vice President of the BFA. He was a member of the CONCACAF Executive for many years and was instrumental in Bermuda being accepted as a member of CONCACAF some fifty years ago.
"Each year, the Order of Merit is presented to persons or organizations who have served the Association or the game of football in an exemplary manner, whether in a professional or voluntary capacity, while demonstrating meritorious commitment, by upholding the image and integrity of the sport through development, social delivery and other forms of positive activity.
"This award is open to all categories including, but not limited to playing, coaching, refereeing, administration, organizations and media.
"The Order of Merit Awards will be presented to this year's Recipients at the BFA's Annual Awards Ceremony which will be taking place at 7:00 p.m. this Saturday, April 22nd at the Cedarbridge Academy Cafetorium.
"Key note speaker will be Victor Montagliani, President of CONCACAF. Tickets are $30.00 and can be purchased from the BFA Office. For more information on the Annual Awards Ceremony, please call the BFA Office at 295-2199."

Read More About