[Updated] A few police officers can be seen outside the Magistrates Court building this afternoon [May 26], as people charged in relation to alleged offences at the House of Assembly on 2nd December 2016 are expected to appear.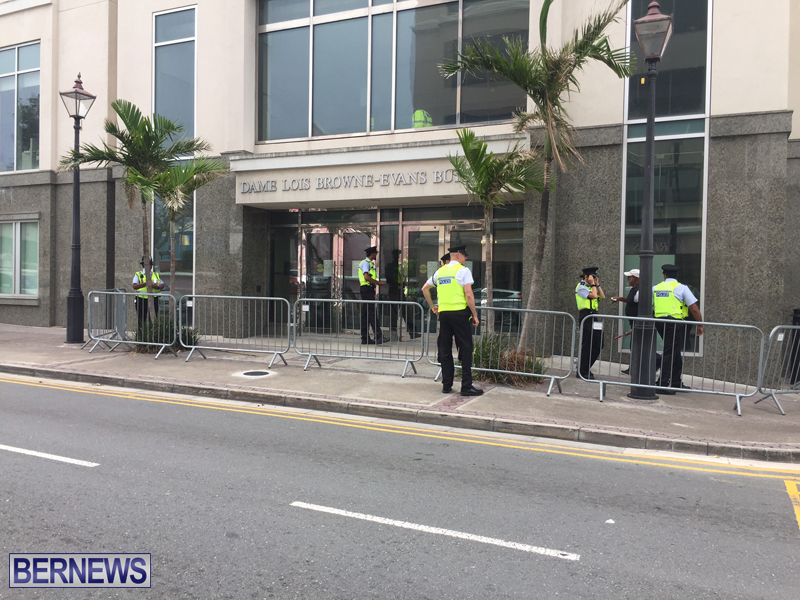 They have already been charged, pleaded not guilty, and are reappearing in Court today. According to the latest Court listing, those due to appear in Court at 2.30pm include Arnold Smith, Alafia Toriano Henry, Anthony Burgess, Chris Furbert Jr, David Saltus, Glenn Simmons, Lily May Bulford, BIU President Chris Furbert, Rev Nicholas Tweed and Neville Goddard.
Update 3.01pm: As of now, nothing formative has happened. Lawyers present include Jerome Lynch QC, Delroy Duncan and Michael Scott. The public gallery has a number of people present, including MP Wayne Furbert, BPSU President Jason Hayward, MP Dennis Lister, MP Walter Roban, and Opposition Leader David Burt.
Update 4.10pm: The hearing has concluded, and we will update with information shortly. As seen they are now outside.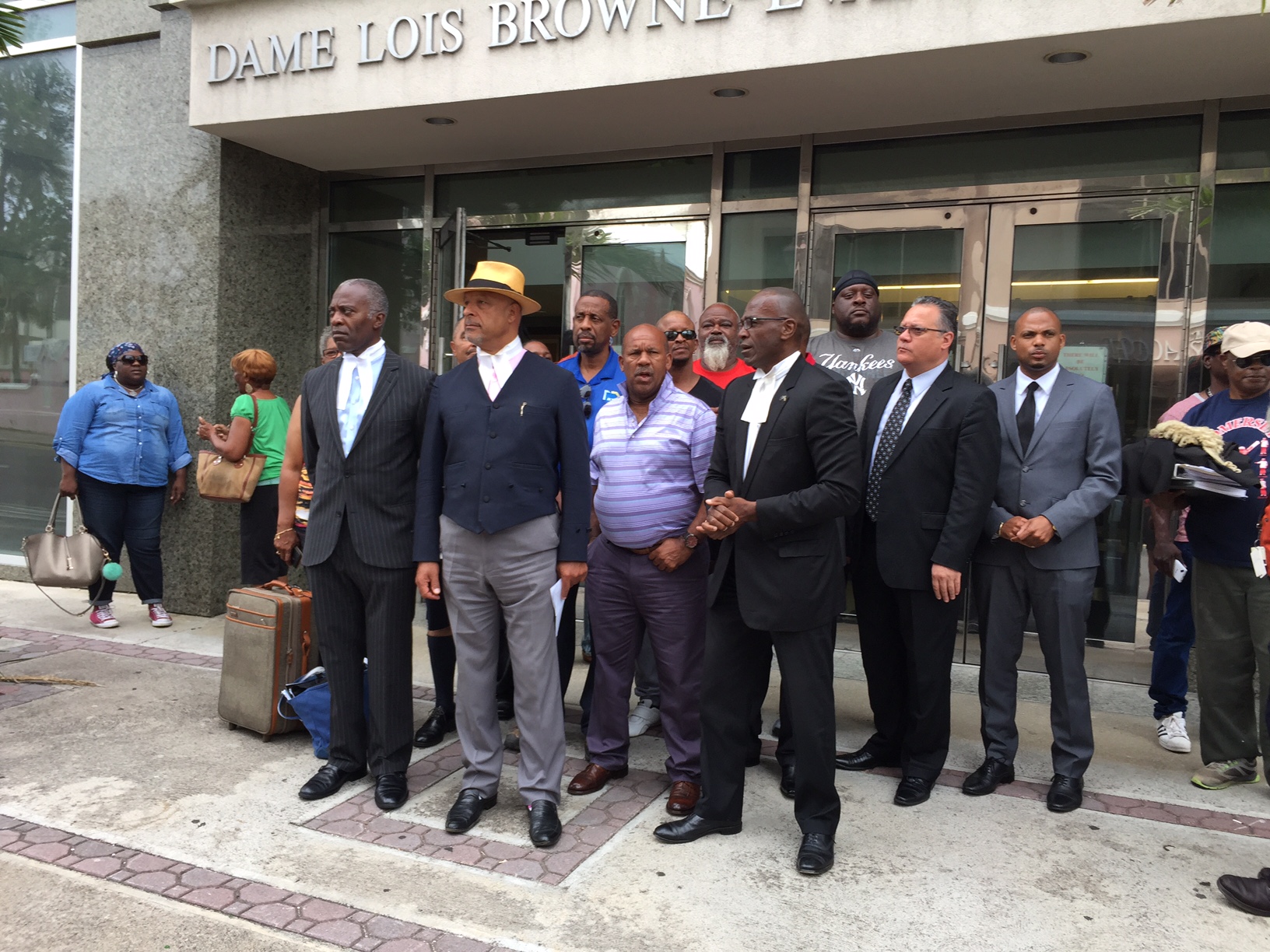 Conclusion: Bound Over
Update 4.31pm: They have been 'bound over for 6 months in the sum of $100.' One, Mr Saltus, pleaded guilty to assaulting a police officer, and was given a conditional discharge. People cheered the decision at Court. More information to come.
Comments From Jerome Lynch QC
Defence lawyer Jerome Lynch QC said, "Today is a victory for common sense. What happened in Court does not involve an admission of guilt on the part of anybody here; it signifies that the prosecution was unnecessary to start with, and not in the interest of Bermuda as a whole."
"It is important that Ministers and the police understand the strength of feeling that members of the public have about various different issues that come before Parliament.
"They are interested in the future of their children, and of themselves, and most importantly of all, Bermuda as a whole.
"Offences that these defendants faced are over 110 years old, and we doubt that they have ever been brought before against any individual from Bermuda. Since those offences were introduced 110 years ago, there has been a constitution, trade relations legislation and human rights enshrined in our law in this country.
"It is better to sometimes ignore minor breaches of the law in the interest of allowing peaceful protest, which remains a constitutional and human right.
"This has no impact on the misuse of pepper spray on demonstrators who await the outcome of an internal police inquiry with interest, but with little confidence."
"So all I can say, on behalf of all of those who have been here today and have been through the ordeal that is this prosecution is that, in the end, common sense has prevailed."
Mr Lynch added, "The law permits them to bring back a charge within a period of 12 months if they thought it appropriate to do so.
"But the reality is, I can't think of any circumstances in which that is ever likely to happen and indeed they have made it clear to us, that it is unlikely to happen short of a repeat performance, and that's not likely to ever take place.
"The reality is, here we have individuals who were seeking to exercise their constitutional right to protest. The fact that there may have been a breach of the peace during the course of that happens up and down the country – happens up and down every country – where people seek to protest and exercise their rights.
"Sometimes you just need to stand back from that and say 'you know what, we're not going to prosecute people for what was, in any view, a minor breach.'
"I mean, so, a few MPs weren't able to go into Parliament that day. Since then, what's happened? The bill has been passed and they're busy building the airport. What is the purpose of this sort of prosecution at this time?"
Comments From Director of Public Prosecutions Larry Mussenden
Mr Mussenden told Bernews, "We analyzed this case, and we are of the view that there was evidence of a breach of the peace, we had the various charges there. There was the power of the court to give a binding over, that's what has happened, so all of the defendants are bound for a period of six months in the sum of $100.
"That means that we're not proceeding at this point, but we can reinstate these charges within the next 12 months, with the leave of the court if there are some circumstances that warrant that," Mr Mussenden explained.
"With respect to Mr. Saltus, he pleaded guilty to assault on a police officer; he was given a conditional discharge. And so I think that is very clear now that people have a right to protest, but there is a line that cannot be crossed."
"The members of Parliament and the Ministers have a right to go to Parliament and to be able to do the people's business, that is really the foundation of democracy.
"This is the first time that we've had a protest like this in these circumstances and I think it's quite clear that, going forward, people need to know what they can and cannot do, because we will not hesitate at all to bring charges and to ensure that these charges are prosecuted to the fullest extent.
"I trust now that it's clear to the defendants today and to any others that, going forward, everybody will abide by the law."

Read More About