The Ethiopian Orthodox Church is inviting the public to view their hand-painted Church Icons, as they will be open for the St. George's Art Walk on Saturday [May 27]
A spokesperson said, "The Ethiopian Orthodox Tewahido Church, Debre Ganet Immanuel Cathedral, Invites residents and visitors to view our hand-painted Ethiopian Orthodox Church Icons. We will be open for The St. George's Art Walk on Saturday, May 27th, 2017 from 10:00am to 4:00pm.
"The Debra Ganet Immanuel Cathedral in St George's features an interior full of painted icons by Abba Gebre Hiwot Wolde Samuel, who was born in a small village in Ethiopia, and ordained as a Monk Priest when he was 18 years old.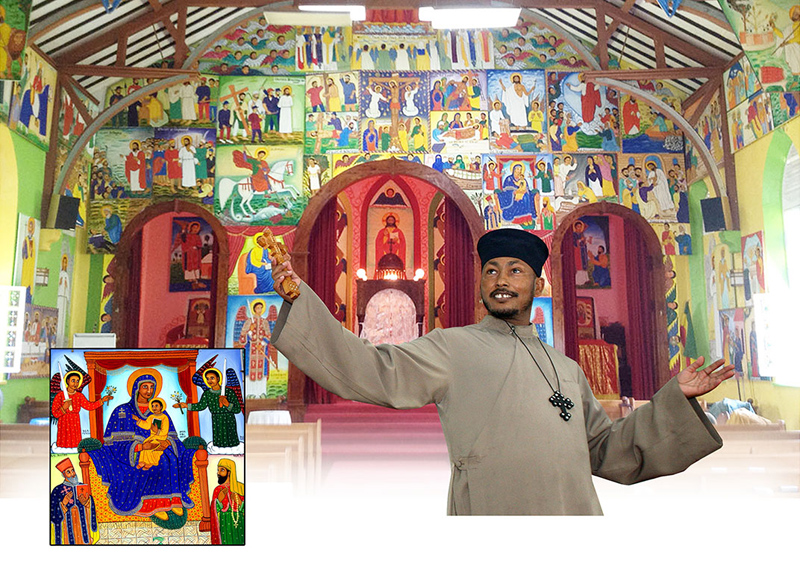 "He then studied religious art, and was contracted to paint religious murals for 11 churches in Ethiopia. After seven years, he selected to travel to Barbados with other priests to establish churches in the region, and in 1999 Samuel arrived in Bermuda after being asked to paint for the church on the island.
"The Bermuda Church belongs to the Archdiocese of Latin America and The Caribbean, and was elevated to Diocesan Status in 1977 with the consecration of the former garrison chapel in St. George's as the Debre Ganet Immanuel Cathedral Church, which means Immanuel Cathedral Of Paradise.
"Directions to the Church: Drive through the town over Barrick Hill turn left on to Old Military Road pass Syliva Richardson Care Facility follow road straight pass Bus Terminal just opposite the Police Barricks on the right. Also you may go over the hill pass the Unfinished Church keep to your right follow the road to the Church. Do not go towards Tobacco Bay."
Read More About
Category: All, Entertainment