[Updated] The PLP held a press conference today [June 14] to announce three election candidates for the upcoming General Election, with Anthony Richardson to run in Constituency #7 Hamilton South, Rose Ann Tucker to run in Constituency #8 Smith's South, and Wayne Caines set to contest Constituency #14 Devonshire North West.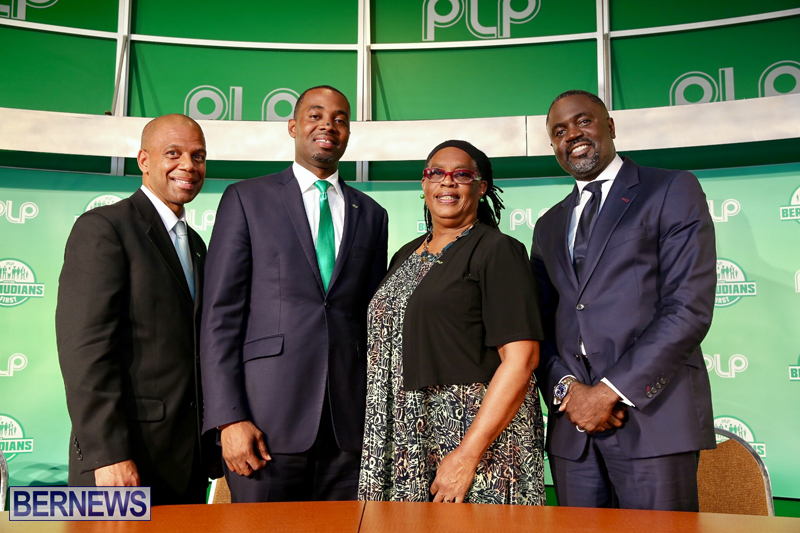 The 29-minute live video replay is below:
The previously announced confirmed candidates for the July 18th election are:
Constituency #1 St Georges North: Kenneth Bascome [OBA] Renee Ming [PLP]
Constituency #2 George's West: Nandi Outerbridge [OBA] Kim Swan [PLP]
Constituency #4 St George's South: Suzann Roberts Holshouser [OBA] Tinee Furbert [PLP]
Constituency #5 Hamilton East: Peter Barrett [OBA]
Constituency #6 Hamilton West: Simone Barton [OBA]
Constituency #7 Hamilton South: Sylvan Richards [OBA]
Constituency #10 Smith's North: Rev Dr Ernest Peets [PLP]
Constituency #17 Pembroke Central: Andrew Simons [OBA]
Constituency #18 Pembroke West Central: Nicholas Kempe [OBA]
Constituency #19 Pembroke West: Jeanne Atherden [OBA]
Constituency #20 Pembroke South West: Susan Jackson [OBA]
Constituency #24 Warwick South East: Nalton Brangman [OBA]
Constituency #25 Warwick North East: Jeff Baron [OBA]
Constituency #26 Warwick South Central: Robyn Swan [OBA]
Constituency #27 Warwick North Central: Sheila Gomez [OBA]
Constituency #28 Warwick West: Jeff Sousa [OBA]
Opposition Leader David Burt's Remarks:
It is my pleasure to stand before you this afternoon to present a group of capable and committed Progressive Labour Party candidates for July's general election. The PLP is a big tent party and I feel that our slate of candidates reflects the same. They represent a wide variety of backgrounds, professions and interests. I have complete faith that the candidates we have chosen will put all Bermudians first and work together to ensure the ideals of the PLP and all of Bermuda are upheld.

For Constituency 7 – Hamilton South – I am delighted to present PLP deputy chairman, Anthony Richardson. Anthony has more than 26 years' experience as a Chartered Accountant holding such senior positions as Accountant General of Bermuda, Chairman of the Bermuda Hospitals Board, Chief Executive Officer of the Bermuda Health Council and Chief Financial Officer of the Bermuda Land Development Company.

Anthony's commitment to community service is most impressive. He currently serves as a Councillor for the Corporation of St. George's and is the Chairman of the Board of Directors at his church. He has extensive experience on many Government Boards and his commitment to community service is further exemplified by his participation in the Bermuda Parents Teachers Students Association, the BFA Finance Committee and YouthNet.

He is a product of Bermuda's public education system – East End Primary, Warwick Academy and Bermuda College. He holds a Bachelor of Business Administration from Acadia University and further advanced diplomas in insurance, finance and management. With his professional and community experience, I am convinced that Anthony will make an excellent representative for Smith's West.

The PLP candidate for Constituency 8 Rose Ann Tucker will no doubt represent Smith's South with dignity and respect. As a self-employed entrepreneur, Rose Ann understands the true meaning of hard work. A family immersed in politics fostered in Rose Ann a life-long interest and desire to become involved in the political process and to contribute to the betterment of all Bermudians.

Rose Ann has been involved at the branch and executive levels of the Progressive Labour Party for many years and is a former Assistant Secretary of the PLP. She is also a former 2nd Vice President of the Bermuda Public Service Union. Rose Ann also served on the steering committee for Habitat for Humanity. Her commitment to representing others and advocating for their needs knows no bounds.

Rose Ann attended the Berkeley Institute, the Bermuda College, George Meany Labor College and the Project Management Institute. She has been a Project Manager in HSBC's Corporate Real Estate Department and with her skills and her determination, I am proud to present her as the PLP Candidate for Constituency 8.

Last, but certainly not least, I am honoured to declare Wayne Caines as the candidate for Constituency 14 – Devonshire North West. Wayne is the former CEO of Digicel Bermuda and current CEO of SENIAC Consulting, a Telecommunications and Organizational Consulting Firm.

He has already served Bermuda admirably with a career of public service. He is a former Captain in the Bermuda Regiment and spent seven years as Crown Counsel at the Department of Public Prosecutions. Wayne also served as the Chief of Staff in the Office of the Premier and as a PLP Senator, Junior Minister of Tourism, Transport, Environment and Sport.

A natural leader, Wayne has been a keynote speaker at the International Institute for Peace Through Tourism Conference, the African Tourism Conference, and the Council of Europe. In 2012, he was the Commencement Speaker at the Oakwood University, his alma mater. Wayne is also a graduate of the University of Kent, School of Law and the Royal Military Academy Sandhurst.

Wayne is a member of many civic organizations and sits on various boards. Impressively, he was the recipient of the 'Community Leader Award' from the Detroit-based non-profit organization Operation ReachBack.

With his military discipline and community activism, Wayne is an ideal candidate for the PLP in Constituency 14.

I'd like to thank all the candidates presented today and our supporters. I know that, together, when we put Bermudians first, we can create a society that works not just for one Bermuda, but for all of Bermuda.
Wayne Caines Remarks:
Good afternoon to the Party Leader, Mr. David Burt, fellow candidates, family, friends, members of the media.

Today I sit before you as the vision of Michael & Shurnett Caines, my loving parents, who instilled in me a love of Bermuda and a commitment to service.

I am the loving husband of Maxanne Caines and the proud father of Maxii Caines.

I can truly say my whole life I have been preparing to serve my community………the quote from Shirley Chisolm always rings poignantly in my ears "Service is the rent we pay for living on this earth".

Today I am honoured and humbled to stand before you as the confirmed candidate for the Bermuda Progressive Labour Party in Constituency 14, Devonshire North West.

This is a responsibility that I do not take lightly, particularly during these challenging times in our Island.

Devonshire NorthWest holds a special place in my heart, given the fact that my Paternal Grandfather, Mr. Arnold Caines in the early 1920′s journeyed all the way from St Kitts as a carpenter with two bags, one with all of his belongings and the other with his hopes and dreams. Mr. Arnold Caines, a Carpenter, made Happy Valley his home, where he and his wife raised 7 Children.

I spent my child and teenage years, in this Constituency.

So truly, I am a son who is at home.

Yes, Devonshire North West, I am home.

I am happy and proud to represent the people of Constituency 14, Devonshire North West.

I have fond memories of remembering walking to and from the Prospect Primary School with my brothers and sister up and down Frog Lane, Friswell's Hill, Happy Valley and Roberts Ave.

Prospect Primary a school remains my foundation. I remember and hold dear a line from our School Song "perseverance our motto resolve to conquer wrong".

My wife for a significant period of her life was raised in Cedar Park and many of my childhood friends all called Cedar Park home, so today is truly a special moment as I am coming to a place that centers me –

and to paraphrase Robert Frost – this Constituency reminds me that I have many miles to go and promises to keep before I can truly Sleep.

I consider myself a servant leader. I have always been committed to service, as Prosecutor in the Department of Public Prosecutions, a Captain in the Bermuda Regiment a Government Senator, Chief of Staff for the Premier of Bermuda.

Much of my life has been dedicated community service, whether it was teaching at the Hamilton Seventh Day Adventist GED program, serving as an Elder in my Church, providing back to school preparations and haircuts for our young boys and girls, or providing free legal advice and counseling to those in need.

My Business Leadership, as the Former CEO of a Major Telecoms Company, and now as the CEO of Seniac Consulting as well as sitting on several Boards both locally and abroad, give me significant insight and understanding the local and international business sphere.

Whenever I have called on my Community they have always answered, I recognize that my community has been very good to me and it is my responsibility and duty to be a voice and advocate for my community at this important time.

My goal is simple – to be an Advocate for hope and to foster the belief that as Bermudians we deserve to have a Better Bermuda for all.

Our children deserve to go to world-class schools.
Our Seniors deserve first class medical care
Our young men and women deserve to have legitimate access to the professional opportunities that exist in their own Island.

Additionally, I plan to work tirelessly to end Gang /gun-related violence on our island.

As stated in Vision 2025, The Progressive Labour Party is committed to working every day for Bermuda and Bermudians, ensuring the social cohesion and economic security for all. I am offering myself for public service and if given the opportunity I will devote all of my energy and ability to creating the Bermuda we all want to see."

Constituency 14, I am here to SERVE YOU.
Roseanne Tucker Remarks:
Good Afternoon Everyone,

I would like to take this opportunity to thank the Party Leader David Burt and the PLP Candidates and Campaign Committees for this chance to represent the community of Constituency 8, Smith's South Those of you who know me, know that my roots are in the West but, there is no part of this Island I could or would not represent. As an Island ambassador, I am the first to point out that this Island is but so long, nowhere is "that far" and surely, we must all be in each other's backyard. I consider every resident on this Island my neighbor and hence, I do not have any difficulty understanding and/or representing the interests of the Smith's South Electorate.

I am a British Overseas Territory Dependent Citizen born in Bermuda, the mother of one son [Michael], originally raised in Somerset, and for the last 18 years have resided in St. David's. I've been involved at the branch and executive levels of the Progressive Labor Party.

In the 80s, I was one of the founding members of People for Positive Change [having ESP], grassroots, lobbyist group, trying to focus attention on, and change, the then Economic, Social, and Political shortcomings of the UBP. I also served as Secretary to the National Bowling Association and the Bermuda Cricket Board of Control.

In the 90s, in combination with the Coalition for Affordable Housing, I lobbied as the National Tenants and Future Homeowners Association bringing awareness to the Housing crisis and breaking down the barriers to get access to the houses on Southside. In 1999, I served as the 2nd Vice President of the Bermuda Public Service Association [now Union]. For four years I embraced union life for the workers at KEMH and MWI.

We celebrated International Women's Day and the quote that showed up on my FB feed by Malala You-saf-zai was very timely and spoke directly to the real reason I want to serve. "Do not wait for someone else to come and speak for you. It's you who can change the world. I know I cannot affect change if I am not in the places where the party-political discussions of change and making Bermuda better are taking place.

It is no coincidence that I find myself around the same age that my Mom was when she confirmed her commitment to Political leadership. As a Candidate for Sandy's North, her face and that of my nephew adorned the 1968 PLP Election Campaign. I feel that she and my African ancestors are propelling me forward to inject truth, justice, and harmony in our political process.

It is quite clear to me, that key challenges island wide, are in the area of Employment, Education, Transportation, and Health Care Costs. There has been no increase in jobs for Bermudians. There is a serious deficit in our Historical and Liberal education. Our Transportation system has failing equipment, infrastructure and scheduling deficits and there is a pressing need to reduce the cost of nutrition and further reduce the cost of health care in this Island.

A quote contributed to Thomas Jefferson in 1809 said "The care of human life and happiness and not their destruction is the only legitimate object of good government." "No society can surely be flourishing and happy, if the far greater part of its members are poor and miserable."—Many in my network of friends are poor and miserable and they live in constant fear of not being able to provide for themselves, let alone a family. I agree with our Leader David Burt; there are two Bermudas and Bermudians must come first in opportunity, jobs and success in our own Country.

Voters of Constituency 8, I seek your assistance in becoming an instrument of change. The OBA said they had solutions to these problems. They said that they had bold new fresh ideas as well as the experience to get it done. They said the conditions of our country demand that we be serious about solutions.

If they have delivered in your Bermuda then fine, but if they haven't then now would be the time to break the pattern of voting for broken political promises and vote to build the better Bermuda the PLP way. Proud, Prosperous, and free to live in peace in one Bermuda.

I thank you for listening and I ask the residents of Smith's South for their support on Election Day.
Anthony Richardson Remarks:
Good afternoon everyone and especially the voters in Constituency #7, Hamilton South.

I am pleased to be the candidate for Constituency 7, Hamilton South in the upcoming election on Tuesday July 18, 2017. Based on our canvassing on the doorsteps, I know that some of your concerns relate to education, road safety, water supply and employment. Addressing the elephant in the room about 2 Bermudas, one voter even coined a new phrase – 3 Bermudas!! The overriding point being, that there is a severe disconnect between the haves and the have nots, and we are not as a country doing enough to reduce this disconnect.

My goal is to be your voice in Parliament when decisions are made that impact you individually or Bermuda as a nation. I believe in reality. Winning in #7 will be a challenge but I am convinced it is possible if everyone is part of the election process. Remember when nobody thought Cleveland could win the Eastern Counties Cup? I invite you play an active role in the 2017 election. Don't be content to sit on the sidelines.. This is perhaps the most important election of our time. We would be happy to have you join our hard working campaign team, led by the well-known Roddy Burchall.

I reiterate the absolute necessity for you to be registered to vote – you and everyone you know. Don't wait until the last minute. Make sure you have done so before Friday. Once you are registered, it is critical for you to come out and vote on election day.

For the past few months we have been out canvassing regularly For those who I have not yet met, here is a brief introduction.

I was 'adopted into the Devils Hole area' almost 20 years ago when I married my wife Holly and moved to Broken Hill Road. I now live close to the iconic Marsden Church and Harris' Bay field.

I enjoy giving back to the community and served on many government boards and community and church organizations for the past 20 years or more. Most recently, I have been an active sponsor of junior tennis which has encouraged a resurgence of tournaments, especially for the 12 and under age group.

I am committed to working with the Progressive Labour Party team under Party Leader David Burt to win this election. But the work does not stop on July 18. In fact that is when the hard work will begin. I pledge to ensure that our education system can be one that is first class yet again, and I do believe it can. I pledge to ensure that we address the social ills that are plaguing our country. We can fix this, and we will. And I pledge, that with my financial background, I will play a role in ensuring we govern with responsible and prudent fiscal management.

I have a vested interest in the success of Bermuda as I have two children whom I love dearly and whom I want to live a happy, healthy, successful life in Bermuda.

I thank everyone for their assistance thus far, and the positive responses on the doorstep. I look forward to meeting you all over the next month, and look forward to July 18th.
Update: Anthony Richardson will run in Constituency #7 Hamilton South, a seat which is currently held by the OBA's Sylvan Richards, who won with 59.71% of the vote in the last General Election. The OBA has already confirmed that Mr Richards will be their candidate again this year, and the results from C#7 in the 2012 election are below.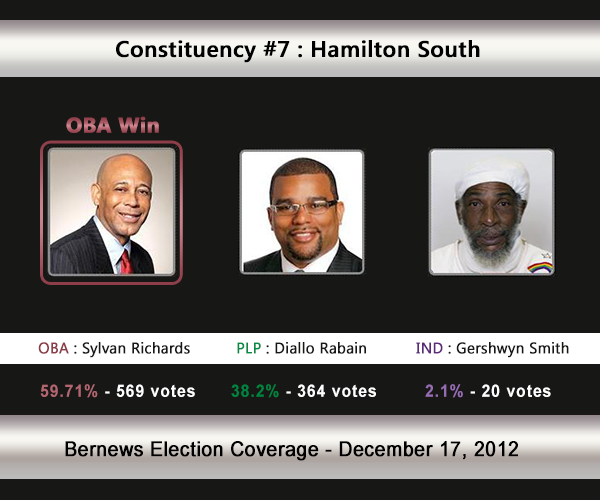 Rose Ann Tucker will run in Constituency #8 Smith's South, a seat which is currently held by the OBA's Cole Simons, who won with 73.77% of the vote in the last General Election. The results from C#8 in the 2012 election are below.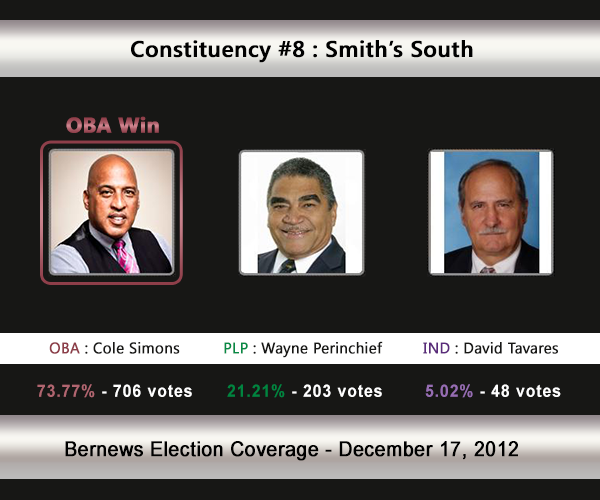 Wayne Caines is set to contest Constituency #14 Devonshire North West, a seat which is currently held by the OBA's Glen Smith, who won with 55.49% of the vote in the last General Election. The results from C#14 in the 2012 election are below.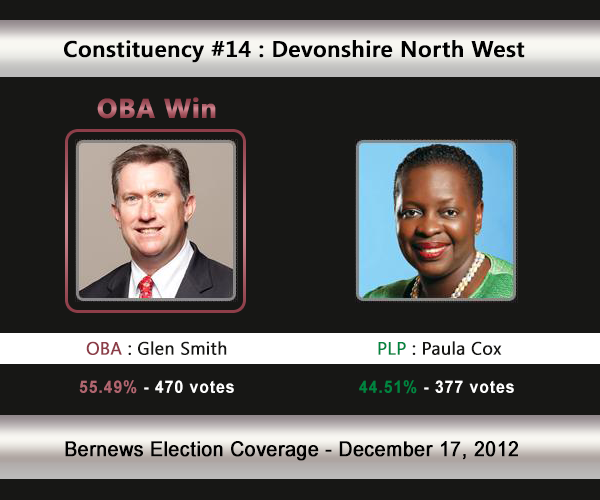 Read More About