The Bermuda Zoological Society announced the winners of the 2017 BZS-Steinhoff Scholarship.
"We congratulate Ms Akinyi Apopa and Ms Amber Reid, both of whom demonstrated outstanding scholastic achievement and community service," said Mr. Robert Steinhoff, scholarship founder.
Ms Apopa is heading to The University of Edinburgh to pursue an MSc Outdoor Environmental and Sustainability Education. Ms Apopa states, "As a science teacher in Bermuda for the past five years, I have found ways to take my lessons out of the confines of the school buildings and into the outdoor world. But now it is time for me to grow.
Akinyi Apopa, Robert Steinhoff, Amber Reid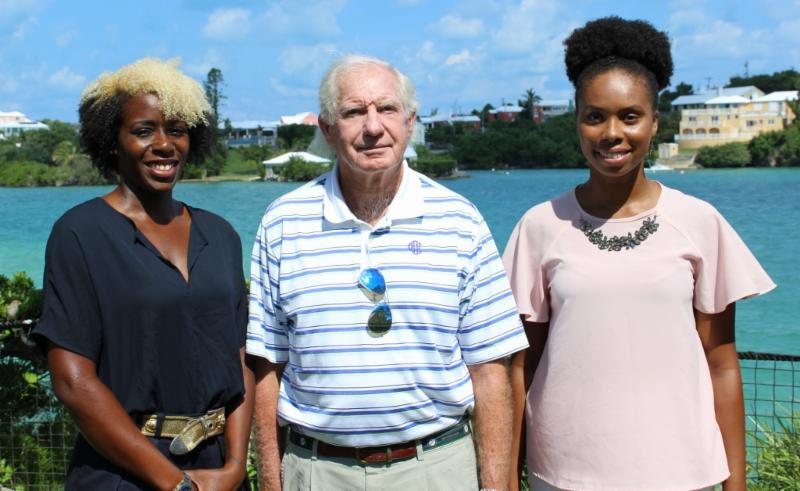 "Undertaking this Masters course provides an opportunity for me to engage in theory and conduct research that will broaden my knowledge. My goal is to save the environment, one child at a time."
Ms Reid is off to Northeastern University in Boston for her final years of a BS Environmental Sciences. A volunteer with the BZS, Amber helped the BZS Education Team to teach local youth about Bermuda's oceans.
"The excitement and enjoyment that the students exhibited as they learned more about the amazing life that our oceans hold, and how essential it is to protect it, was simply inspiring," said Amber, "I would like to see conservationism ingrained into Bermuda's culture and viewed as part of everyday life. The work that the BZS does for our community helped me to figure out my educational path in the field of Environmental Science."
Named for former BZS President Robert Steinhoff the scholarship was established for Bermudian students in the final two years of study for a Bachelor, Master Degree or Doctorate in the Environmental Sciences with an accredited institution. Since its inception in 2009, 18 scholarships have been awarded, totaling more than $90,000.
The 2017 educational scholarships awarded $5,000 for each student.

Read More About
Category: All