XL Catlin announced that the 2017 XL Catlin Scholarship has been awarded to Hailey Quig, a graduate of the United World College [UWC] International Baccalaureate [IB] program in Changshu, China.
The XL Catlin Scholarship is a four-year full scholarship open to students who are Bermudian or hold Permanent Resident Certificate status and are working toward a degree in [re]insurance industry related studies.
Seventeen-year-old Hailey, the daughter of Dr. Myra Virgil and Marc Quig of Paget, was selected from a list of more than 30 eligible applicants for the scholarship.
Hailey Quig with Patrick Tannock, Chief Executive Officer, Insurance, XL Bermuda Ltd and Managing Director, XL Catlin's Leadership Council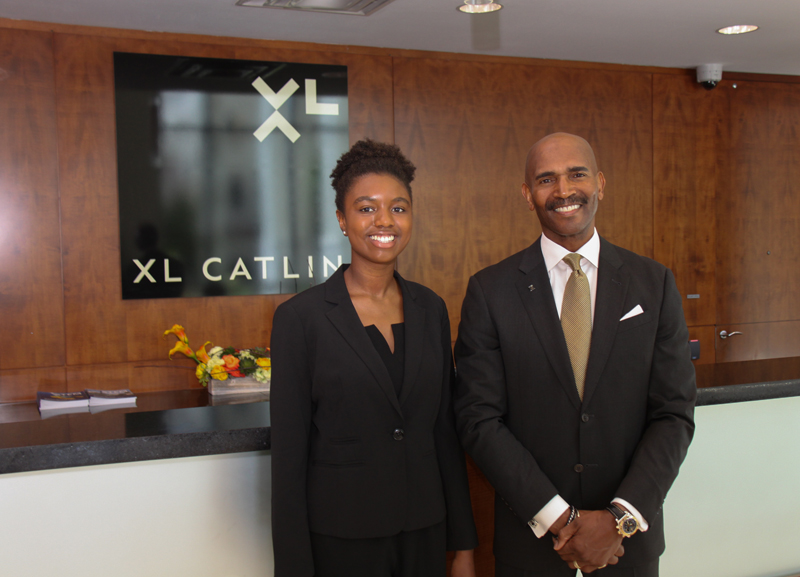 Hailey, who is a former Bermuda High School for Girls student, was selected as the first Bermudian to study at UWC's Changshu campus in an eastern province of China and spent the past two years there making a name for herself both academically and in terms of social responsibility.
During her first year, she helped to start an afterschool English program at a migrant school. Through Habitat for Humanity in China, she spent a week in a rural village in Yunnan, China to build and improve villagers' homes.
In addition to this, Hailey co-founded the school's student newspaper, started a school-wide peer editing network and co-launched an "Earth Week" to raise environmental awareness among students and faculty at the college.
Hailey will be attending the University of Western Ontario in Canada. She will be studying Business Management and Organizational Studies, but has also earned guaranteed entry into the Ivey Honours Business Program open to third-year students at Western. She plans to ultimately pursue a career in corporate law.
XL Catlin Scholarship Committee Chairperson Carol Parker Trott said: "While it is always a pleasure to meet many of Bermuda's best and brightest young people, it is also extremely difficult to choose one person per year as the Scholar. This year was no exception.
"However, the committee was overwhelmingly impressed with what Hailey has already accomplished and experienced at such a young age. Her confidence and independence are well beyond her years.
"We are proud to have her represent XL Catlin as our newest Scholar and look forward to the many valuable contributions we believe that she will make within and outside the industry both locally and globally."
Describing herself as "inquisitive, reliable and hardworking", Hailey's performance to date demonstrates this. Her latest academic achievement has been her IB result of 40 points, having studied Chinese, Math, Economics, Biology, English and Geography.
At BHS, Hailey was a co-founding member and editor of the school's newspaper. She was also the recipient of the Kim Meacham Prize for Economics which is awarded to the highest attaining student in Year 10 and 11 in Economics.
For several years, she received Principal's Honours for achieving an A average or higher and was also awarded the Alumni Association Centenarian Award for academic achievement, involvement in sports and commitment to community service.
Hailey's community service activities in Bermuda have included serving as a Frontier Girls Leader which is a weekly program similar to Girl Guides, which focuses on empowering young girls and development of leadership and life skills. She also served as a junior leader of a weekly program for the Brownies troop, the second-youngest section of the Girl Guides.
In terms of extracurricular activities, Hailey has played competitive squash and classical guitar. As a part of the Bermuda Junior National Squash Team she competed in local competitions and an international tournament.
Through the Associated Board of Royal School of Music, she became a Grade 5 Scholar with merit and played in the Master class with the Los Angeles Guitar Quartet at the 2014 Bermuda Music Festival. She has also earned a Duke of Edinburgh Bronze Award, competed in debating and participated in the KPMG Investment Challenge.

Read More About