Following violent incidents such as a shooting or a stabbing, the coordinated Crisis Response Team attends the area to provide crisis counselling to residents, and "their intervention to date has been genuinely felt within the community," Minister of National Security Wayne Caines said.
During a press briefing today, Minister Caines said, "You've heard me share on several occasions some very stark and concerning statistics related to gun and gang violence.
"These are troubling statistics which bear repeating: since 2009, 35 young black men have been shot and killed; 92 people have been injured by illegal fire arms; and over 400 of our young people are at risk of getting involved in gangs.
Minister Wayne Caines and members of the Crisis Response Team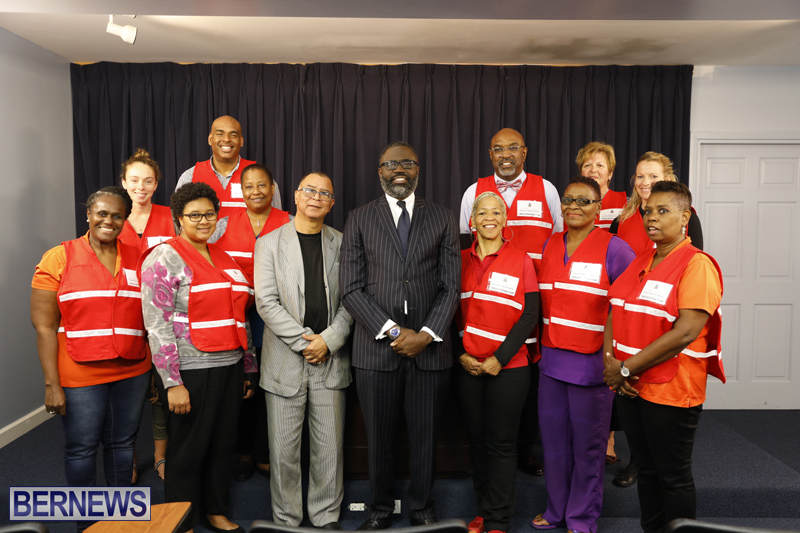 "As I have noted, the Ministry of National Security is using a multipronged holistic approach to combatting the growth of antisocial behavior and gun and knife violence in Bermuda. Our efforts include prevention, education, suppression and intervention at all levels.
"An important component of our strategy is the work of the Inter-Agency Community Response or the ICR. This team, which is led by Pastor Bean, includes public and private sector partners representing various agencies. They are a coordinated Crisis Response Team which operates under the ICR."
Minister Caines continued, "This is the team that attends the sites of a violent incident such as a shooting or a stabbing, and their intervention to date has been genuinely felt within the community.
"In tense and trying conditions they provide crisis counselling to residents who witness these tragic events. The team also goes door to door providing further support and offering much-needed guidance on services to area affected residents. The ICR conduct critical works on behalf of our community.
The 13-minute live video replay is below:
"Recently they have formulated a Guide to Respond to Gang Violence Incident in the Community. The Guide outlines the steps taken to ensure a coordinated crisis response protocol aimed at restoring 'peace' in the community and assisting family members, relatives or witnesses of violent incidents. The efforts of the ICR are invaluable and I wish to thank all involved for their strength, sacrifice and compassion in helping those affected."
Pastor Leroy Bean, the Gang Violence Reduction Coordinator said, "We will have three teams on standby. The object is to provide support to all those affected by an immediate crisis. The coordinated crisis response team will remain in the affected areas for a maximum of four hours.
"If needed a hub will be set up in the affected community with counsellors, inter-faith groups, moral voices and the relevant support systems. Lastly, there will be a 24 hour hotline [297-8278] available to the public in the event that anyone requires therapeutic support during the Christmas holiday."
Read More About