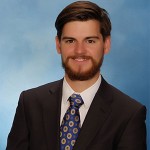 The Association of Bermuda Insurers and Reinsurers [ABIR] announced the appointment of Bermudian Joshua Alvera [pictured] as its Public Policy and Regulatory Affairs Representative.
In this role, he will be responsible for conducting research and analysis on various regulatory and public policy issues, while also providing general support to ABIR's Executive Staff and Committees.
John Huff, ABIR's newly appointed President and CEO said, "We are thrilled to have the skill set, experience and energy that Joshua has demonstrated in both his educational and professional experience.
"We are so pleased to have him join us as part of the ABIR team that is dedicated to representing the public policy interests of Bermuda's international insurers and reinsurers and the customers we serve."
Prior to joining ABIR, Mr Alvera was a Senior Associate at Pricewaterhouse Coopers Bermuda [PwC]. He served on the audit team for a variety of clients in the Banking, Asset Management, Energy and Telecommunications sectors.
He was also was Lead Senior on numerous Personal Client Services accounts, including Bermuda Charities. Many of these clients reported under IFRS and US GAAP and some were subject to PCAOB standards. His work supported the jurisdiction's commitment to transparency and financial stability.
Mr Alvera is a Certified Public Accountant [CPA] and a member of CPA Bermuda. He earned a Bachelor of Arts Degree in Accounting and Finance from Gordon College in Wenham, Massachusetts, and a Master's in Business Administration from Boston College.
Read More About