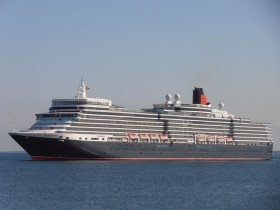 [Updated] The newest Cunard cruise ship, Bermuda-registered MS Queen Elizabeth, and sister ship MS Queen Victoria, will be the first official cruise ship visitors to the island in 2018, with both scheduled to arrive for a seven and a half hour stay on Sunday.
"This is the inaugural visit for Queen Elizabeth. With almost 1900 passengers and a crew of 980, the luxury liner has just begun an 122-night world tour," the Ministry said.
"The ship left Southampton, England Sunday on its annual Around the World voyage, and will include transit through the Panama Canal and stops in many ports before a return to Southampton in May.
"The full westbound circumnavigation voyage includes overnight stays in New York, San Francisco, Sydney, Hong Kong and Cape Town. It involves visits to 39 ports in 25 countries, including the maiden voyages to Bermuda and a handful of other destinations.
"Launched in 2010, the ship will only be in port at Heritage Wharf in the West End from 8am to 3.30pm.
"Queen Victoria will berth at King's Wharf officially for the same period, although the two ships will be brought alongside, and taken out, about 20 minutes apart.
"Passengers will have just a few hours to walk around, before they have to re-board at about 2pm for the mid-afternoon departures – Queen Elizabeth to New York and Queen Victoria to Fort Lauderdale.
"Christened by HM Queen Elizabeth II after being built in Italy in 2010, the originally UK-flagged Queen Elizabeth, with more than a thousand luxury cabins, was refurbished in 2016.
"The list of visited countries/regions on tour includes: Bermuda, USA [New York, Florida], Jamaica, Aruba, Panama Canal, Guatemala, Mexico, back to the USA [California, Hawaii], French Polynesia, New Zealand, Australia, Papua New Guinea, Japan, South Korea, Japan, China, Taiwan, China, Singapore, Malaysia, Sri Lanka, Seychelles, Mauritius, Reunion, South Africa, Namibia, Europe – Spain-Canary Islands, Portugal-Madeira."
The BTA and Government previously announced that in 2018, Bermuda is expected to receive 180 cruise ship calls bringing approximately 470,000 passengers.
"In 2018, the total projected economic impact of both visitor spending and government tax revenue is $84.8 million with $59.8 million estimated in visitor spending and $25 million in tax revenue," a spokesperson said.
Update January 10, 12.58pm: A Bermuda Maritime Operations Centre spokesperson said, "MS Queen Victoria and MS Queen Elizabeth have cancelled call to Bermuda on Sunday Jan 14th due to weather encountered on crossing."

Read More About