Afraid of the Dark, a new exhibition of works by Richard Sutton, is now showing at Gallery One Seventeen, with the exhibition to remain open until March 9.
The gallery is located at 117 Front Street east, just past the Cabinet building.
Mr. Sutton said, "I have always been drawn to New York City's evening lighting. The silhouetted cityscapes with bursts of bright colourful lights created by awnings and windows move me. As I studied art history, I learned of the Ashcan Art Movement. I could not help look for the beauty in dark spaces.
"As an art educator, I usually noticed this light because of the hours I kept. I also admired other artists, such as Caravaggio and Edward Hopper, for their use of light and wondered how the work would apply to a new narrative."
Richard Sutton's The Platform Oil on canvas: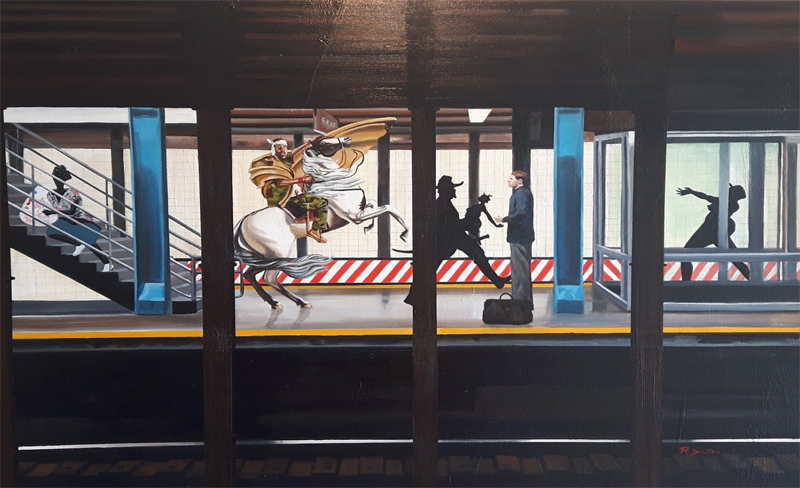 "The exhibition's title "Afraid of the Dark" is borrowed from the documentary "Nat King Cole, Afraid of the Dark". I am not on par with Cole but found something in common. I have a desire to tell a story – my story, our story – with truth, grace, admiration, and respect.
"I use this title because too often people are afraid of the dark, the truth that lies in the dark, my darkness, or the monsters of the dark created by our imaginations. When we are alone in the dark, the truth of who we are cannot be hidden. The truth lies in the dark. Why are some afraid of the dark?"
A spokesperson said, "Richard Sutton is new to exhibiting his work. He has been a visual arts and design educator for 19 years working in New York City, Vermont, Buffalo, and Bermuda. Sutton earned a Bachelor's of Fine Arts in 1996 from Andrews University with a concentration in Painting and Ceramics. In 1999, he earned a Master's of Arts degree in Art and Design Education from Pratt Institute.
"Throughout the years while teaching, he has painted to hone his skills. Sutton has curated numerous student art shows in New York City and Bermuda. In 2008 and 2009 he also hosted two adult artists group shows in Bruce's Garden Manhattan. In 2009, Sutton was invited and participated in the Nyack Art Walk in New York State. In 2011, one of his paintings was featured to represent the art walk as promotional material for the poster artist.
"In October 2017, Sutton's painting La Pieta, was a part of the Charman Prize competition. In February 2018, Sutton's work will be displayed in a solo show entitled "Afraid of the Dark" at Gallery One Seventeen Bermuda."

Read More About
Category: All