A television crew from Germany filmed the island's defence force going through their paces on Saturday.
The team from Franco-German television company ZDF Arte toured Warwick Camp and captured soldiers in action as part of a series they are producing.
They were invited by Governor John Rankin, the Commander-in-Chief of the RBR, who was also interviewed by the crew about his role on the island.
Governor John Rankin talks about the role of the RBR with a German TV crew on the rifle range at Warwick Camp.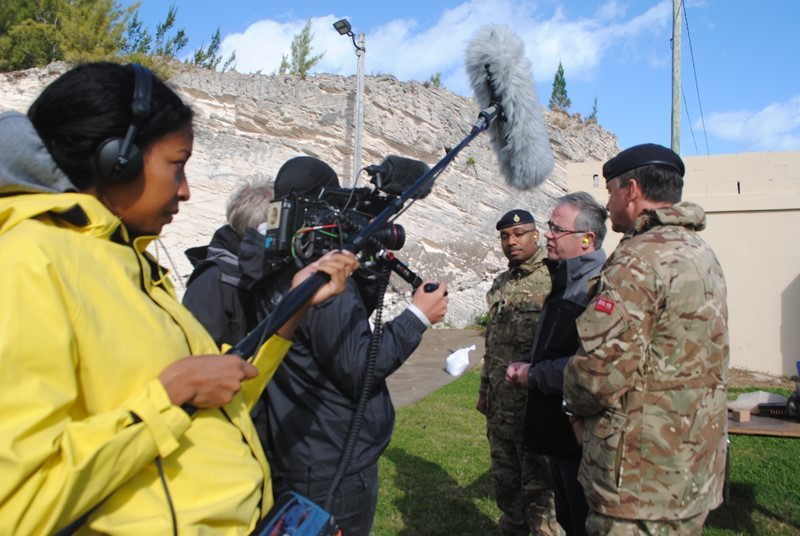 Arte producer Kristian Kaehler said, "We're making a portrait of the island and the different jobs – bus driver, boat builder, the ocean sciences institute and even the Governor."
Mr Kaehler added: "The soldiers seem to really like what they do. They're devoted to it and like their service.
"They are the people's army. It's for the benefit of the country which is great. Their spirit is nice and that's quite nice to see."
The TV crew filmed soldiers on the firing range, the RBR Band & Corps of Drums, first aid training and ceremonial duties.
The team has already produced films for the series, called the Queen's Islands, on places like Jersey, the Isle of Man and the Outer Hebrides off Scotland.
Mr Rankin said, "They are making a documentary film about Bermuda, essentially showing the beauty of the island and what visitors might expect here.
"They also wanted to find out about the work of the Governor and I thought it was important that as part of what they did they came to Warwick Camp and learn a bit about the RBR, its history and what they do to support the defence and security of the island."
Governor inspects soldiers' results on the firing range while a German TV crews films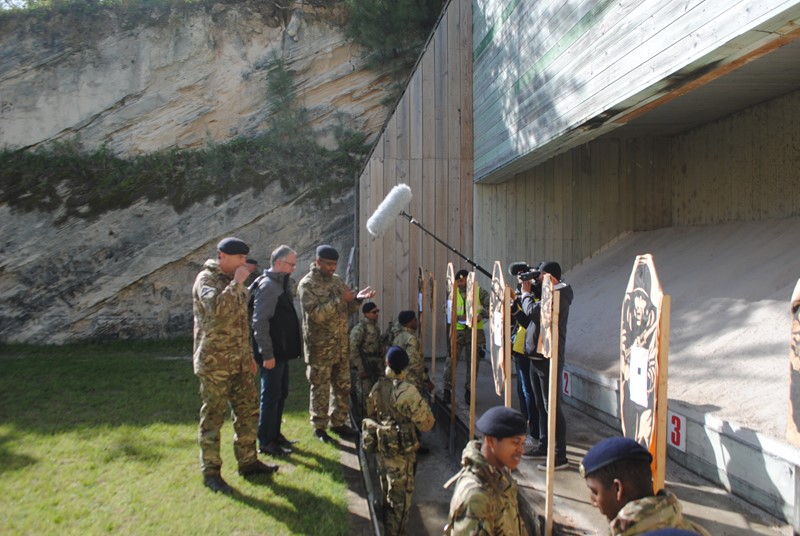 He added: "The documentary should help potential visitors to the island to see what goes on here and to see a lot of the good things that happen on the island – and hopefully boost tourism."
Mr Rankin told the Arte crew: "This is a modern jurisdiction, a modern business place, but also a place where the roots with the United Kingdom still run deep."
RBR Commanding Officer Lieutenant Colonel David Curley added, "Most of the soldiers they've seen are our new recruits from January.
"We're an open organisation and we welcome visitors interested in the work we do to protect Bermuda.
"I'm pleased our soldiers responded with so much enthusiasm and showed how much they enjoy their service."
Read More About