Bermuda's Dage Minors, who competes for the Franklin Pierce University men's track & field team, raced to third in the 800 meters at the NEICAAA Championships.
The school's match report said, "A mere seven-thousandths of a second separated first from third place in the 800 meters on Saturday, with the wild finish highlighting the second day of the NEICAAA Championships, hosted by Dartmouth.
"The Franklin Pierce University men's track & field team had two of the said top-three finishers in the event, as freshman Hugo Arlabosse [Marseille, France] won it, followed by graduate student Dage Minors [Hamilton Parish, Bermuda] in third.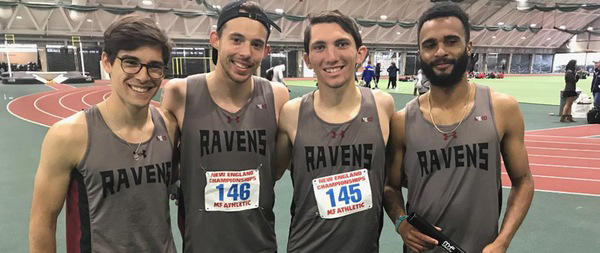 "Despite running in two separate heats, Arlabosse and Minors wound up separated by just seven-thousandths of a second in the 800 meters, as both hit the NCAA Championships provisional qualifying mark in the process.
"Minors finished second, by a mere four-thousandths of a second, in his heat, with a mark of 1:50.07, which was good for third place overall, and six points. Arlabosse's time is good enough to tie for 12th in the nation, while Minors still ranks sixth in the country, courtesy of his time at the Florida Relays at the end of March.
"Not long after, both were also a member of the Ravens' 4×800-meter relay team, which finished third to pick up six more points. Arlabosse led off, followed by graduate student Jon Holmes and sophomore Tyler Hayes in front of Minors, who ran the anchor.
"Merely an hour after his 1:50.07 in the individual 800 meters, Minors posted a 1:49 split on the anchor, as the quartet put together a time of 7:39.99.
"The fact Dage ran 1:50 and 1:49 within an hour of each other is absolutely insane," said head coach Zach Emerson.

Read More About