[Written by Mikaela Ian Pearman]
'Soca kingdom, soca kingdom, soca kingdom – who ready?"
Machel Montano's voice blares from the speakers as the beat kicks in. Then comes Super Blue – 'Wine and fling it up, wine and wine and fling it up"!
And we surely did wine and fling it up all day yesterday at the crème de la crème of Bermuda Heroes Weekend – Parade of Bands. Four bands brought the costumes, the bacchanal and the vibes yesterday during the annual parade throughout Southside.
I played mas with Party People this year for a different vibe having played with Nova Mas last time. I arrived at the rest stop area by the old base gate around 1:30pm to start my carnival experience. The first lap started at 10am from Clearwater, but having attended Pure  the night before and then J'Ouvert earlier in the morning, I was in no condition to start that early.
Author Mikaela Ian Pearman enjoying the Parade of Bands: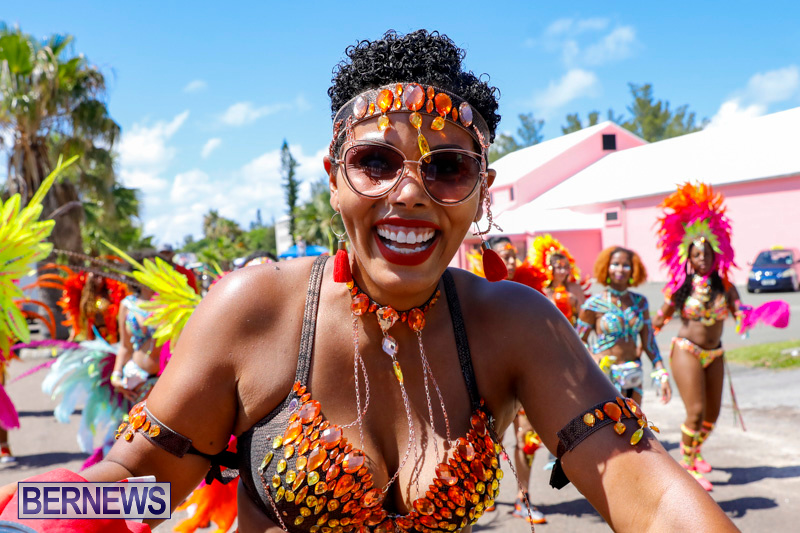 When I arrived with my cousin, my face immediately broke out into a huge smile seeing everyone dressed in the vibrant colours. Everyone looked beautiful! Once I located Party People's hospitality area, I grabbed a bottle of water and then did a lap to check out everyone. Shortly after, it was time to hit the road as we were the first band.
Party People had two trucks this year for their masqueraders to enjoy. There was also a hydration truck in the middle of the two trucks which was fabulous. I was able to fill my cup with coconut water and ice multiple times throughout the day which kept me hydrated.
But the best part about Party People was the vibe. I went in with no expectations and had a ball! The DJs were incredible. There was a mix of local and international including the infamous DJ Private Ryan out of Trinidad, Back2Basic, Tony X, Jim Brown, Mista Genius and more.
They were amazing at mixing in new and old soca to get the crowd going. I will say, I did not like the dancehall segment one bit. I am a soca purist and believe there is no room for dancehall in carnival. Fight me.
Both trucks were playing similar music but just with different styles. I will say, I stayed close to the truck where Private Ryan and Back2Basics were playing because it was the better truck in my opinion. At one point, Back@Basics, freestyled over the beat when the music had to be shut down and it kept the vibe going.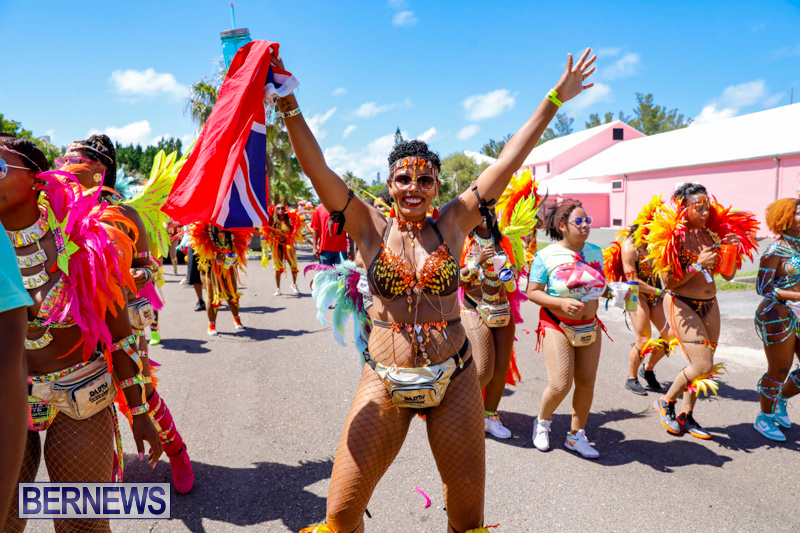 My friends and I actually walked back to check out other bands and I have to say, the vibe was not there. People looked beautiful but were not dancing and basically slowly walking down the road. Maybe it was the heat. Maybe it was a lack of stamina. Maybe there were major hangovers. I'm not sure what it was, but it was discouraging to see so many beautiful people not having a good time.
When we finally got to the end at Clearwater Beach, I rushed over to grab some food since I was starving. Unfortunately, the food was horrible to say the least.
Other bands had wonderful spreads with a variety of options and Party People had rice, chicken or fish and salad, which took forever to be handed out. It was very disappointing not to mention completely unorganized, which was weird since Party People is a very organised band.
Despite the bad experience with the food, I thoroughly enjoyed my time with Party People. The costume was beautiful and the band was full of vibes. I had a wonderful day on the road and will happily do it again next year. It was wonderful seeing so many spectators on the sidelines and people really enjoying themselves. See you next year!

Read More About
Category: All, Entertainment, News