[Written by Mikaela Ian Pearman]
The song goes like this: "It's all year that we waiting, oh yea, and we anticipating".
That one line pretty much sums up every single carnival masqueraders mindset in the lead up to carnival.
This biggest change this year for Parade of Bands was the change of venue – from Southside to town ie the City of Hamilton. A lot of people were said to be unhappy about the change, but I decided to go in with an open mind.
I played mas with Party People again this year after a great experience last year. After getting makeup done and getting dressed, my friend and I headed over to Victoria Park where our mas camp was located to eat lunch before hitting the road for the afternoon laps.
Mikaela enjoying herself at the Parade of Bands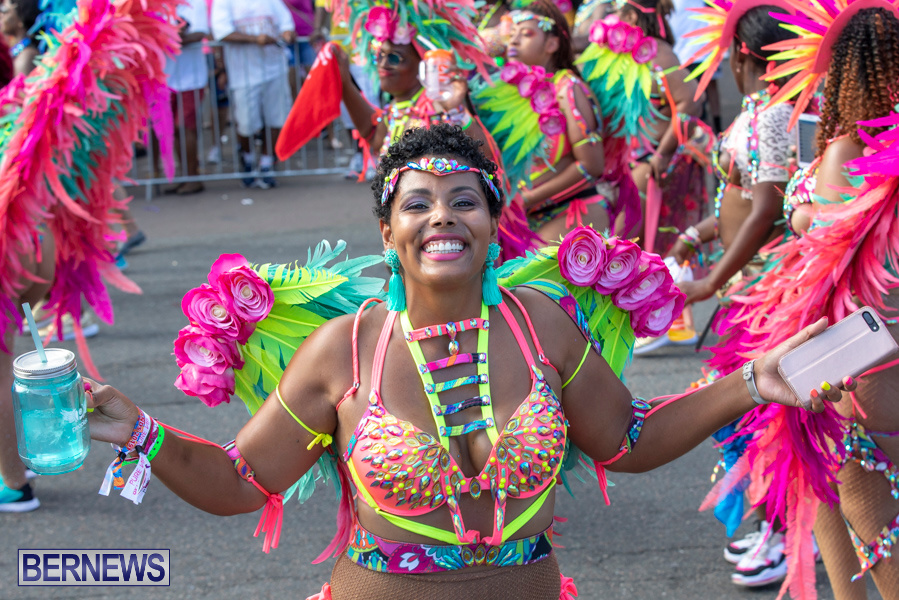 The first thing I noticed was how organized everything was. There were tents providing shade, a water area, coconut water and Lucozade tent.
The lunch area was even more organized with lines for veggie, chicken and beef. Food was catered by Take Five Ltd and it was incredible. I devoured tandoori chicken, rice and coleslaw. Such a step up from last year!
After we ate, it was time to hit the road but not before being sprayed with sunblock by our dedicated sunblock sprayers. That was a great perk!
DJ Rusty G ie one of my faves kicked off the first lap and he set the tone of the afternoon straight away. The music was good, the box was loud – it was just a perfect situation.
One of the funniest parts of the afternoon was when Rusty encouraged us all to jump over the wall at the House of Assembly. Of course, everyone listened and hundreds of masqueraders danced on the grounds of Parliament. Party People has no behavior at all!
People on the grounds of the House of Assembly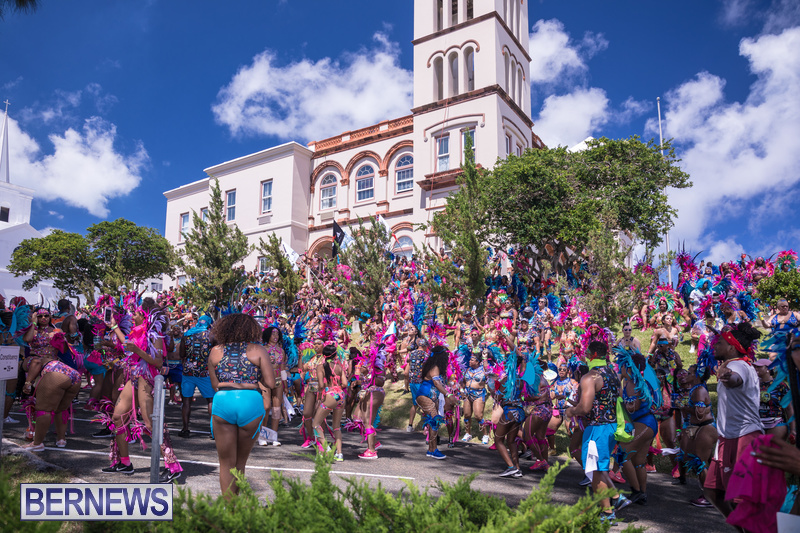 By the time we hit Front Street, I was dying. It was incredibly hot. Thankfully I had decided to only drink coconut water and water over ice for the day so that I wouldn't dehydrate. I just can't remember ever being that hot!
But the vibes in the band were still on such a good high, especially when DJ Private Ryan started playing music. Time and time again he proves why he's the best. We stopped on Par-la-Ville Road in the shade so that we could catch ourselves. Then we headed back to mas camp for a quick break.
It was a much-needed break! I guzzled more water, has an amazing mini pie from Bermuda Pie Company and freshened up a bit. Then it was time to do it all over again.
The second lap was much better. I don't know if the universe heard our pleas for shade and breeze, but the universe delivered. The clouds came out and a breeze came from somewhere. It made all the difference. Not to mention the DJs kept telling the crowd to hydrate with water and coconut water, which I'd been doing all day.
37-minute live replay of the afternoon lap:
DJs Back2Basics and Tony X also started playing and kept the vibes going as we heading towards Front Street.
This time it was a bit different because they kept asking masqueraders to get in ya section. This basically means stay with the people with the same costume as you. Sections are enforced in Trinidad and other carnivals but certainly not Bermuda. It was a bit annoying, but I soon understood why.
Finally, everyone listened and got into their sections and we crossed the "stage". Again, another Trinidad carnival thing so not sure if it worked well here, but it was fun to cross the stage in Bermuda, which was outside of Dog House.
Then we made our way to City Hall for the last lap. By then, I was dead. The heat was killing me, and my ankles were hurting. I guess I'm getting old!
But overall, this is probably the best Bermuda Carnival experience I've had. I danced so much and had such a great time. I do think the route was too long, so I would encourage organizers to shorten it for next year if they want us to keep the energy up. Or, maybe even start later and go into the evening?
Regarding my band, I have nothing but praise for Party People. Everything was perfect from the stunning costumes to the food to the rest areas and of course, the vibes on the short were nothing short of amazing. There's a reason why so many masqueraders from Nova and Code Red were following our truck.
I had a great time this year and can't wait til next year!

Read More About
Category: All, Entertainment, News