[Updated] Government confirmed this morning [July 5] that they have filed an appeal in the same sex marriage legal case, adding that they "look forward to having this matter heard by the Court of Appeal."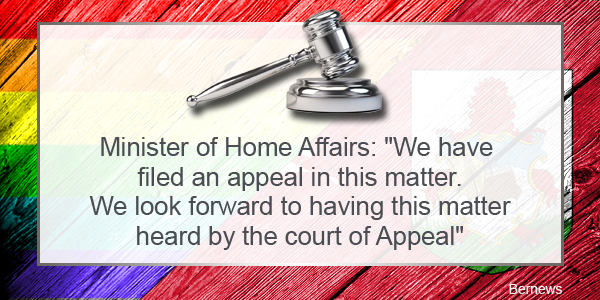 Chief Justice Dr Ian Kawaley ruled in favour of same sex marriage earlier last month, with the judgement saying that the provisions of the Domestic Partnership Act that serve to revoke same sex marriage rights are invalid.
Same sex marriage was initially legalised in Bermuda following a Supreme Court decision in May 2017, however the Domestic Partnership Act  passed in Bermuda's legislature last year which created domestic partnerships and restricted marriage as between a man and woman, with the DPA taking effect on June 1st of this year.
A challenge to the Domestic Partnership Act was brought, with the Court ruling in favour of it on June 6th, and granting a six week stay to allow time for appeal.
When asked if Government has filed an appeal against the same sex marriage ruling, the the Minister of Home Affairs Walton Brown said, "We have filed an appeal in this matter. We look forward to having this matter heard by the court of Appeal."
Last month's ruling was the second court ruling in favour of same sex marriage, meaning same sex marriage has been legal in Bermuda, then restricted, then had a court ruling to make it legal again, with that court ruling now set to be appealed.
Update 12.26pm: OUTBermuda said, "We will never surrender equality for all Bermudians, and especially the LGBTQ families and couples who deserve it."
Roderick Ferguson, the original litigant, said: "Just one month ago, LGBTQ Bermudians inched closer to our goal of restoring marriage equality. We regret this ill-advised and costly decision to appeal the Supreme Court's finding, and we will summon our voices and resources again as a united community to prevail."
OUTBermuda, which served as a co-litigant in the original lawsuit, said they will join again with Roderick Ferguson, Maryellen Jackson and "many allies seeking to defeat the Government's appeal."
Adrian Hartnett-Beasley, one of OUTBermuda's directors, said, "We have strength not only in justice but in our numbers – including our respected faith leaders like Sylvia Hayward-Harris, along with citizen-activists including Julia and Judith Aidoo-Saltus, Chai T, Wesley Methodist Church, and Douglas NeJaime. We've made outstanding progress with our business advocates led by Carnival Corporation and many encouraging Bermudian-owned/based businesses and employers."
"Legal counsel again will be provided through the services of Rod S. Attride-Stirling [ASW Law Limited] and Mark Pettingill [Chancery Legal]," OUTBermuda said.

Read More About