[Updated] The Government held a Town Hall this evening [Nov 8] on the draft bill Domestic Partnerships, which the Government said will "essentially replace same-sex marriage with a domestic partnership arrangement which can be entered into by both same-sex and heterosexual couples."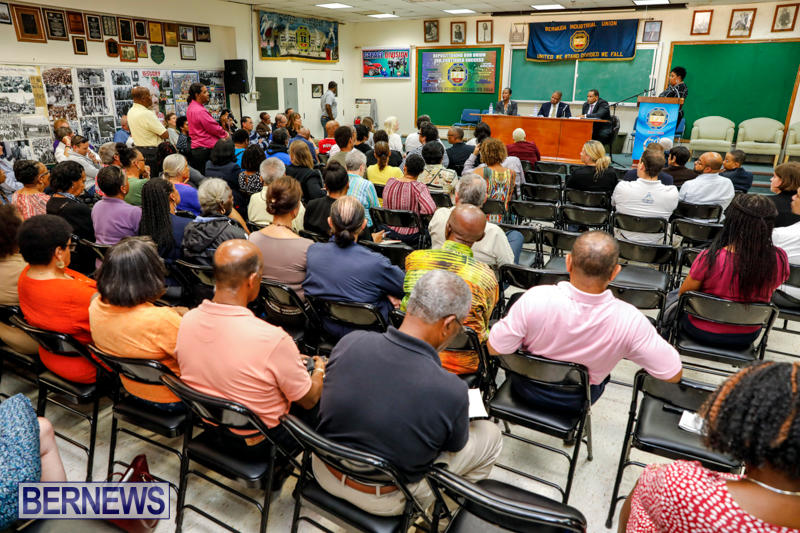 The meeting began with comments from Minister of Home Affairs Walton Brown, and then the floor was opened for comments.
The Government said there will be a public consultation period which concludes on Wednesday November 15th, and people are invited to send comments and questions to domesticpartnership@gov.bm.
The 90-minute live video replay is below:


Update: Speaking at the event, Minister Brown said, "Why is this being done? It is being done for one very simple reason. The status quo, which allows for same-sex marriage, is embraced by one segment of the community; it is not embraced by another.
"The Parliamentary reality is that, in the Progressive Labour Party, this issue, for the last 25 years, has been a matter of conscience. So the Party has not taken a position, and does not intend to take a formal position on this issue; each member is allowed to vote his or her conscience on the issue.
"In our election platform this year, our position was clarified in writing, in which we said the issue of same sex marriage – or yes we can use the word marriage equality – that issue remains a matter of conscience. The Party, however, will commit to putting into place a framework of legal benefits for same sex couples.
"We won the election on that basis – in part on that basis – and we have a set of circumstances in which, one member representing a majority of Members in Parliament, is intent or has been intent, on proposing a Private Members Bill which would outlaw same sex marriage.
"Not a Party Bill, not a Government Bill; a Private Member's Bill. If that Bill is tabled, or would be tabled, it will command the support of a majority of Members of Parliament, because a majority of Members of Parliament do not support same sex marriage.
"If that Bill was to pass, same sex couples would have no legal protections whatsoever; that is the political reality. And so, despite what anyone may feel about what is the appropriate thing to do – and we could have a very intense debate about that – that is the political reality.
"What this Government is doing is ensuring that same sex couples do in fact have a wealth of legal benefits, because of what would happen if we do nothing.
"We could do nothing. A Private Member's Bill would be tabled, debated, and become law. There is some discussion as to whether or not the Governor would sign off on that legislation, and I have seen comments that suggest there might an issue.
"But if the Governor was to refuse to sign off on a Bill that is passed by a democratically elected Parliament, you would have a constitutional crisis. We are in no position to have a constitutional crisis today.
The Minister added that the Government is tabling a Bill "which will achieve what a Private Member's Bill would achieve" but also "provide for legal protections for same-sex couples."

Read More About