Players from Team Hurricane Basketball Academy have had a busy summer learning the game in the presence of two legendary, Hall of Fame Basketball Coaches, Bob Hurley Sr. and Syracuse University's Head Basketball Coach, Jim Boeheim.
As part of its U.S. Coaches Mini-Camp Series, Team Hurricane Basketball Academy was honoured to have Hall of Fame Basketball Coach Bob Hurley lead a 3-day mini camp for Bermuda's youth who are looking to learn the sport of basketball at a high level.
The camp was held July 28 to July 30 at Warwick Academy and Bermuda College. The legendary coach brought his trademark enthusiasm and passion for teaching the fundamentals of basketball.
Coach Hurley giving shooting tips to Kallan Todd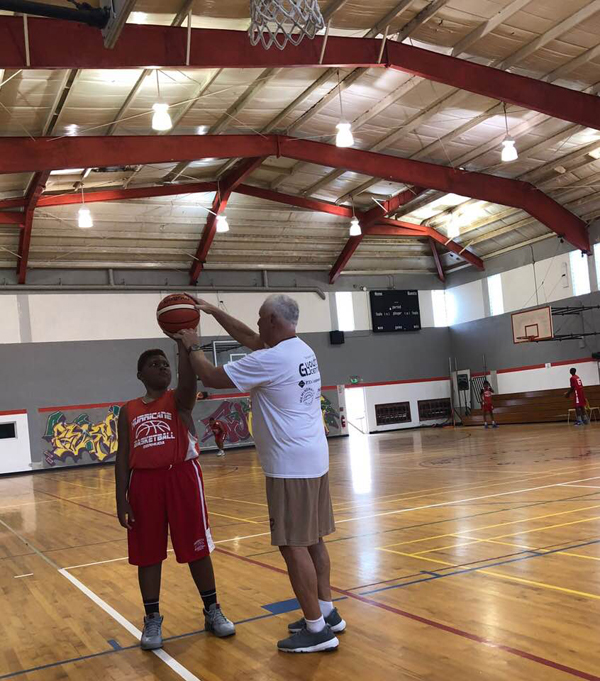 Coach Hurley shared, "What I most admired about my 3 days with Team Hurricane was the joy in which they play the game. This was fun. Starting with younger ones all the way up to the ones in high school, we had what you call camaraderie. We were all on the same page.
"I truly enjoyed the time I spent with the players of Team Hurricane. They were a hardworking group. And I hope they learned some things and had some fun with this and have a carryover."
Coach Bob Hurley, Sr. with Team Hurricane student—athletes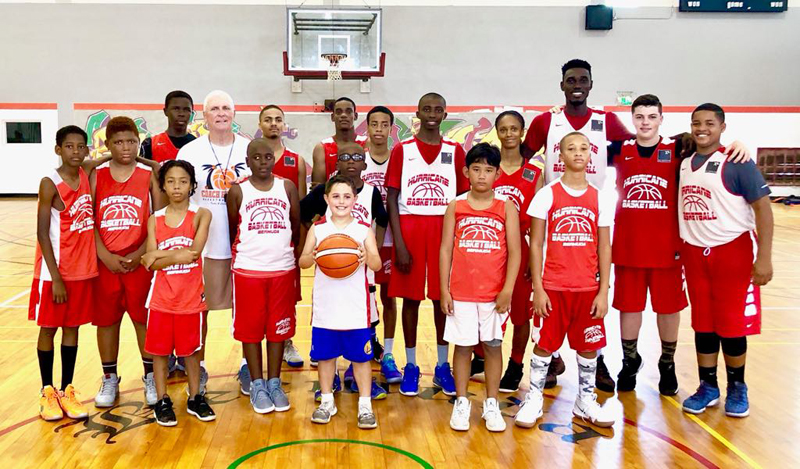 Shortly after on the heels of their mini-camp, Team Hurricane was off to Syracuse for the fifth year in a row, to attend Syracuse University & the Jim Boeheim Basketball Camp [August 1 – August 5, 2018].
The program's young student-athletes got a chance to meet Coach Boeheim and took part in an experience that, once again, enabled the Team Hurricane Basketball Academy to promote the college experience to its young people. Over the course of 5 days, Team Hurricane players had the opportunity to learn the game in the same way the renowned Syracuse University Orange squad is coached by legendary Hall of Fame Coach Jim Boeheim.
This year, 11 student-athletes traveled to Syracuse, and included for the second year in a row Lady Hurricane, Kayla Raymond who participated in Quentin Hillsman Elite Basketball Camp for girls. The Elite Camp is for advanced and skilled players entering grades 9-12 and is designed to help prepare top players for the collegiate level of play.
Team Hurricane on the steps of Syracuse University's Crouse College ,School of Visual Arts [Front row left to right, Anson Robinson, Kayla Raymond, Lachlan Thompspn; Middle row: Kallan Todd, Aidan Cassidy, Chris Raymond; Last row: Matthew Henry, Seth Hardtman, Ralph Scott; Standing left to right; Naphtali Smith, Logan Thompson]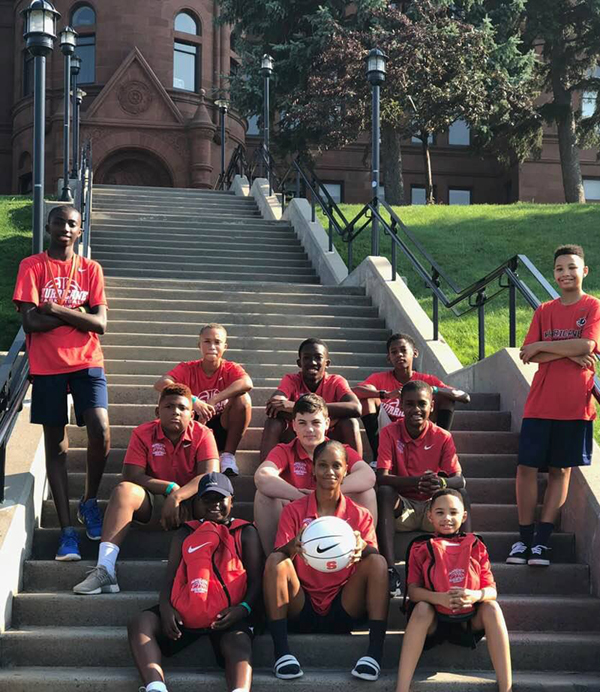 Of her experience in Syracuse, Kayla Raymond shared, "I enjoyed meeting different people and seeing what we have in common. I really liked how we came together to win a championship and improved in basketball in the process."
Team Hurricane Basketball Academy is a free youth basketball program for players aged 5 – 21. The program runs year-round and offers many life-enriching opportunities for young people. To enroll your child, please contact Coach Doug Reed at 504-1962. Team Hurricane Basketball Academy's next training session will be September 7th, 2pm-4pm at Warwick Academy.

Read More About