While the path of Hurricane Florence is sparing Bermuda, the United States isn't so lucky, with more than a million people in coastal areas of North Carolina, South Carolina and Virginia under mandatory evacuation orders as the category 4 hurricane barrels towards the east coast with maximum sustained winds near 140 mph [220 km/h].
NPR reports, "In Charleston, S.C., a major interstate is reversing direction for about 100 miles, sending every lane inland — even earlier than originally scheduled.
"And in coastal Virginia, where the sun is shining and the sky is blue, the state's emergency management website crashed as hundreds of thousands of people tried to look up mandatory evacuation maps.
"Wide swaths of North Carolina, South Carolina and Virginia are preparing for the arrival of Hurricane Florence — currently a Category 4 storm with 130 mph maximum sustained winds that will also bring dangerous flooding and storm surges.
"Florence is expected to hit those three states late Thursday or early Friday. Evacuation orders are going into effect for nearly the entire coasts of North and South Carolina on Tuesday, adding to orders that went out on Monday.
Video of CNN report:
"All told, more than a million people are under mandatory evacuation orders, according to FEMA. Many more are being urged to evacuate at-risk areas voluntarily."
According to a CNN report, "With a Category 4 hurricane rapidly approaching, more than 1 million people on the East Coast faced a choice Tuesday: stay home and take their chances with powerful winds and heavy rains, or compete with heavy traffic to drive inland.
"Officials said Hurricane Florence has the potential to cause 'massive damage' to parts of the southeastern and mid-Atlantic United States.
"Florence, forecast to make landfall Friday morning, is one of the strongest hurricanes to churn toward the eastern seaboard in decades."
Hurricane Florence, as seen from the International Space Station, photo courtesy of NASA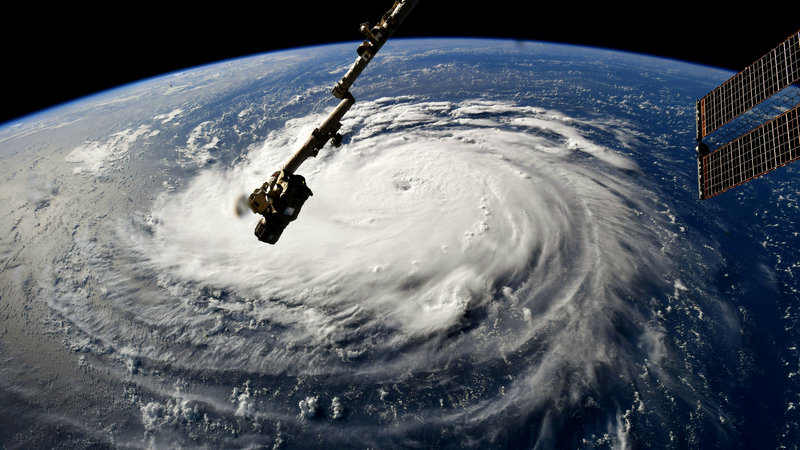 The latest forecast from the NHC states, "Florence is expected to slow down considerably by late Thursday into Friday.
"On the forecast track, the center of Florence will move over the southwestern Atlantic Ocean between Bermuda and the Bahamas through Wednesday, and approach the coast of North Carolina or South Carolina in the hurricane warning area on Thursday and Friday.
"Maximum sustained winds have increased to near 140 mph [220 km/h] with higher gusts. Florence is a category 4 hurricane on the Saffir-Simpson Hurricane Wind Scale. Further strengthening is forecast tonight and Wednesday. While some weakening is expected on Thursday, Florence is forecast to be an extremely dangerous major hurricane through landfall."
Graphic courtesy of the NHC: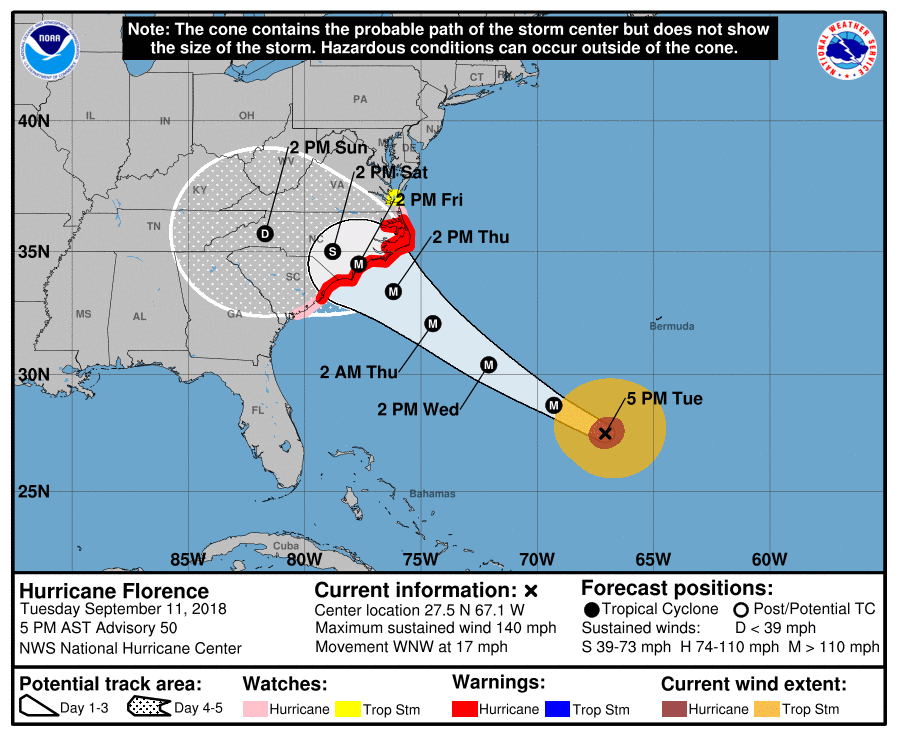 Florence is still technically listed as a "potential threat" to Bermuda, with the BWS stating its closest point of approach to Bermuda within 72 hours is forecast to be 307nm to the SSW at 9pm this evening [Sept 11].
Read More About
Category: All