Clinton Paynter was the winner of the Digicel Greatness Doesn't Stop Short competition, winning free fibre internet and TV for a year.
"For the next 12 months he will enjoy 200Mb of super-fast internet and 133 channels with all the best entertainment," Digicel said.
"The competition was run as part of the Greatness Doesn't Stop Short marketing campaign and asked members of the public to suggest ideas for products and services stopping short, unlike Digicel Fibre which goes all the way into the home.
"The marketing campaign consists of a series of eye-catching ads showing Bermudians in situations where a service is stopping short such as a pizza delivery not being delivered to the door, a water delivery not being poured in the tank and a TV sitting in the front garden.
Winner Clinton Paynter received his prize from service technician Kavin Smith who installed Mr Paynter's service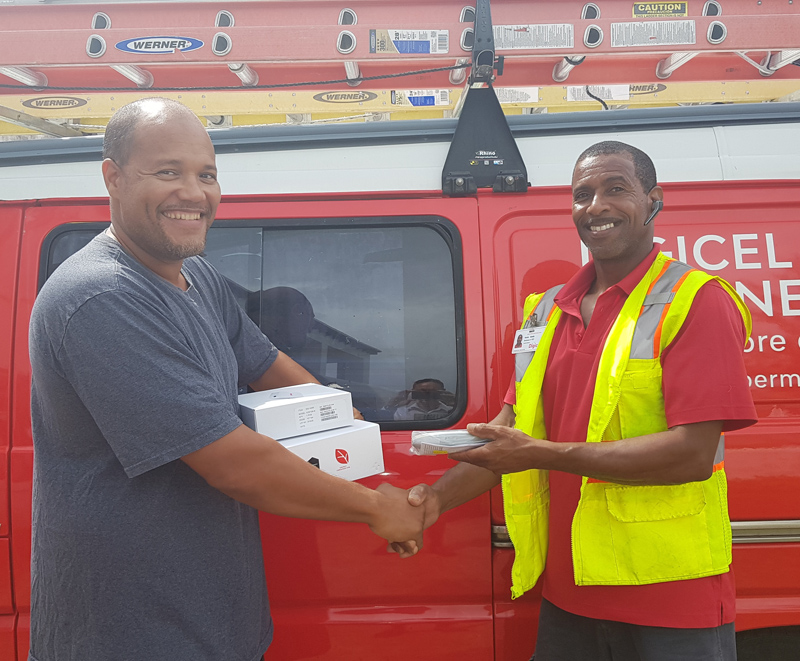 "We are having a lot of fun with the campaign and it was great reading peoples' suggestions for things stopping short, especially ones with a Bermudian angle," explained Nigel Taylor, Digicel Fibre Marketing Manager.
"As Digicel's Fibre is the only fibre on the island that goes all the way into your home, and doesn't stop short, our customers get reliably fast internet and a TV service they deserve with all the U.S. and international shows, movies and sports they love as well as a host of cool features like pause and rewind live TV, 7 day catch up and a multi-screen app."
Commenting on his win Mr Paynter said, "It was a fun competition and I had loads of ideas for it. Digicel said they might be turning some into ads so it will be interesting to see that. Winning Premier TV and 200Mb internet is great and I am really looking forward to having such fast streaming speeds and watching the likes of HBO in HD."

Read More About
Category: All, Business, technology