A 14-year-old robotics specialist from Berkeley Institute stole the show at the 2016 TechAwards.
Themed a 'Celebration of Entrepreneurship and Innovation,' the awards night saw an audience of more than 100 tech entrepreneurs offer the greatest applause to teenager Jacari Renfroe who was honoured for his work at BIOS, the independent US non-profit scientific research and educational organization based in Bermuda.
Jacari is in the BIOS Marine Science Internship Program, and won TechAwards Most Innovative Youth Program after having been nominated by a BIOS research specialist Matt Enright.
Jacari built a remotely-operated vehicle that allows marine biologists to assess bacterial development within water samples at the depth the sample is taken. This provides for controls on temperature and pressure in the surrounding water.
For more than a century, BIOS-based researchers and visiting scientists have worked to explore the ocean and address important local and global environmental issues.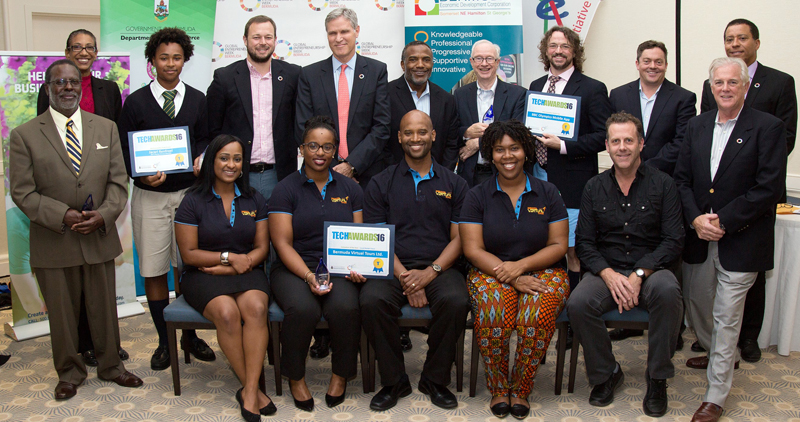 The Bermuda Broadcasting Company [BBC] won for the Most Innovative Mobile App of the Year – a free product that allowed viewers to watch multiple streams of televised Olympic coverage.
Director of the Department of E-Commerce, Dr Marisa Stones said, "BBC's Olympic App revolutionized sports watching in Bermuda, enabling fans to view round-the-clock coverage of the Rio Summer games on 13 channels streamed live over their phones or tablets. Tens of thousands of residents watched more than 100,000 hours of Olympic action, downloading some 400 million megabytes of data."
The winner of the International Innovation of the Year – Hamilton Group's new website – may also be the most impressive new tech development.
The site uses proprietary algorithmic learning software, geo-localization and predictive analytics to learn with every click. It features a customized experience which recalls previous visits for every user. Under the direction of the Hamilton Group's senior management, it was designed by the Bermuda-based corporate communications team.
Berkeley Institute student Jacari Renfroe is flanked by Chairman of the E-Commerce Advisory Board Aaron Smith [l], and Minister Gibbons [r].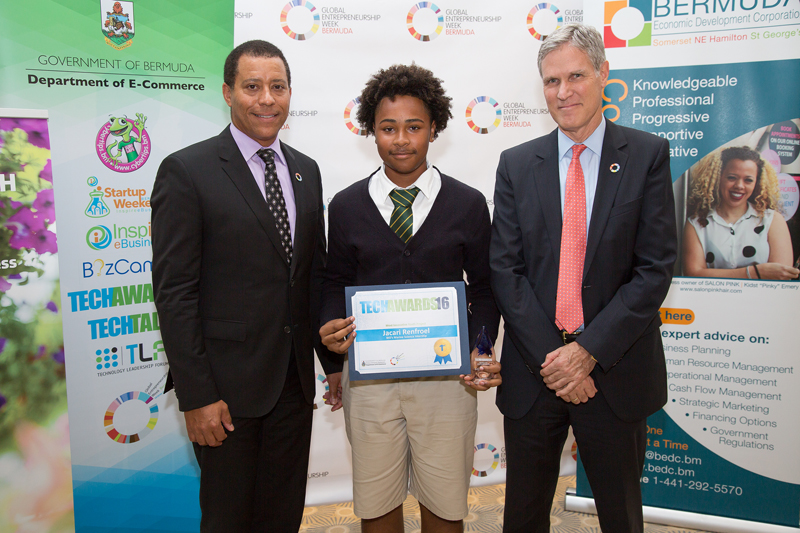 Bermuda Virtual Tours Ltd was presented the top Local Innovation for their ultra-high resolution 360° panoramic virtual tours they provide their business and real estate clients.
Minister of Economic Development Dr Grant Gibbons congratulated the finalists, particularly the winning Bermudians and Bermuda-based organisations.
Noting how they continue to provide technology solutions that not only inspire and empower us every day, he said they also showcase Bermuda as a great testing ground and launch pad for innovation and achievement.
The Minister said, "This Government is committed to business and job growth and to the recovery of our economy and as such, it embraces partnerships that assist us in achieving these goals. We are confident that through continuously offering opportunities to our local Bermudian entrepreneurs we can help to foster economic growth, create opportunities for new business and facilitate job creation."

Read More About
Category: All, Business, News, technology