Leading Bermuda law firm MJM Limited announced that Senior Associates, Jennifer Haworth and Jeremy Leese will be promoted to Directors from 1 January 2019, joining the firm's management team.
"From the New Year, MJM's directors at board level will consist of Jeremy and Jennifer, Hil de Frias, Denis de Frias and Fozeia Rana-Fahy. The newly promoted Directors have extensive combined legal experience, in Bermuda and globally," the law firm said.
"Both Jeremy and Jennifer have been at MJM for over six years, making strong contributions to their respective practice areas of corporate and dispute resolution respectively, and to the overall growth of the firm.
Jeremy Leese and Jennifer Haworth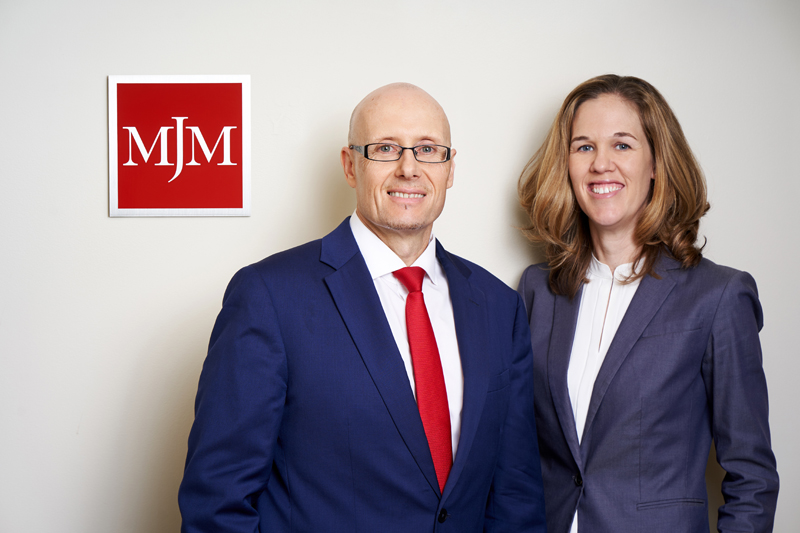 "Jennifer is well-known in the Bermudian legal market and community and was called to the Bar in 2006 and England in 2005. Jennifer's experience in dispute resolution matters is wide-ranging. She is regularly instructed in complex asset recovery and enforcement matters, including instructions from banking institutions.
"She achieved an important result before the Court of Appeal which brought the Waterfront litigation to an end while acting for the Government of Bermuda. She has also been involved in complex labour relations matters, including recently when she was instructed by the BELCO union employees. Jennifer is also an active member of the community and has been a board director for Bermuda Cancer and Health Centre for over 10 years and is a recent addition to the board of the End-to-End.
"Jeremy has over 20 years' experience, the vast majority of it spent offshore, and is qualified to practise law in England & Wales [1995], Bermuda [2003], the British Virgin Islands [2008] and Anguilla [2011].
"He has a wealth of experience in corporate finance, mergers and acquisitions, shipping and aviation, asset finance and capital markets. Jeremy has worked internationally, across a number of jurisdictions, and has advised on a wide range of market leading transactions."
Commenting on his promotion, Jeremy Leese said: "I am very pleased to become an MJM Director, with responsibility for taking our corporate practice forward. –We will continue to provide outstanding, timely and commercial legal advice to our existing clients, both in Bermuda and internationally, whilst looking to increase our client base and our market share of the blue chip offshore work for which Bermuda is renowned."
Jennifer Haworth said: "I am excited about becoming a Director at MJM and am proud of having achieved this promotion. I will continue to work with my colleagues to meet the needs of our clients, both locally and internationally, but I also look forward to meeting the challenges we face in an ever changing environment."
The announcements mark a new chapter for MJM. Supporting the new Director group, Peter Martin, Alan Dunch and Andrew Martin will continue to provide expert legal advice and serve the firm's international and domestic client base in the role of Senior Counsel, permitting them to be more flexible and pursue other personal interests.
Andrew Martin commented: "These announcements are about the natural progression of the firm and marks the next stage of MJM's development. I am extremely proud of what MJM has achieved over the past 30 years to become one of Bermuda's leading law firms."
Hil de Frias said, "We would like to extend our warmest congratulations to Jennifer Haworth and Jeremy Leese on their well-deserved promotions. We are pleased to continue to work with our esteemed senior colleagues Alan Dunch, Andrew Martin and Peter Martin, in their new roles as Senior Counsel.
"MJM is known for our excellence in our core practice areas of corporate and finance, dispute resolution, property and private client, employment and immigration and we are committed to continuing to deliver the excellent level of service we are known for while looking for ways to grow and development our practice."
Read More About