The involvement of the Bermuda Police Service [BPS] in the sanctioned 'Battle of the Badges II' charity boxing event in Canada could not have ended on a better note, as 23-year-old Dejon Benjamin representing Police Gym out-boxed his more experienced opponent John McMullan representing the home town Halton Regional Police Service in Burlington, Ontario, Canada on Friday night.
HRPS Deputy Chief Roger Wilkie, BPS Staff Officer to the Commissioner Calvin Smith, Dejon Benjamin, John McMullan, BPS Sergeant & Chairman of BPS Boxing Section Michael Butcher and HRPS Deputy Chief Nishan Duraiappah. Souvenir flags were presented to both boxers at the conclusion of their fight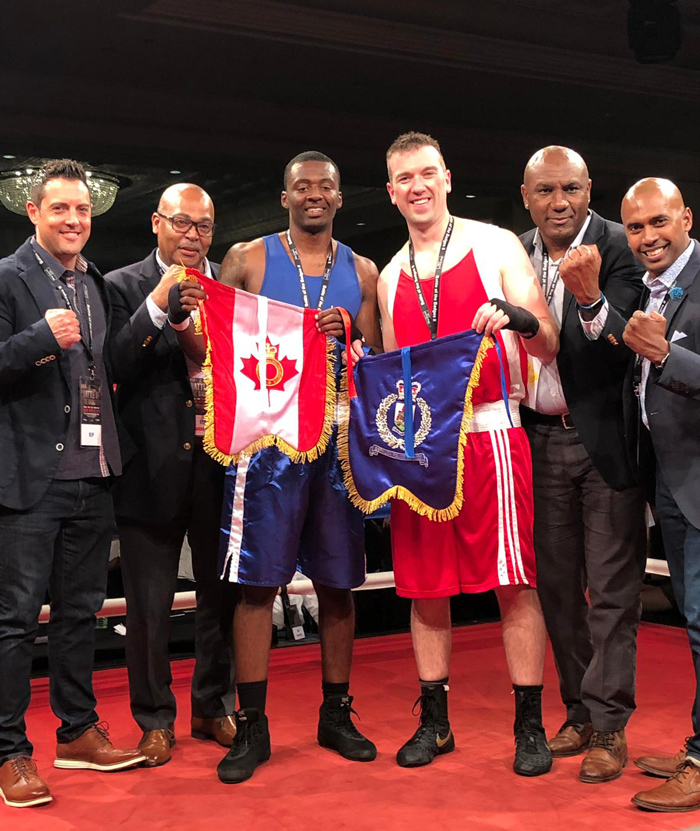 "Their fight has been deemed the fight of the night with both boxers exhibiting great ring craft and power punches. But it was young Benjamin whose power punches and ring craft won the votes of the home town judges, who unanimously awarded him the fight.
BPS Staff Officer to the Commissioner Calvin Smith hands out medals at Battle of the Badges II main event on behalf of BPS and Bermuda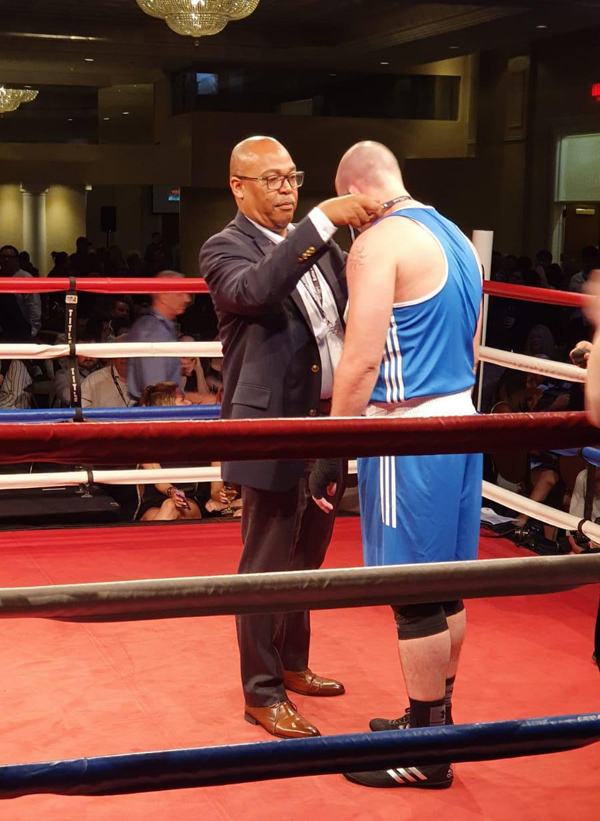 "The crowd of over 1,200 stood and applauded as the announcement was made. Included in those on their feet was HRPS Chief of Police Stephen Tanner and his two Deputy Chiefs Roger Wilkie and Nishan Duraiappah as well as a group of eleven BPS officers along with several other Bermudians who attended to support the BPS.
"Benjamin's introduction into the ring included a Bermuda Tourism Authority video highlighting Bermuda and the Making Bermuda Safer BPS video presentation.
BPS Staff Officer to the Commissioner Calvin Smith [centre] with Dejon Benjamin [right] and HRPS Deputy Chief Duraiappah [left]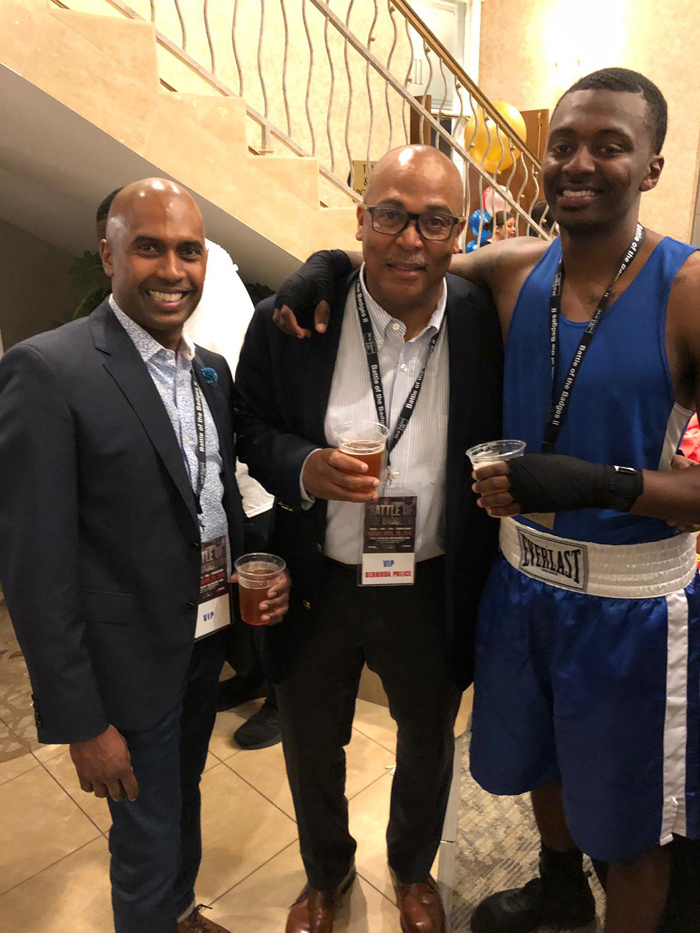 "Following the fight, the Halton Police Senior Command joined the BPS winning team and were saluted with a round of Gosling's Dark and Stormy drinks.
"The BPS will be having a similar function in October 2020 in Bermuda.
BPS Staff Officer to the Commissioner Calvin Smith, John McMullan, HRPS Deputy Chief Wilkie, Dejon Benjamin and one of Dejon's trainers, Kevin 'Manix' Simmons
"The 'Battle of the Badges' charity event is held to support Canadian Critical Incident Stress Foundation's Camp F.A.C.E.S. [Families And Children of Emergency Services] – a support network for families who have lost a loved one in the line of duty, by suicide or sudden death – and raised over $55,000.

BPS Staff Officer to the Commissioner of Police Calvin Smith and Sergeant Michael Butcher, Chairman of the BPS Boxing Section, praised those that contributed to the event, saying: "Overall a great night and congrats to the organisers and participants – in particular, our very own Dejon Benjamin and his trainers Charles Wade and Kevin "Manix" Simmons. Special thanks to the BPS Boxing Section, Bermuda Blueprinting, Mr. John Stephens, BPS officers and Bermudian supporters and of course the Halton Regional Police Service."

Read More About