The Coalition for the Protection of Children [CPC] has achieved Certification through the Bermuda National Standards Committee [BNSC].
The Coalition for the Protection of Children is engaged in the BNSC Two-Phase Accreditation process, and has completed Phase 1- Certification. The organization is working towards achieving Part 2- Accreditation by 2021.
BNSC is a local body that offers Accreditation and Certification to non-profit organizations and government services to create opportunities to strengthen their operations and programs in order to demonstrate that they are operating at an international level of best practice. CPC engaged in a rigorous self-study review of the organization against international standards, followed by an onsite peer review.
Christyn Simons, Rachel Dill, Nadine Lapsley Dyer [BNSC], David Lang [BNSC], Kelly Hunt, Jevon Williams, Stephanie Outerbridge, Denae Burchall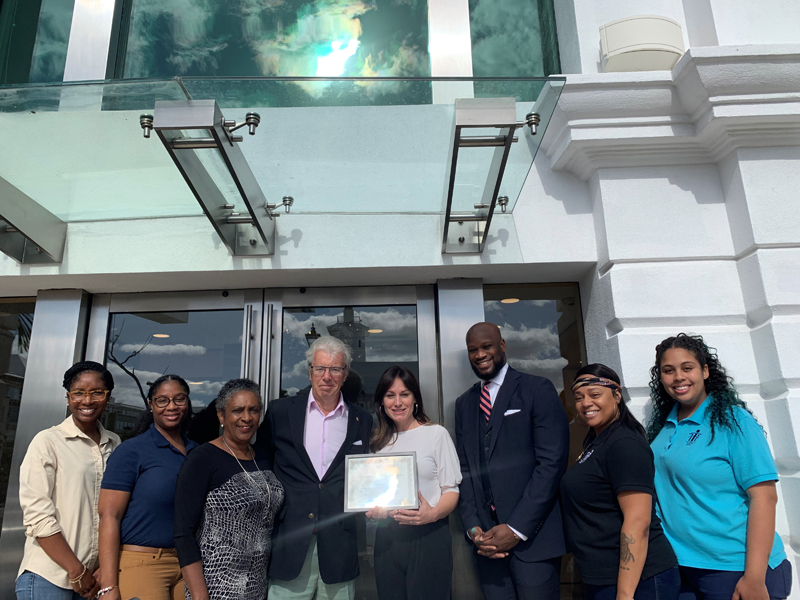 The Chairperson of the BNSC David Lang congratulated CPC for completing the process of Certification and "for choosing to participate in these demanding processes to ensure that the quality of care and responsible use of resources in our community are accountable and effective".
"Having a strong code of ethics that includes transparency is critical for NGOs. Both our clients and donors deserve to know that we operate with good governance and accountability. Those who invest in us should be assured that 'best practice' is a core value." said CPC Executive Director Kelly Hunt
Mrs. Hunt says that the certification, in conjunction with the organization's overall direction and dedicated staff, is an exciting prospective.
"We have an amazing team of specialized workers, as well as a passionate Board of Directors. We are very fortunate to have such dedication. We offer some of the most experienced social workers and counsellors on island, and they are committed to serving vulnerable families." she said.
"Our services help to address the need for child protection, and family support which is critical for our community. We believe that safeguarding children is paramount and must be a focus for Bermuda.
"Meeting high standards, with the necessary policies and procedures in place, means that we can ensure the delivery of an internationally recognized level of service provision that makes a difference. As agents for change, our goal is to achieve positive outcomes that have a measured impact in the lives of Bermuda's children. "
For more information visit www.coalition.bm
Read More About
Category: All