The Bermuda Lawn Tennis Association today named the 2019 Davis Cup team set to represent Bermuda at the Davis Cup by BNP Paribas.
This event takes place in Escazu, Costa Rica from June 13th to June 23rd; hosted by the Costa Rica Tennis Federation at the Costa Rica Country Club.
The Bermuda Team consists of number one seed and veteran, Gavin Manders, Neal Towlson, Trey Mallory and debutant Tariq Simons, with National Tennis Director Ricky Mallory, traveling as coach and Jenson Bascome assistant coach.
National Tennis Director, Ricky Mallory said, "Continuing with the BLTA's vision of rebuilding the team for the future, 18 year newcomer Tariq Simons has been brought into the fold replacing former Davis Cup Player David Thomas. This will be a huge opportunity for Tariq who I feel will learn and grow from this experience.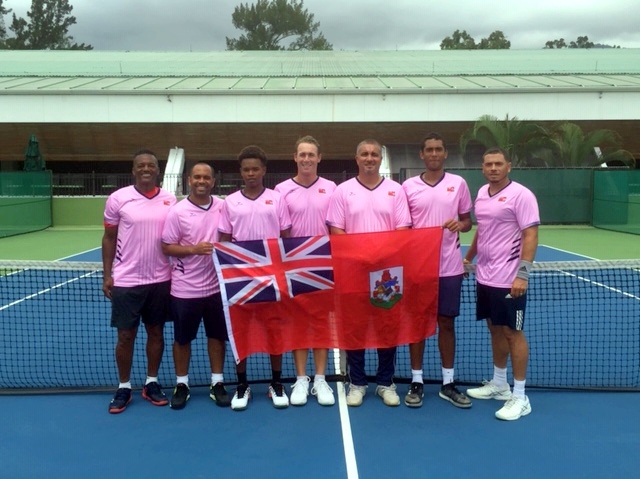 "The players know that I always demand a professional approach to the game. With the assistance of Jenson Bascome, Steve Bean, Jovan Whitter and Gavin Manders, we have been guiding Tariq on his path to this event. He has seen what it takes to prepare oneself for International representation on the World stage.
"It is now important for us as coaches to collectively direct both Tariq and Trey on the right path to them becoming the future of Bermuda's Davis Cup team which will eventually include more juniors coming through".
President of the BLTA Michael Wolfe stated, "This is an interesting time as we continue our rebuilding process. For the new and younger players, it's a time to gain valuable experience and prepare themselves to carry the Bermuda flag for years to come.
"It is also good to see the likes of a Jenson Bascome coming onboard as an assistant coach. Jenson a former Davis Cup player and first and only player in Bermuda's history to be awarded the prestigious Davis Cup Commitment Award, given by the International Tennis Federation [ITF] for his long-standing dedication in representing Bermuda in Davis Cup, brings a wealth of experience and knowledge to share with the players. The BLTA is looking for positive signs of growth form this trip.
Competing with Bermuda in this year's Davis Cup competition is Antigua & Barbuda, Bahamas, Costa Rica, Cuba, Honduras, Jamaica, Panama, Puerto Rico, Trinidad & Tobago and US Virgin Islands; with only two teams gaining promotion to Americas Zone 2.

Read More About