The Bermuda Rugby Football Union have named the national Men's and Women's 7s teams who will represent Bermuda in the Rugby America North 7s Tournament in the Cayman Islands this weekend.
The Men's team who placed 3rd overall last year will face tough opposition in their pool play against Canada, Mexico and Barbados. The team will be under the stewardship of England 7s legend Ben Gollings and Dan Cole who has played with the 7s team for the past several years.
Of the upcoming tournament, Gollings remarked, "The team has been training well. It's a slightly revamped side due to the Olympic format, but it's a great opportunity for some younger players to step up. Players are excited about the opportunity and representing Bermuda. "
The Men's side has an even split of experienced veterans and new faces, as 6 members of the 12 man squad will be playing in their first RAN 7s.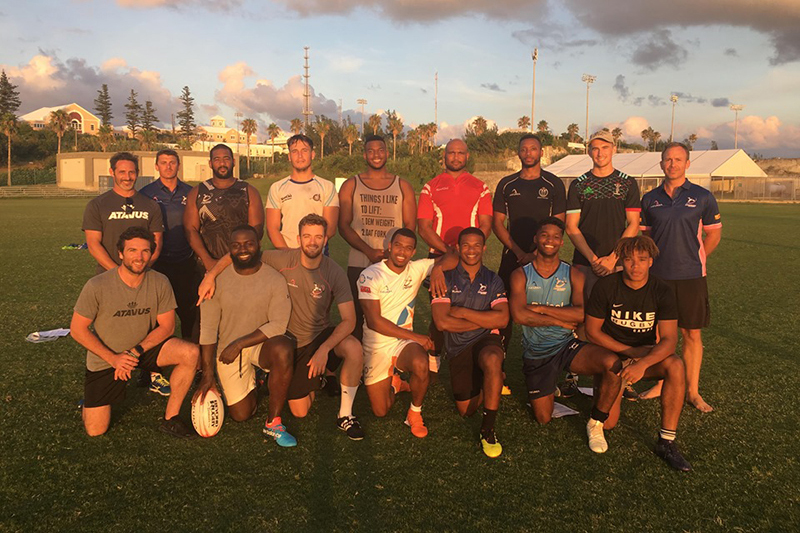 Among the rookies, Jahniko Francis and Calum Maule both previously capped for the Senior National XV, bring that experience to an exciting back line, alongside former University of Virginia sprinter Scott Clarke, and Harrow student Myles Dismont Robinson.
Jordan De Shields and Mike Kelley add pace to a strong ball-carrying forward contingent alongside powerhouse Darren Richardson, who returns from a five year hiatus for his sixth international tournament, and Captain Tashon DeSilva who led Bermuda to a Bronze medal at the 2018 RAN 7s in Barbados last October.
Also returning from the bronze medal team are Alex Brown, Alex Doyling, Bertie Horsfield and Antonio Perinchief-Leader.
After a tough tournament last year, the Women's team are looking to improve upon their result with the help coach Jamie Barnwell. The round robin tournament will see Bermuda face off against Mexico, Trinidad & Tobago, Jamaica, St Lucia and Bahamas.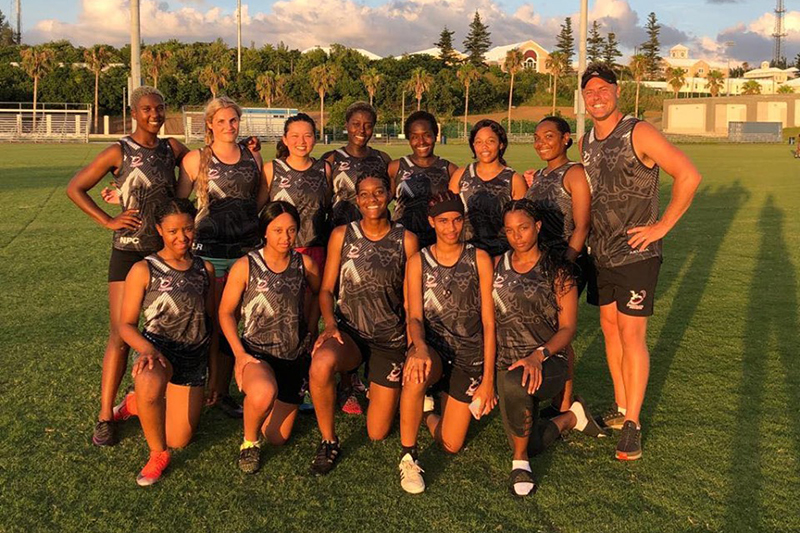 The squad will look to their experienced players to make a statement on the pitch, while several players will make their international debut. The squad will feature returning players Gillian Cross, Deneka Borden, Amanda Swan, Karly Alleyne, Lauren Rothwell, Corrie Cross, Cerise Woodley, Lysmeiri Santana Suazo, Keonte White and Camille Chin. New additions to the squad include Apryl Jackson and Nya Heyliger.
Of the upcoming tournament, coach Jamie Barnwell remarked, "This is our first test in seeing how much more competitive we have become. Step by step, we have been working towards that both individually and collectively as a team. We possess new threats in our attack this year and have been learning to not give the opposition easy scores.
"This RAN Sevens, we have some new young players who do not have that many caps and there is a degree of excitement about that. It means we have been able to change the way we play, and some players will play slightly differently. It will be interesting to see how they develop the way they play."
Men's Squad: Alex Brown, Scott Clarke, Jordan De Shields, Tashon DeSilva [Captain], Myles Dismont Robinson, Alex Doyling, Jahniko Francis, Bertie Horsefield, Mike Kelley, Calum Maule, Antonio Perinchief-Leader, Darren Richardson. Coach: Ben Gollings. Asst Coach: Dan Cole. Manager: Jonathan Cassidy. Physio: Richard Quincy.
Women's Squad: Karly Alleyne, Deneka Borden, Corrie Cross, Gilian Cross [Captain], Naya Heyliger, Apryl Jackson, Camille Chin, Lauren Rothwell, Lysmeiri Santana Suazo, Amanda Swan, Keonte White and Cerise Woodley. Coach: Jamie Barnwell. Manager: Gemma Godfrey. Physio: Richard Quincy

Read More About