Not only could he tell former US First Lady Michelle Obama how to get to Sesame Street, Bermudian H. Melvin [Mel] Ming ensured TV's most famous thoroughfare actually intersected with 1600 Pennsylvania Avenue when she was in the White House.
Then president and CEO of Sesame Workshop, the charity which produces the classic children's TV show, Mr. Ming was on hand at the White House six years ago when Mrs. Obama launched an initiative aimed at introducing more fresh fruits and vegetables into children's diets.
During her remarks the US First Lady thanked the Bermudian broadcast executive for waiving licensing fees so Sesame Street characters could appear in promotions for her "Let's Move!" campaign, intended to encourage healthier eating habits among American youngsters.
"I want to take a moment to express my appreciation to Mel Ming and everyone from Sesame Workshop for everything they are doing for our children," she said at the October 13, 2013 event.
Michelle Obama thanks Mr Ming back in 2013
Business executive and accountant Mr. Ming was at the helm of Sesame Workshop from 2011 to 2014, when he retired. The Bermudian had previously served as the American charity's chief operating officer [COO], its second-in command.
Earlier this summer he was on hand when Mrs. Obama's path crossed with Sesame Street once again.
On May 29 Mrs. Obama accepted the Joan Ganz Cooney Award, named for Sesame Street's creator, at the nonprofit organisation's annual benefit dinner.
This year's fundraiser was celebrating Sesame Street's landmark 50th anniversary year on the air; the beloved children's educational television series, which combines live action, animation and puppetry, premiered on US Public Broadcasting Service on November 10, 1969.
Mr. Ming was one of dozens of current and former Sesame Workshop executives, performers and behind-the-scenes talent on hand at the May 29 gala.
Michelle Obama with the Sesame Street Muppets at the May 29 Sesame Workshop benefit gala in New York. Photo courtesy of Sesame Workshop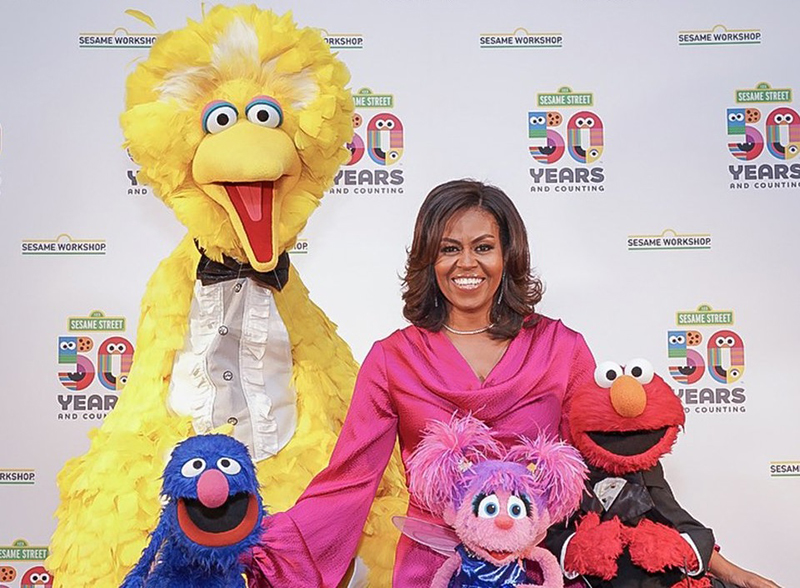 Sesame Street co-founder Ms Ganz Cooney joined Lin-Manuel Miranda, creator of the Broadway phenomenon Hamilton, to present Mrs. Obama with the award.
"When I became First Lady, and I knew that I wanted to help kids reach their potential, my first question was a simple but familiar one: Can you tell me how to get to Sesame Street?" said Mrs. Obama. "I cannot tell you how proud and thankful I am to come here tonight as a Sesame Street partner.
"You are always ahead of the curve, always out there observing, and learning, and creating new ways to help kids and parents navigate the world around them."
Held in the ballroom of the landmark Cipriani Wall Street building in New York City, the event was hosted by Today co-anchor Hoda Kotb, and included special guests John Oliver and Chrissy Teigen.
The evening culminated with performances from John Legend and the Sesame Street Muppets, finishing with the Sesame Street classic, Sing.
The gala raised more than $4.5 million, which will help Sesame Workshop deliver on its mission to help children everywhere grow smarter, stronger and kinder.
H. Melvin [Mel] Ming with longtime Sesame Street songwriter Christopher Cerf at the Sesame Street 50th Anniversary New York fundraiser. Photo by Patti Miller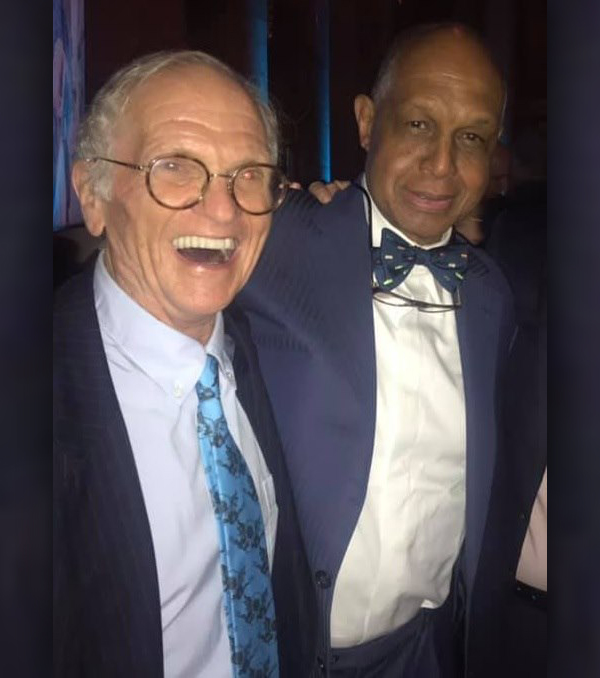 "It was a it was a wonderful, fun filled evening," said Mr. Ming. "An amazing celebration."
One-time Berkeley Institute student Mr. Ming went on to attend Philadelphia's Temple University and served a two-year stint in the US Army in the Vietnam War era.
His career in the broadcast media started when a PricewaterhouseCoopers partner recommended him to the management team selected to save US National Public Radio [NPR] from bankruptcy in 1981.
Mr. Ming has said it was at NPR that he found what was for him an ideal opportunity to blend a worthwhile mission and public service with good business practices "that yielded personal and professional fulfillment in doing well by doing good."
It was this personal credo which eventually guided him towards a job at Sesame Workshop in the 1990s and defined his time there.
Mr. Ming now lives in Maryland but visits family in Bermuda. regularly. He seems to be one of those individuals who is fated to make the world a better place, so his retirement is a busy one. Among the causes he lends his time and experience to is The Partnership for a Healthier America [PHA], established in conjunction with – but separate from – Mrs. Obama's Let's Move! programme to combat childhood obesity.
"Having worked for 45 years, it is now time for me to invests all of my experience, learning and energy into the development of children, their causes and the systems and communities that will optimally grow them," Mr. Ming said last year.
Read More About
Category: All, Entertainment