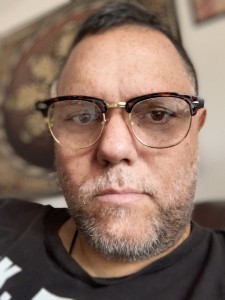 [Opinion column written by Vejay Steede]
It's Pride Week! What a wonderful time we live in! Seeing the outpouring of support and well wishes for Bermuda's LGBTQ community recently has been distinctly heartwarming.
We are, it seems, making progress toward true enlightenment. Acceptance of what most heterosexual, cisgender Bermudians would probably, and incorrectly, describe as a "lifestyle" appears to be at an all-time high within these traditionally conservative, staunchly religious shores. It's a very good thing.
Unfortunately, however, we still live in a world where racism, sexism, homophobia, xenophobia, bigotry, hatred and ignorance of all ilk exist, even thrive. Bermuda, as enlightened and accepting as this week happening implies, is not immune to the hatred of the outside world either. The LGBTQ community must still endure threats, mistreatment, condemnation and persecution at the hands of certain segments of this small Mid-Atlantic community.
I honestly don't get it. I mean, we're in 2019 and there are still people who condemn others because they were born different. Who has the energy to preach hate against a group of people, which has always comprised just ten percent [or less] of any population, simply because of what they do with other consenting adults in the privacy of their own homes?
It's really quite sad when you think about it; what is so wrong with your fully socially acceptable existence that you feel the need to, basically, bully that relatively tiny portion of humanity that wanders outside your natural inclinations regarding sex and sexual identity into being JUST … LIKE … YOU? Why is that so important to you?
How does society suffer from the existence of the LGBTQ community? Well, the short answer is, it doesn't! Those who would have you believe that it is possible to "pray the gay away" routinely point to the Bible as proof positive that homosexuality is unnatural and that homosexuals are deviants that should be condemned and persecuted.
This, my friends, is just an excuse to hate, to judge, and to control the people around them. History can attest to the track record of the Christian Church when it comes to campaigning and making herculean efforts to convert other, different peoples, so we won't go into that here, but we will open our Bibles.
My response to people who grab their Bible and hold it up as proof that they should hate and persecute is always the same. See there are four verses in the bible that always apply when persecution is promoted. They are simple verses that shape simple rules that would absolutely make the world a better place if all people lived by them. These four verses are easily my favorite Bible verses, and words that I try to live by every day.
I will present my verses with my own daily rendering, followed by the actual [full] verse from the Modern English Version of the King James Interpretation of the Bible, and, finally, how these verses find relevance in the current discussion.
1. Judge not, lest ye be judged,
Luke 6:37 MEV
Judge not, and you shall not be judged. Condemn not, and you will not be condemned. Forgive, and you shall be forgiven.
This is pretty self-explanatory. Judging, condemning, and persecuting other human beings is never a good idea. Who are we to condemn another man because he is naturally inclined to love in a way that we don't? It's anti-human, anti-nature, and arrogant. Sexual deviance is a problem, yes, but homosexuality is not a deviation, it's a condition of birth that is seen throughout nature, and not knowing that at this stage of human development is just irresponsible, ignorant, and intellectually lazy.
2. Do unto others as you would have them do unto you.
Luke 6:31 MEV
Do unto others as you would have them do unto you.
The golden rule! This one is about putting yourself in your sister's shoes. How would you feel if you were born attracted to human beings who just happen to be the same sex as you? Then you grew up being told that the type of "lifestyle" that people like you partake in is wrong. That you may be evil, unnatural, immoral, unforgivable, and irredeemable; not to mention a spawn of Satan, and all manner of wicked, despicable things.
Imagine now that you couldn't control your perfectly natural urges no matter how you tried; that you tried to comply to societal norms to the point where you engaged in heterosexual sex, married a member of the opposite sex, even procreated. All because the 90% of humanity who found your sexual orientation unacceptable demanded that you do these things that went against your nature.
Would that not be a nightmare for you? A living, breathing death-walk? Of course it would! So why would you, now, do anything that would make another human being so uncomfortable in their own skin that they resort to denying their own nature to cater to your selfish and arrogant sensibilities? We can all be better than that if we consider how our own judgements feel to other people.
3. Love thy neighbor as you love yourself.
Matthew 19:19 MEV
Honor your father and mother, and, you shall love your neighbor as yourself.
Why does it matter that the couple next door happen to do things in their bedroom that you've never done? Or that the grown man who lives on your corner has always felt more like a female than a male? What does hating them achieve? Wouldn't it be easier and more productive to just accept that they are naturally different from you and treat them like human beings?
Why can you be entertained by Elton John, Frank Ocean, Janelle Monet, Tessa Thompson, Martina Navratilova, Freddie Mercury, RuPaul, Laverne Cox, and hundreds of other ridiculously talented LGBTQ entertainers, but be scornful and disapproving of the men and women who were born differently in your own community? Love your neighbor, because hating based on sexual orientation is draconian and, well, dumb.
LGBTQ people aren't deviants. They aren't degenerates, derelicts, or sinners. They are human beings who were born with a distinct trait that makes them naturally different to the vast majority of humanity. There is no other thing happening here. There is no evil, no immorality, no crime against nature. If you are inclined to believe that God created humanity in his own image, then how do you account for the existence of LGBTQ people? And who are you to condemn, persecute, and otherwise judge God's creation anyway?
I sincerely hope that we wise up as a community. Our LGBTQ citizens have contributed immensely to the society we enjoy in Bermuda today, and they fully deserve the right to express their pride in who they are. Enough is enough. Even Pope Francis has famously declared homosexuality "Not a sin" earlier this year, saying, "Who am I to judge?" when asked about his statement. Indeed, if his Holiness the Pope can recognize that even he has no right to judge the natural orientation of LGBTQ people, why can't we?
I truly believe that most people living in the Western hemisphere don't hold an extreme amount of hatred in their hearts for the LGBTQ community at this stage of our collective human development, but ignorance does still exist, which makes even a touch of hatred that much more invidious. The thing is, if that casual hatred was turned into casual love, the issue would vanish; you see, at this point in human evolution, if you count yourself in that number that has an issue with the existence of LGBTQ people, then, unfortunately, you are the one with the problem. You are the one holding on to hate, and you are the only one who can change the persecution, close the chasm that hatred created, and allow healing to occur.
Oh, right, there's one more Bible verse. This one wraps this discussion up quite nicely I think, as it comes from the mouth of a famously persecuted person, and speaks to the injurious nature of ignorance as well.
4. Forgive them father, for they know not what they do.
Luke 23:34 MEV
Jesus said, "Father, forgive them, for they know not what they do." And they divided his clothes by casting lots.
Ignorance is a breeding ground for bigotry and hate. Don't let ignorance continue to manifest unnecessary rifts in our community. Let these people be who they were born to be. We will all be better for it.
I applaud the LGBTQ community for their courage in the face of centuries of judgement, persecution, condemnation, and ignorance, and I wish them all the best this country has to offer on Saturday and beyond.
- Vejay Steede

20 Most Recent Opinion Columns

Opinion columns reflect the views of the writer, and not those of Bernews Ltd. To submit an Opinion Column/Letter to the Editor, please email info@bernews.com. Bernews welcomes submissions, and while there are no length restrictions, all columns must be signed by the writer's real name.
-


Read More About