[Updated] St. Paul A.M.E. Church has launched its 150th anniversary year celebration with the premiere Bermuda screening of the documentary Emanuel on Wednesday, September 18 in conjunction with the Bermuda Conference Women's Missionary Society.
A spokesperson said, "This documentary speaks to social issues that are currently being brought to the forefront of public discourse.
"National headlines blazed the story: Churchgoers Gunned Down During Prayer Service in Charleston, South Carolina. After a 21-year-old white supremacist opened fire in Emanuel African Methodist Episcopal Church, nine African Americans lay dead, leaving their families and the nation to grapple with this senseless act of terror."
Trailer for Emanuel:
"Featuring intimate interviews with survivors and family members, Emanuel—from executive producers Stephen Curry and Viola Davis, co-producer Mariska Hargitay, and director Brian Ivie [The Drop Box]—is a poignant story of justice and faith, love and hate, examining the healing power of forgiveness.
"The African Methodist Episcopal Church is a connectional church, and as such the Island's A.M.E. members were deeply impacted by the tragic event at Mother Emanuel. While Bermuda does not face the particular kind of violence expressed in the documentary, Bermudians are not immune to violence, evidenced by the escalation of gun violence and other forms of violence, that have ravaged communities in Bermuda.
"We are not immune to violence," Rev. Nicholas Tweed pointed out. "The A.M.E. Church has always been at the forefront of social justice and we felt that this documentary was a good starting point to engage in meaningful conversation about violence, and how we can address it in our community."
"The premiere screening of Emanuel in Bermuda will take place at St. Paul Centennial Hall on Wednesday, 18th September, 2019 at 6:30 pm. Admission is free and refreshments will be available. As this is a limited opportunity it is strongly suggested interested persons RSVP by contacting the church office at 292-0505."
Update Sept 17, 4.45pm: A spokesperson said, "Due to Hurricane Humberto we have rescheduled the screening of Emanuel for Saturday, September 21."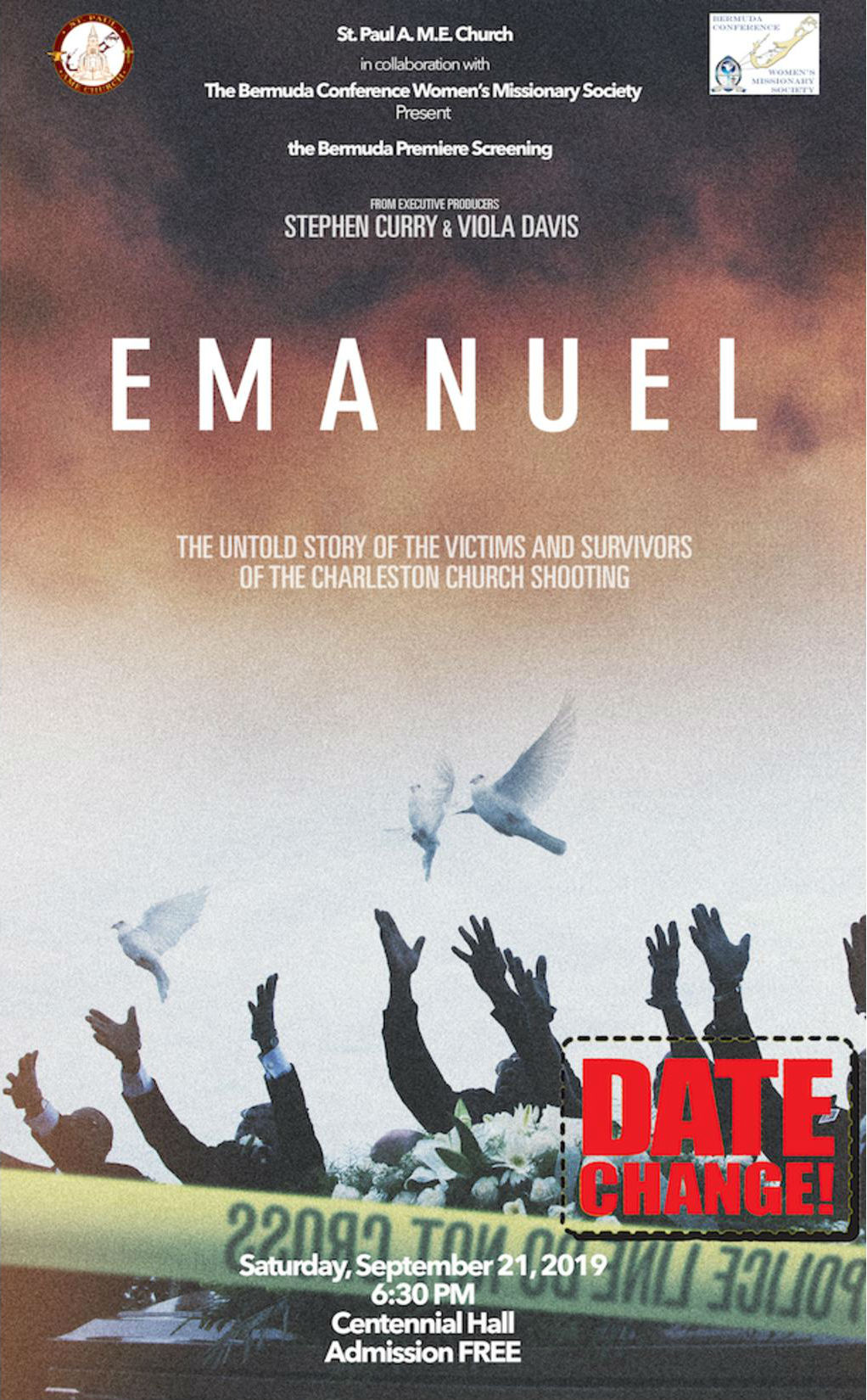 Read More About
Category: All, Entertainment, Films/Movies, News