The Bermuda Stock Exchange [BSX] marked the start of trading this morning [Sept 30] in support of the World Federation of Exchanges, of which it is a Board Member, with the International Organization of Securities Commissions' [IOSCO] World Investor Week to be held globally September 30th to October 5th, 2019.
BSX President & CEO Greg Wojciechowski previously said, "The overriding purpose of World Investor Week is to encourage and support the importance of investor education."
The 2-minute live video replay is below:
"This year's theme 'Ring the Bell for Financial Literacy', takes the global initiative one step further, by challenging investors to not only educate themselves on the risks and rewards of investing, but to actually apply that acquired knowledge to better understand investment terms and Public Company data, with a view to ultimately making more informed investment decisions."
A spokesperson said, "Ring the Bell for Investor Literacy participants included:
Michael Neff, Managing Director Bermuda, Butterfield Bank, BSX Council Member
Shanna Lespere, Chief Operating Officer, The Bermuda Monetary Authority
Shane English, Lombard Odier, Chairman Bermuda Chartered Financial Analyst Chapter
Anthony Manders, Permanent Secretary, Ministry of Finance, Government of Bermuda
Greg Wojciechowski, President & CEO, The BSX, Board of Director, The World Federation of Exchanges
BSX Team, James McKirdy, Jacintha Hughes, Nancy Vieira, Neville Caines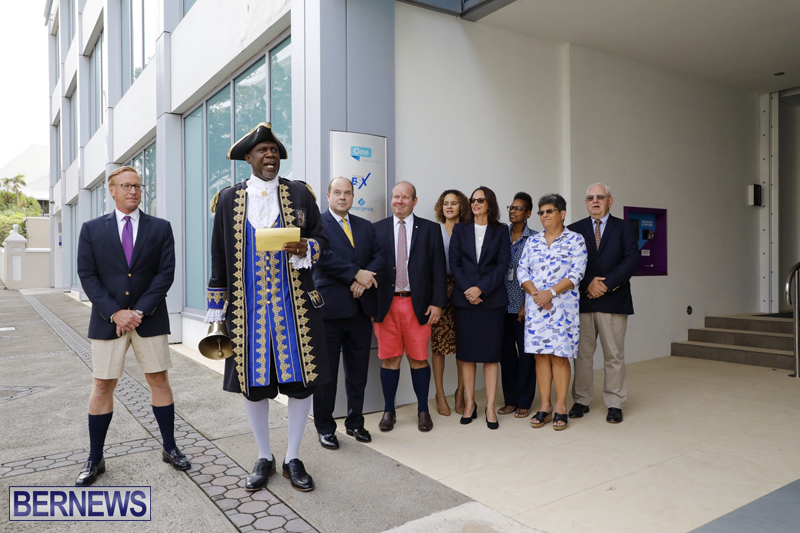 Chief Operating Officer of the Bermuda Monetary Authority [BMA] Shanna Lespere said, "The BMA is pleased to participate in the ISOCO's World Investor Week and in the BSX Ringing of the Bell. Additionally, we applaud the BSX for ensuring Bermuda gains exposure to this initiative, as well as the opportunity to work with our international peers.
"To support and further these efforts, the BMA has published an investor literacy tip sheet on its website at www.bma.bm and social media."
The spokesperson said, "World Investors Week is an Organization of Securities Commissions [IOSCO] global Initiative being supported by the World Federation of Exchanges in this years "Ring the Bell for Financial Literacy" initiative.
"WIW is a week-long, global campaign to raise awareness about the importance of investor education and protection, and to highlight the various initiatives of securities regulators in these two critical areas.
"Ringing the Bell generally and globally symbolizes a noteworthy event at an exchange, such as the open, close, or something celebratory such as an IPO—or in this case calling attention to a noteworthy cause.
"IOSCO works with global regulators, markets and market professionals to establish and maintain standards of governance for the smooth and effective operation of the world's capital markets. The BMA is a Member of IOSCO. The BSX is an affiliate member.
"The World Federation of Exchange is an organization of the world's exchanges and clearing houses and works with its membership base to set standards for the smooth and effective operation of the world's securities exchanges and clearing houses. The BSX is a full member of the WFE and sits on the Board of Directors.
"As members of both IOSCO/WFE, BMA and BSX fully support this global initiative and are delighted through our affiliation with those organizations to bring this important message of investor literacy and protection to the Bermuda's domestic market for the benefit of Bermudian investors.
"The CFA Society globally recognizes the importance of investor literacy and are undertaking initiatives in this regard as well.
"Financial Literacy is a critical aspect of investor awareness and education. Markets and market regulators seek to build safeguards into markets, through regulation, for the protection of its users and markets overall integrity, but investors must play a role in the process and this campaign highlights this issue and points investors in the direction of obtaining information about markets and investments.
"Education and financial literacy give investors the confidence they need to be an active participant in their investment decisions as well as being comfortable to express their views to management at annual meetings of companies in which they invest.
"Ring the Bell for Financial Literacy dovetails nicely with the BSX's ongoing domestic investor awareness campaign, Own Your Share of Bermuda which calls attention to the investment opportunities right here at home. The BSX has created a user friendly reference guide for anyone considering getting more familiar with investment terminology.
"That guide can be found on our website at www.bsx.com. This initiative is so important as informed investors help drive healthy markets."
Read More About