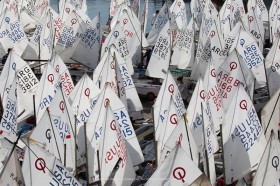 Bermuda Optimist sailors Rachael Betschart, Magnus Ringsted, Nicole Stovell and Christian Ebbin continued competing in the Semana de Mar del Plata Optimist Sailing Regatta in Argentina.
Only one race was sailed on the second day with the Bermuda sailors moving up the leaderboard.
Ringsted started the day in 60th and following his 2nd place finish in the lone race of the day he moved up to 38th with 57 points.
Betschart came off the water in 43rd place after starting the day in 46th place, Betschart finished the lone race and the fourth of the series in 15th to close out with 63 points.
Stovell started in 67th place and finished the lone race in 6th to move up to 47th place in the standings with 66 points.
Winning the lone race of the day saw Ebbin move from 105th to 65th place with 81 points.

Read More About