[Updated] Police are on scene after another shooting this morning [Feb 16] in the Field View Lane, Pembroke area, with multiple officers and crime scene tape visible.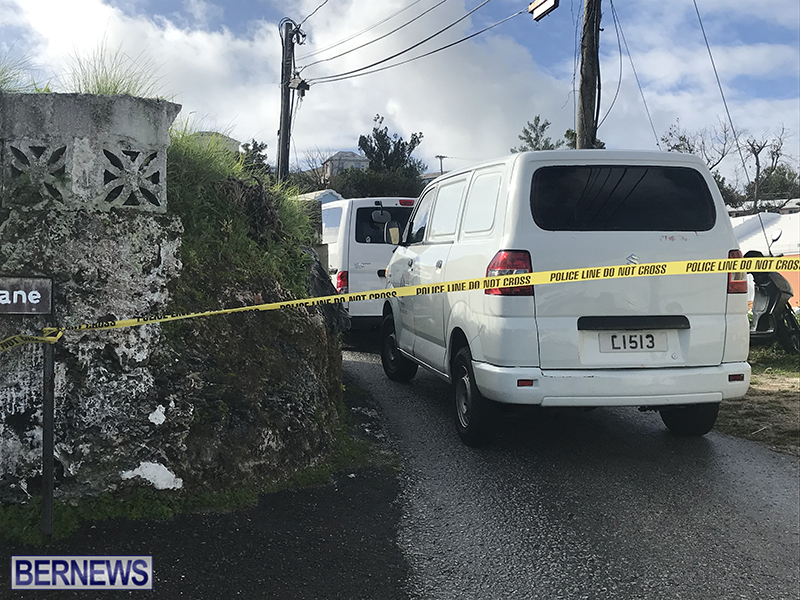 Police have confirmed that shots were fired, and no one was injured. Further details are limited at this time, however we will update as able.
Update 9.59am: Comment from Police Communications Manager Gary Moreno
Mr Moreno said, "Shortly before 8:00am this morning, two individuals rode up Field View Lane on a motorcycle. One of them got off, went down the steps to a nearby residence, opened fire indiscriminately. No one was injured, thankfully. Officers were called to the scene, and the investigation is now underway. I can tell you that spent shells have been recovered. I'm not sure how many, but thankfully no one was injured."
Update 1.09pm: Video of the Police Commissioner's press conference this afternoon
Update 2.37pm: A police spokesperson said, "The Bermuda Police Service is investigating a confirmed firearms incident which occurred shortly before eight a.m. on Sunday 16th February.
"Officers were called out to Field View Lane in Pembroke following several reports of multiple gunshots being heard in the area.
"Reports are two men rode into the area on a motorcycle. One of them got off the bike, ran to one of the nearby Bermuda Housing Corporation apartments and fired several shots into one of the units.
"The suspects then made good their escape.
"Upon arrival officers recovered forensic evidence which confirmed a firearm was discharged outside the residence. There have been no reports of any injuries.
"This is the fifth firearms incident in the last two weeks and there is growing concern over the indiscriminate nature of these crimes which could have resulted in loss of life of individuals who were not the intended target.
"Anyone with information is asked to contact Detective Inspector Kenten Trott of the Serious Crime unit on 717-2345, the main police number, 295-0011 or the independent and confidential Crime Stoppers number, 800-8477."
Read More About