Brian Wellman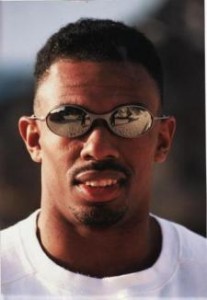 A former world class triple jumper, Brian Wellman is one of the best Bermudian athletes of any genre.
A four time Olympian, Mr. Wellman is the only Bermudian to have two top six finishes in the Olympics; 5th in 1992 and 6th in 1996.
Other career highlights include winning the World Championships in 1995 [setting a new championship record of 17.72], a bronze medal at the 1994 Commonwealth Games and being ranked in the top ten of the world seven times.
Born September 8, 1967, he competed collegiality for the University of Arkansas where he won two NCAA Outdoor triple jump titles.
In 2009, in his first year of eligibility, he was inducted into the Bermuda Sports Hall of Fame. He was honoured as the Bermuda Athlete of the Year five times from 1991 to 1996.
He is part of the golden generation of Bermudian track and field, normally mentioned alongside sprinter Troy Douglas and high jumper Nicky Saunders. Sometimes called the 'Three Musketeers' they competed in the same time frame, all placing well in numerous events.
This video shows a quick glimpse of Mr. Wellman competing circa 1995:
-
His Olympic appearances:
1988 Seoul: 33rd
1992 Barcelona: 5th
1996 Atlanta: 6th
2000 Sydney: 20th
Mr. Wellman was ranked among the top ten triple jumpers in the world by Track and Field News for seven years:
1992: 5th
1993: 8th
1994: 3rd
1995: 3rd
1996: 5th
1997: 9th
2001: 10th
His other international sporting accomplishments include:
1991 World Championships,Tokyo, Japan: 6th
1991 Universiade, Sheffield, England: 1st
1993 World Indoor Championships, Toronto, Canada: 3rd
1993 World Championships, Stuttgart, Germany: 8th
1994 Commonwealth Games, Victoria, Canada: 3rd
1995 World Indoor Championships, Barcelona, Spain: 1st
1997 World Championships, Athens, Greece: 5th
1999 Central American/Caribbean Championships, Barbados: 1st
2001 Central American/Caribbean Championships, Guatemala: 1st
2001 World Championships, Edmonton, Canada: 6th
2002 Commonwealth Games, Manchester, England: 8th
2003 Pan American Games, Santo Domingo, Dominican Republic: 9th