Graham Foster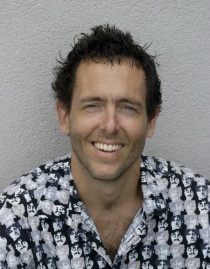 Graham Foster is a Bermudian artist best known for his larger-than-life mural, 'The Hall of History' at the Bermuda Maritime Museum in Dockyard. The two storey, 1000 square foot interior mural depicts five centuries of Bermudian history, and took approximately 7000 hours [over three years] to complete.
Born in 1970, he is the son of physician Elizabeth Foster and Alec Foster. A professional artist since 1995, Mr. Foster was educated at The Bermuda College and The Museum School of Fine Arts in Boston.
His paintings tend to follow one of 'Htwo directions – one inspired by Bermuda's fish,flora,fauna, and people, captured in a characteristically surreal style,the other is looser and more expressionistic,often inspired by dreams and the subconscious.
He is a sculptor [primarily in welded steel] as well as a painter. In 2002, he became the first Bermudian artist to have a work purchased for the permanent collection of The Bermuda National Gallery, a welded steel triptych entitled '21st Century Fetish Family'. Many of his sculptures are strongly influenced by Tribal Art.
Pictured below standing in front of the Mr Foster's 'Hall of History' mural is Charles Kirnon, Minister of Communications and Works and Labour Montserrat, Dr. Vincent Scatliffe, Member, House of Assembly BVI, Edison Baird, Deputy Chief Minister of Social Development Anguilla, Mckeeva Bush, Premier of Cayman Islands. [Photo from June 2010 courtesy of DCI, click to enlarge]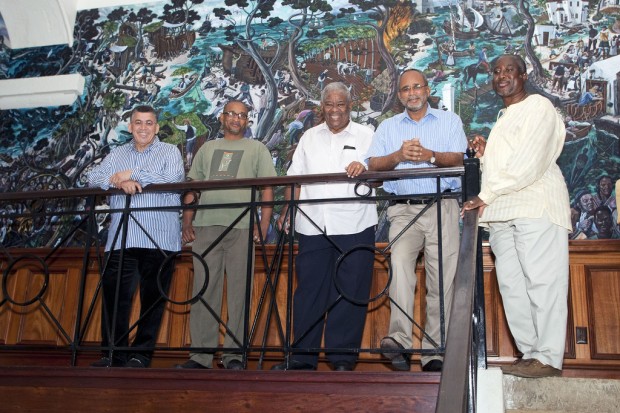 On November 25th 2009, Her Majesty The Queen, officially opened the Hall of History mural and was presented with a painting by the artist, 'The Wreck of The Sea Venture'.
In 2009, he won the $10,000 Charman Prize for his painting 'The Mechanics of Extinction'.
His solo exhibitions include The Masterworks Foundation and the Ace Gallery. He has also shown work in many of the Bermuda National Gallery Bienniels.
Collections include Bausch and Lombe New York, The Bermuda Anglican Cathedral, The Bank of Bermuda, The Bank of Butterfield, Ace Insurance, LOM, Allianz Re, Bermuda Commercial Bank and the Masterworks Foundation.
Courtesy of the Bermuda Yellow Pages, a video of Mr. Foster discussing his mural:
For further information visit Mr. Foster's
website
, where the entire mural is visible.