Rocky Thompson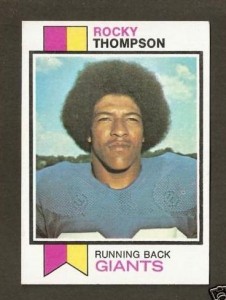 Ralph Gary "Rocky" Symonds-Thompson is one of the handful of Bermudians to play professional American football in the NFL.
Born November 8, 1947 in Bermuda, he played college football at Hartnell Community College and West Texas State, where he was the roommate of future Dallas Cowboys star Duane Thomas.
Mr. Thompson was drafted by the New York Giants in the first round of the 1971 NFL Draft with the 18th overall selection.
Fellow Bermudian Antoine Pierce went on to also play for the Giants some thirty years later.
Although he played as a running back at West Texas State, the New York Giants Coach Alex Webster planned to turn him into a wide receiver.
During his three years in the NFL, Mr. Thompson appeared in all 28 regular-season games for the Giants in 1971 and 1972, primarily as a kickoff returner.
He appeared in one game for the Giants in 1973, and the Giants released Mr. Thompson before the start of the 1974 season.
At one point in his NFL career, Rocky cracked a vertebrae in his neck and was forced to be sidelined for a while.
Prior to his NFL career, Mr. Thompson competed in track and field for Bermuda,  winning a gold medal at the British Amatuer Association, and making the finals of the Commonwealth Games.