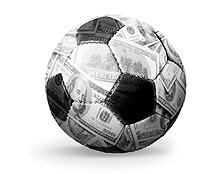 The Bermuda Football Association [BFA] has announced the 2010 – 2011 Legends Academic Football Scholarships worth a total of $75,000.
The total amount is divided into seven individual scholarships ranging in amounts from $5,000 and $15,000.
The scholarship is open to students/football players that are currently registered with the BFA and can prove that they have been accepted as a playing member on their school football team. The scholarships can be used for study at approved overseas preparatory schools, Bermuda College, as well as colleges and universities overseas.
This is the 4th edition of the BFA's scholarship program, which highlights the importance of providing the opportunity for our players to further their academic studies through the sport of football. The scholarship program also recognizes the outstanding achievements and contributions to the game of football by our Legends.
The Football Legends Honoured are:
Dr. Gerard Bean Scholarship for $15,000
Mr. Carlton "Pepe" Dill Scholarship for $15,000
Calvin "Bummy" Symonds Scholarship for $15,000
Mr. Joseph Ferreira Scholarship for $10,000
Mr. Kenny Cann Scholarship for $10,000
Mr. Charles Marshall Scholarship for $5,000
Mr. Earl "Townsey" Russell Scholarship for $5,000
The Legends Scholarship documents can be found here on the BFA's website or from our offices on 48 Cedar Avenue, Hamilton. Completed application forms must be returned to the BFA Secretariat no later than April 16th before 5pm.
Aiming to provide players with the best opportunities, the BFA says:
The Association believes that it is vitally important to keep our young football players focused on the benefits of combining their athletic and academic talents as they continue pursuing their life goals.

Furthermore, the Association will continue to provide players with the best opportunity to develop through a wide ranging grassroots, school, club and national academy program enabling them to reach their optimal potential.

The aim is to cultivate a larger number of more talented players who are eligible to obtain acceptance into overseas colleges and universities in addition to being eligible to obtain athletic and academic scholarships to institutions of higher learning. For this reason, we believe the continued offering of the BFA Legends Scholarships will encourage our student / football players in achieving these aims.
Read More About