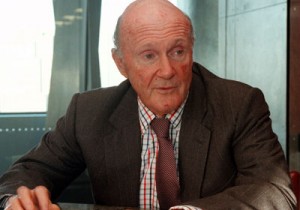 Looking at the lineup of entities who produced the $550 million investment in Bank of Butterfield yesterday, one name stands alone. The only individual listed – rather then a company – Julian Robertson has been dubbed the "Wizard of Wall Street.
The 77 yr old is a self made billionaire*, who Forbes has ranked as high as #147 on its list of the 400 richest Americans.
Having personally produced millions of dollars to buy into the Bank of Butterfield deal, he is effectively now a part owner of Bermuda's oldest bank.
Born in Salisbury, North Carolina in 1933, Mr. Robertson first became interested in stocks when he was 6 years old after an Aunt explained to him about a specific stock selling for $1.25 each. He realized he could save up enough money to buy one.
He graduated from the University of North Carolina with a degree in business administration in 1955. After a stint in the Navy, he started his foray into the financial world by joining Kidder, Peabody & Co. in New York in 1957.
He is best known for founding the investment firm Tiger Management Corp, one of the earliest hedge funds. Mr. Robertson is credited with turning $8 million in 1980 into over $22 billion in the late 1990′s.
Their assets averaged 31.5% annual return before fees. Then the tech bubble burst and Tiger suffered severe losses.
A part time resident of New Zealand who owns vineyards and golf courses there, he is officially "Sir Julian Robertson" after being awarded the title of honorary knight companion of the New Zealand Order of Merit for "services to business and philanthropy".
An active philanthropist, he has donated in excess of $100 million to various charities, and pays the full expenses for dozens of students to attend college at his alma mater each year.
Impressed by Mr. Robertson? Well, not everyone is.
During a legal wrangle with New York State's Tax Dept over a $27 million case where he sought to prove he was not a full-time resident, the court examined Mr. Robertson's personal life and and interviewed his family and staff.
His wife Josie Robertson said she was better able to accomplish certain things "without having petitioner in her hair in New York City." The document also mentions he annoys his assistant Ms. Depperschmidt as well.
Mr. Robertson previously spoke at a 1998 Bermuda Hedge Fund Conference held at the Southampton Princess via a televised linkup from New York.
The video below shows Mr. Robertson on CNBC News saying that the United States is "just getting into the recession," and that the poor economy will last as long as 10 to 15 years.
-
For further reading, there are over 100 pages of his biography "Julian Robertson: Tiger in the Land of Bulls and Bears" available online for free.
*Estimates of his net worth vary from 1.3 to 2.2 billion
Read More About