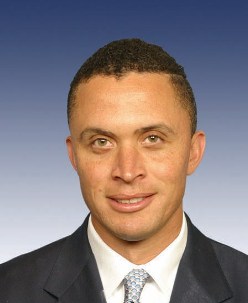 The upcoming speech by Former American Congressman Harold Ford in Bermuda tomorrow seems to have caused a bit of a stir due to Bermuda's much misunderstood labeling as a "tax haven".
Mr. Ford is the keynote speaker at the Bermuda International Business Association Annual General Meeting to be held tomorrow at the Fairmont Hamilton Princess.
The current chairman of the Democratic Leadership Council, he was first elected in 1996 at age 26 becoming one of the youngest members of Congress in US history. He is currently an NBC and MSNBC television news analyst.
Kirsten Gillibrand, the Junior Senator from New York, is throwing a preventative strike for the November 2010 US senate elections, despite the fact that Mr. Ford has declined to run for the senate seat.
Tthe New York Times had reported that Mr. Ford Jr. was considering a challenge against Senator Gillibrand. They also reported that New York City Mayor Michael Bloomberg, who is a Bermuda resident, may support him.
Sen. Kirsten Gillibrand's campaign sent out a press release referencing Mr. Ford's upcoming Bermuda speech:
The members of the Bermuda International Business Association will have the opportunity to thank the former Tennessee Congressman and current Merrill executive personally for his support of the Bush tax cut giveaways for the wealthiest.
-
New York's WGRZ News adding:
Playing to that public sentiment, Gillibrand's campaign had begun a countdown to Ford's speaking engagement later this week to the Bermuda International Business Association. Bermuda is a tax haven for U.S. companies that want to escape federal corporate income taxes.
-
The NY Daily News saying:
In any event, the Bermuda speech does present some interesting optics for Ford.

For starters, Bermuda's reputation as a tax haven is well known. Its low corporate tax rates has made it a hub of American businesses looking to avoid Uncle Sam's higher rates back home.
-
Popular blog Gawker, which has an estimated million plus readers said:
While working in New York, he's preparing to jet off for Bermuda. To address a group that lobbies for tax evaders, er, avoiders.
Read More About