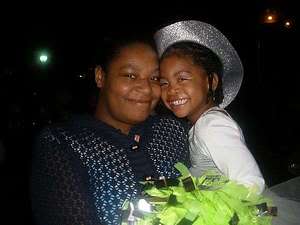 A college fund has been launched to assist in the further education of 3 year old A'Saiya, the daughter of Alshante Brangman.
Ms. Brangman passed away earlier this month from an unknown medical condition.
A well liked employee of Marketplace for the previous three years, Ms. Brangman was only 23 years old.
Her young daughter is in the care of Alshante's mother, Gina Brangman Wilson and stepfather Dion "Mouse" Wilson.
Ms. Brangman was well known to be devoted to her young daughter. In our interview with her father, we inquired what his daughter's hobbies were. Her father smiled, and simply said "A'Saiya, everything was A'Saiya to her"
Her obituary states that "in lieu of flowers, donations of any amount can be made at Bank of Bermuda for Alshante's daughter, A'saiya Brangman, to assist with her college fund". We hope to be able to update this post with specific account information in order to facilitate donations off-and online.
Read More About