Bermuda was a stop along the ARC Europe transatlantic cruising rally, with the sailors departing from Tortola, British Virgin Islands on May 6th, arriving in St George's, Bermuda days later. After a brief rest in Bermuda, they departed on May 19th for the longest leg of the journey, the 1800 nautical miles passage from Bermuda to the Azores.
Gentle weather conditions meant that a start could be held inside St.George's Harbour, providing a spectacle for crews, visitors and local well wishers as the fleet headed through the narrow 'Town Cut' and towards the open sea under full sail.
The ARC say that "the picture perfect start rounded off what has been an excellent visit to Bermuda for the rally with all participants greatly appreciating what the Island offers its visitors. Bermuda has been a very welcoming destination and a popular stopover with all the crews."
Pictured below are all the crew members in St George's: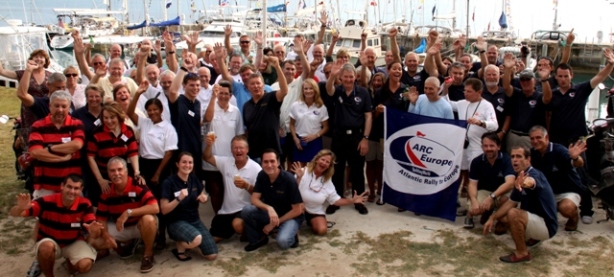 Brian Oatley, Commodore of the St.George's Dinghy & Sports Club, gave the start and bid the yachts farewell, wishing them a safe and swift passage to the Azores with the hope of seeing them again one day when they next sail to Bermuda. A large flotilla of local craft took to the water to enjoy the start and see the visiting yachts safely on their way again. The dockside at the St.George's Dinghy & Sports Club has been the scene of much activity as crews have prepared for their long ocean passage, whilst the Club House has been the focus for many social evenings.
Click to enlarge images:
The first arrivals in the Azores are expected 12-14 days after their Bermuda departure. All photos copyright, and courtesy of the ARC.
For more sailing related articles click here, and for dozens more photo galleries click here.
Read More About