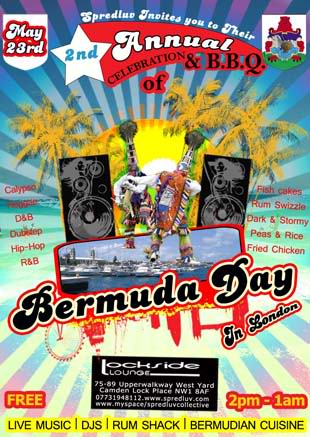 [Written by Suzy Talbot, a London based writer]
On first thoughts, you have to wonder what Camden and Bermuda have in common to warrant a canal side pub holding a Bermuda Day. But as Lockside Lounge's manager Tom Godano said: 'Camden loves a party' and anyone who's been to Bermuda knows the islanders enjoy a cracking night out.
So this Sunday from 2pm, the pub by Camden Lock will be hosting a Bermuda Day with traditional food, drink and entertainment. It will be the second time Bermuda Day has been held and was the brainchild of a regular locally known as Beatnik, a Bermudian who organises a regular Sunday night called spredluv at the pub.
Tom said: "It has been so well received by the locals because it's a party and it's different and everyone knows Camden likes a good party and enjoys something different. We have also got some amazing rums which is good."
Ah yes – the all important rum and I am delighted to report they stock an range of Goslings Rum for the famous Dark and Stormy.
And another export from the island will be the entertainment by musician Matthew Bento who is a Bermudian studying music in London, and appearances by DestaZion and Clinark Dill is being advertised as well.
So as someone who has relatives living in Bermuda and has visited the island four times, I will be delighted to go along on what is predicted to be a glorious British summer day (although nothing quite like a nice Bermuda day) and assess how close to Bermuda a canalside pub can be. Happy Bermuda Day all!
Read More About
Category: All, Entertainment, News